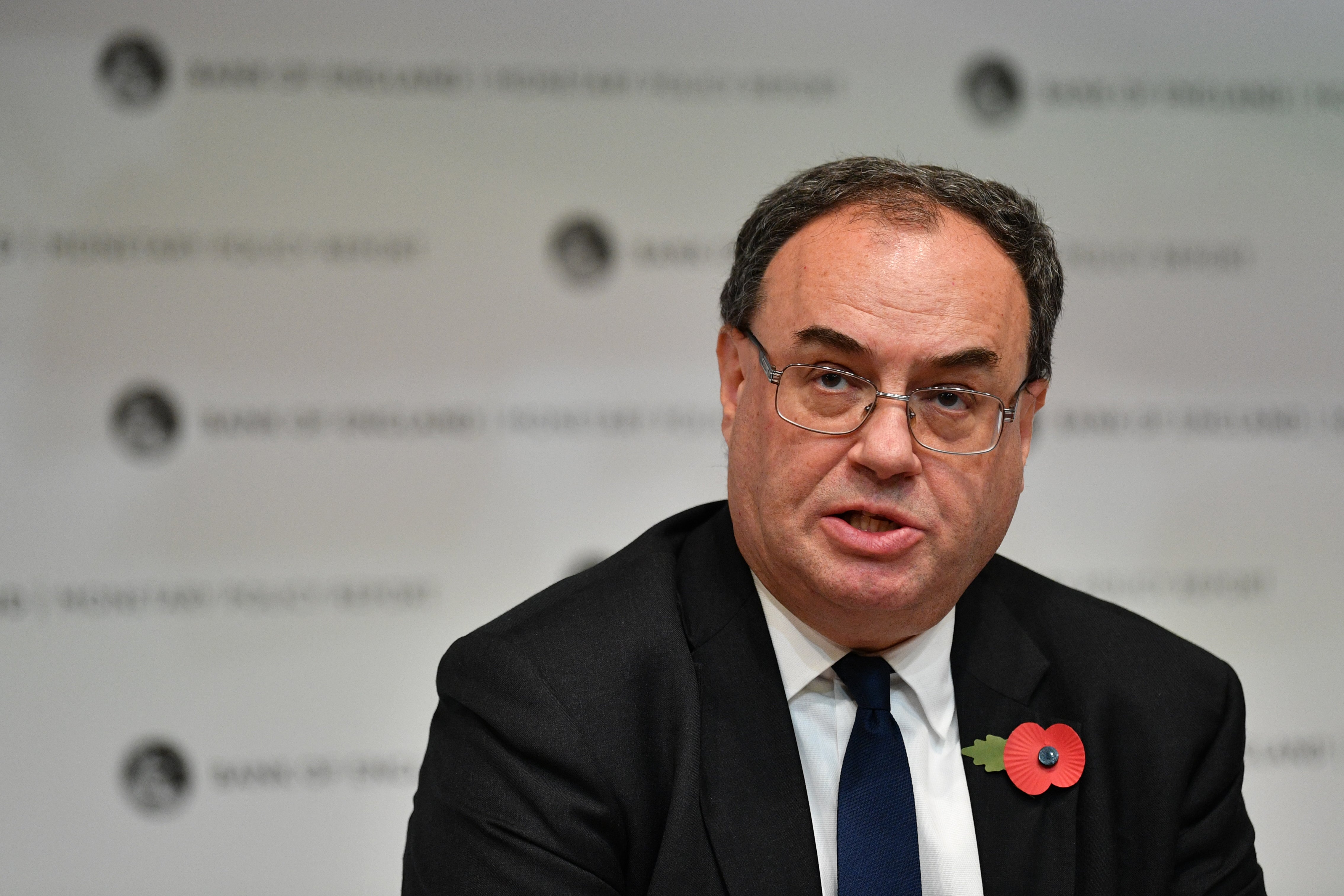 Inflation in the UK climbed sharply to 4.2 per cent in October, its highest rate for almost a decade, driven by rising fuel and energy prices, adding to pressure on the Bank of England to raise its key interest rate at its December meeting.
The cost of living, as measured by the Office for National Statistics' Consumer Price Index, rose at its quickest rate since November 2011 last month. In October alone, it surged by 1.1 per cent, in large part due to higher energy costs for households.
The ONS said soaring inflation was being caused by rising energy bills, fuel and higher bills in restaurants and hotels, as well as the costs of raw materials and goods in factories.
The news came two days after Andrew Bailey, the governor of the Bank of England, told MPs that he was "very uneasy" about rising inflation, which now sits at more than double the target rate of two per cent.
1637154011
Thanks for following
We're going to wrap up this liveblog, but do stay on The Independent website for ongoing coverage of more economic and business news throughout the day. Thanks for following along.
Tim Wyatt
17 November 2021 13:00
1637151061
Inflation also on the rise across the eurozone too
Britain is not the only country seeing inflation go up, with new figures from the EU showing countries which use the Euro also saw inflation jump to 4.1 per cent in October, up from 3.4 per cent the previous month.
Most of the rise was down to increasing energy prices (which went up by 2.21 percentage points), followed by services, industrial goods, and food, alcohol and tobacco, the EU's statistical body Eurostat reported.
Some are calling for the European Central Bank to step in by raising interest rates, but the Bank's president Christine Lagarde said earlier this week it was too soon to consider such a step.
A rate rise could threaten the post-Covid economic recovery, Ms Lagarde warned, as she resisted calls to tighten the Eurozone's monetary policy in response to the inflation threat.
Tim Wyatt
17 November 2021 12:11
1637149741
Prices also rising sharply for producers
Prices of raw materials and goods from factories are also rising, mirroring the increases seen for consumers in shops and forecourts, the Office for National Statistics has reported.
The latest figures from its producer price inflation research, also published today, show in October the growth rate of input prices for producers when buying goods and materials increased by eight per cent, up one percentage point from the previous month.
Output prices, when producers sell goods on to the market, also rose by an average of 13 per cent, up from 11.9 per cent in September.
Both input and output price inflation are the highest they have been for more than a decade.
Petroleum products and crude oil played the largest role in pushing up prices for consumers, the ONS reported.
Tim Wyatt
17 November 2021 11:49
1637148421
Unemployment rate drops despite end of furlough
In better news for the economy, the UK's unemployment rate fell to 4.3 per cent in the third quarter of the year despite the end of the furlough scheme in September.
Official figures show the jobless rate dropped 0.5 percentage points in the period June to September, compared to April to June.
Employers also added 160,000 people to their payrolls in October as the UK labour market confounded fears that the end of the furlough scheme would result in a sharp rise in joblessness.
The extra staff took the total number of payrolled employees to 29.3 million in October, the Office for National Statistics reported.
The growth in vacancies and fall in unemployment are expected to mean there is greater pressure on wages going up, which could in turn fuel more price rises and inflation.
Tim Wyatt
17 November 2021 11:27
1637147441
Sunak says inflation a global problem
The Chancellor of the Exchequer has responded to the latest inflation figures by arguing they are part of a problem of rising prices across the world.
Rishi Sunak said: "Many countries are experiencing higher inflation as we recover from Covid and we know people are facing pressures with the cost of living, which is why we are taking action worth more than £4.2 billion to help them.
"We're helping people get into work, progress and keep more of what they earn, through our Plan for Jobs and by effectively cutting taxes for workers receiving Universal Credit.
"We are also providing more immediate support, including through the £500 million Household Support Fund for the most vulnerable families, fuel and alcohol duty freezes, and the energy price cap."
However, Labour's shadow chancellor Rachel Reeves warned households could lose as much as £1,000 a year due to the spike in inflation and attacked the government for trying to blame rising prices on economic forces outside of their control.
"Instead of taking action, the Government are looking the other way, blaming 'global problems' while they trap us in a high tax, low growth cycle," she said.
"Labour wouldn't be hitting working people with a tax hike and as heating bills rise, we'd cut VAT on domestic energy bills now for the winter months, to help ease the burden on households."
Tim Wyatt
17 November 2021 11:10
1637147083
Former Bank of England deputy governor expects interest rates to rise soon
Sir John Gieve, a former deputy governor of the Bank of England, has said he believes today's inflation news will make it much more likely his former colleagues do vote to raise interest rates next month.
"The Bank and other forecasters expect it to rise right the way through to April, to around five per cent, and then to stay well above target for the rest of the year," he told the BBC's Today programme.
"So this isn't really a blip, this is quite a marked trend."
The encouraging news that the end of the furlough scheme had not seen a spike in unemployment, rises in energy prices and huge numbers of vacancies across the country all meant the economy was heating up and therefore it would be prudent for the Bank of England to cool things down with a rate rise, he added.
"There will be a squeeze in living standards in next few months, and the price-setters in business can start raising their prices by a bit more.
"What could be the effect of some overseas problems could become embedded in the domestic economy. That is the big fear. I think the governor said it was a very close call last time, if things look the same I'd be surprised if they didn't start to reverse the reduction in rates they made in the beginning of the pandemic."
Tim Wyatt
17 November 2021 11:04
1637146681
Think tank warns inflation will hit hard-pressed families
The Resolution Foundation, a think tank focused on living standards for the poor, has cautioned inflation will mean families struggling after the pandemic will feel the squeeze even more.
Jack Leslie, senior economist at the think tank, said: "The global economic recovery has caused a rapid rise in inflation that families are feeling at the petrol pump, in their energy bills, and in their pay packets. With inflation forecast to hit five per cent by next Spring, we could be set for a sustained period of shrinking pay packets."
Unlike traditional inflation, which is normally tamed by raising interest rates and thus incentivising businesses and households to save rather than spend, this round of price rises is being driven by global supply chain issues.
"While painful for households, the fact is that the global nature of these inflationary pressures mean that traditional tools such as raising interest rates are likely to have little effect.
"Instead, we need to focus on securing the as yet incomplete Covid recovery so that stronger growth creates more scope for higher pay rises."
Tim Wyatt
17 November 2021 10:58
1637145775
UK economic growth slows amid supply chain crisis
The rise in inflation is not the only worrying sign that the UK economy is not in good shape.
Official figures show the recovery from the massive drop in economic production caused by the pandemic sharply slowed earlier this year.
Total output grew 1.3 per cent in the third quarter of the year, lower than the 1.5 per cent analysts had forecast and down from 5.5 per cent in the previous three months.
The slowdown means gross domestic product – a measure of all the goods and services produced – remained 2.1 per cent smaller between July and September than it was before the pandemic.
Growth picked up to 0.6 per cent in September – slightly faster than the consensus forecast. However, 0.5 percentage points of that were attributed to the health sector and represented an increase in face-to-face GP appointments.
Recovery slows as businesses struggle with worker shortages and shipping delays
Tim Wyatt
17 November 2021 10:42
1637143398
Bank of England coy on interest rate rises
Many global investors expected the Bank of England to raise interest rates from their current record lows of 0.1 per cent, in a bid to clamp down on soaring inflation, at their last monetary policy meeting earlier this month.
But instead the committee which sets the base rate decided to hold it at its current position, angering some who believed the Bank's governor, Andrew Bailey, had dropped hints earlier the rate would be raised.
Putting interest rates up is seen as a way to control inflation but Mr Bailey said current rises in prices were caused by global factors outside of the Bank's control.
"Raising interest rates won't produce more gas, [and] it won't produce more semi-conductor chips," he said.
"Where we have to use interest rates is where we see the potential for demand to rise or the potential for wage pressures to come into play, which can be self-perpetuating and we will do that."
The Bank's remit is to keep the rate of inflation to between two per cent and three per cent. Its latest forecast is that inflation will hit five per cent in April before falling back.
The next monetary policy committee meeting when raising the interest rate will be discussed is due on 16 December.
Tim Wyatt
17 November 2021 10:03
1637143114
Price of diesel hits record highs
The price of buying diesel fuel has topped 150p a litre for the first ever time, underlining the broad inflation in prices seen across the British economy at present.
The average price on Sunday was 150.09p, after hitting a high of 150.5p the day before, the AA said.
Petrol prices also rose to a new record level, of 146.53p per litre on Sunday. The cost of filling a typical 55-litre family car with petrol or diesel has increased by around £18 over the past year.
The government at the recent Budget froze fuel duty, despite concerns this would undermine efforts to cut carbon emissions, in a bid to keep fuel prices down.
Fuel prices has soared over the past year as a result of rising costs in buying crude oil, as well as the economy restarting after the pandemic lockdowns.
The AA also said the weakness of the pound in global markets was contributing to the problem, which was likely to fuel further inflation as businesses forced to pay more to move goods around passed on these higher costs to consumers via price rices.
Average price of the fuel at UK forecourts hit 150.5p a litre on Saturday, while petrol is also at record highs
Tim Wyatt
17 November 2021 09:58
Join our commenting forum
Join thought-provoking conversations, follow other Independent readers and see their replies