Record number of people disapprove of Hillary Clinton and Donald Trump, new poll shows
For the first time ever Mr Trump has become more popular within his party than Ms Clinton is within hers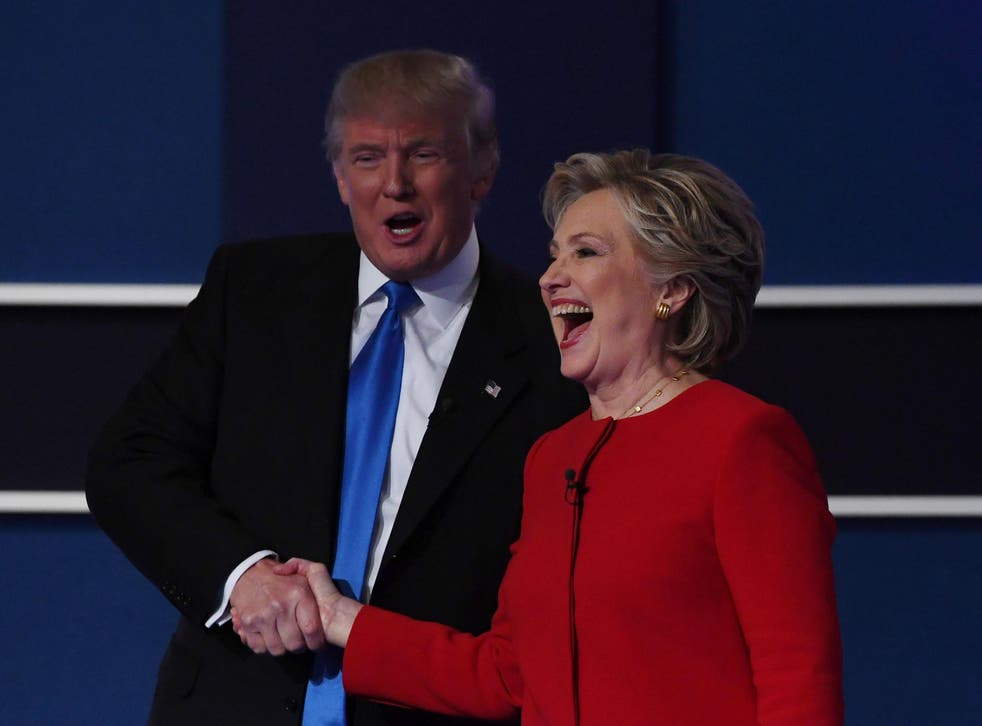 Hillary Clinton and Donald Trump are the two least popular presidential candidates in any US election since at least 1984.
According to a new poll, likely voters see Ms Clinton and Mr Trump equally unfavourably, and both candidates have unprecedentedly high disapproval ratings.
60 per cent of likely voters view Ms Clinton negatively, according to the survey by ABC News and the Washington Post. Meanwhile Mr Trump is disliked by 58 per cent of the electorate.
The negativity runs deep: 49 per cent of respondents said they see Ms Clinton "strongly" unfavourably, and 48 per cent said the same about Mr Trump.
The poll, conducted using landline and mobile telephones between 26 and 29 October, found that loyal supporters of both the Republican and Democratic party viewed the opposition astoundingly negatively compared to in past elections, with 97 per cent of Trump supporters seeing Ms Clinton unfavourably, 90 per cent strongly so, and 95 per cent of Clinton supporters seeing Trump unfavourably, and, again, 9 out of 10 saying they felt "strongly".
The results, gathered from a random national sample of 1,165 likely voters, have a margin of error of 3 points. Respondents were questioned in English or Spanish.
With regards to who is most likely to win the election on 8 November, the poll's findings were consistent with those of other surveys. 46 per cent of respondents said they would vote for Ms Clinton, and 45 per cent said they would vote for Mr Trump.
Ms Clinton's popularity is thought to have slipped since FBI Director James Comey revealed on Friday there would be a new probe into Ms Clinton's private emails.
Just 47 per cent of her supporters said they were very enthusiastic about her, compared with 51 per cent in the last poll, conducted across the previous six nights.
Overall, however, voters do not appear to have changed their mind about who they will vote for since the FBI announcement, according to the ABC poll. The change in strong enthusiasm for Clinton is not statistically significant, and the broadcasting company caution the change could reflect night-to-night variability.
US election 2016: the race for the White House in pictures

Show all 12
There is now little significant fluctuation in respondents reporting of who they would vote for, and Mr Trump and Ms Clinton appear to now be virtually even, ABC report. This is in sharp contrast to earlier in the campaign when Ms Clinton's ratings shot up after a period of peak controversy for Mr Trump.
Mr Trump has been able to consolidate votes within his own party, the survey found: he has gone from a low of 82 percent support among Republicans early in the tracking period to 89 percent now, his highest rating. Ms Clinton, meanwhile has gone from a high of 90 percent support among Democrats to 87 percent now.
With the latest results, it is the first time in tracking began that Mr Trump has had higher support among Republicans than Ms Clinton had among Democrats.
Before this election, the least popular presidential candidate ever was Mitt Romney with 51 per cent disapproval in 2012 and Walter Mondale with the same in 1984. The least popular candidate at any point in other campaign cycles was formerly George HW Bush with, who was viewed unfavourably by 53 per cent of voters in July 1992.
Disapproval in this election is stronger, as well as more prevalent, than ever before.
In 2012, just 36 per cent of respondents saw Mr Romney "strongly" unfavorably, versus 49 per cent and 48 per cent, respectively, for Ms Clinton and Mr Trump, so strong unfavourability for these candidates, like unfavourability overall, is at a record high.
Register for free to continue reading
Registration is a free and easy way to support our truly independent journalism
By registering, you will also enjoy limited access to Premium articles, exclusive newsletters, commenting, and virtual events with our leading journalists
Already have an account? sign in
Register for free to continue reading
Registration is a free and easy way to support our truly independent journalism
By registering, you will also enjoy limited access to Premium articles, exclusive newsletters, commenting, and virtual events with our leading journalists
Already have an account? sign in
Join our new commenting forum
Join thought-provoking conversations, follow other Independent readers and see their replies