Thousands of academics across the world call for US boycott over Donald Trump 'Muslim ban'
An executive order banning refugees and some nationalities from entering the US has already led to a number of academics cancelling their visits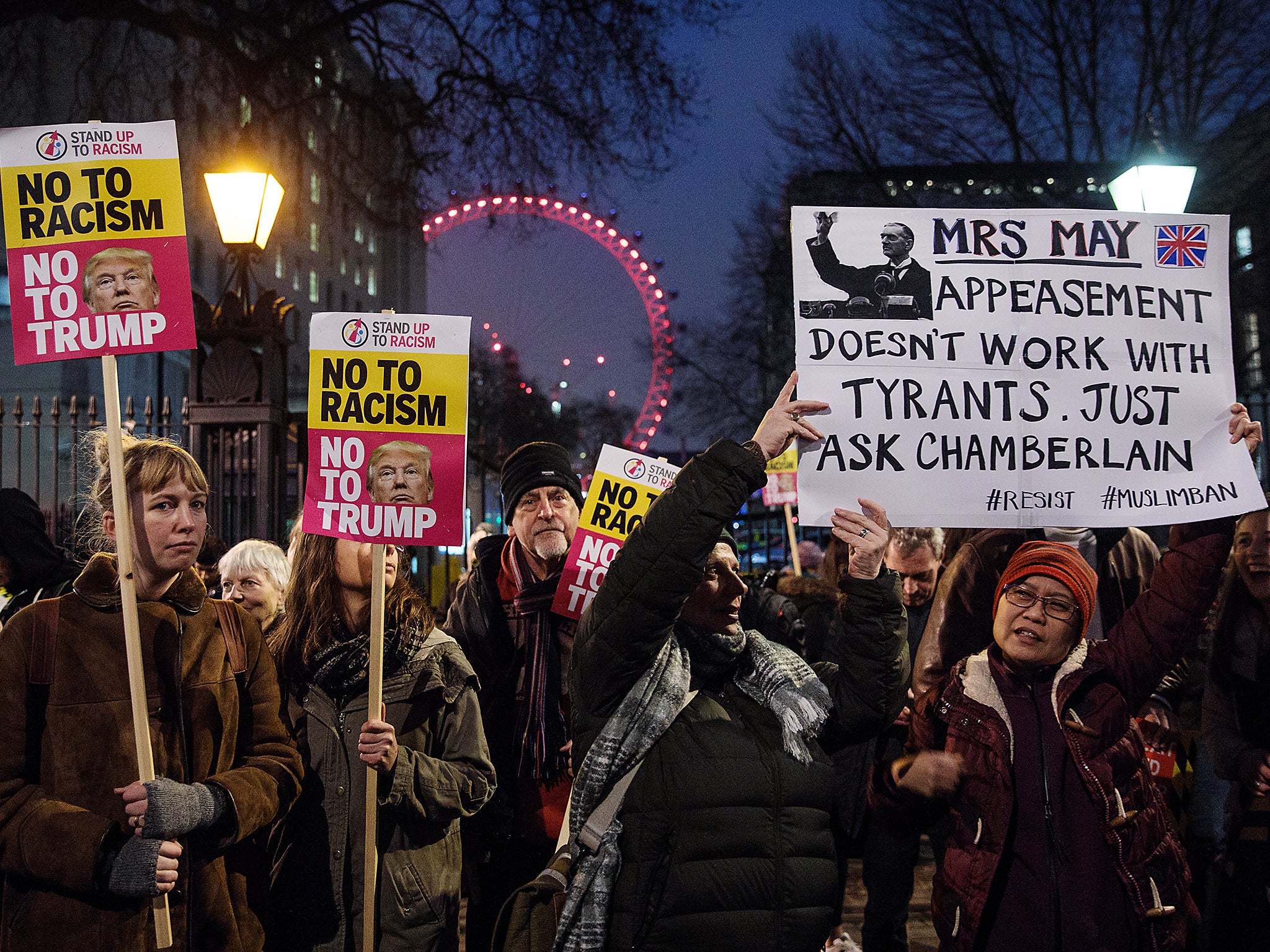 Thousands of academics have signed an open letter calling for a US boycott following the announcement of President Donald Trump's travel ban.
More than 4,500 scholars from across Europe, Asia, Australia, Canada, Latin America, Africa and the Middle East have signed the petition, pledging to boycott international conferences held in the country while the controversial new restrictions – referred to as a "Muslim ban" – are in place.
Mr Trump's new policy, brought in on Friday, blocks refugees from entering the country for a 120-day period. There is an indefinite ban on refugees from Syria and a 90-day ban on citizens from Iraq, Iran, Somalia, Sudan, Syria and Yemen.
The ban has been met with condemnation and prompted mass protests in major cities around the world.
Among the groups affected are students and academics who study and teach in US universities, a number of whom are said to have cancelled upcoming trips as a result.
Dr Nadine el-Enany, a University of London lecturer who was involved in creating the petition, told Middle East Eye the purpose of the letter was to "be clear about [academics'] opposition to the ban" and "not carry on with 'business as usual at a time of emergency".
Protestors rally at JFK Airport against Muslim immigration ban
Show all 20
"It is an attempt to draw necessary attention to the urgency of the 'Muslim ban' and to generate conversation on the far-reaching consequences," she said, "not only for those who are nationals from the seven countries identified by Trump's executive order, but also for many others who are not from these countries but who are nonetheless being detained and harassed at the border".
Dr el-Enany, who lectures at Birkbeck, criticised some US academic unions for failing to condemn the President's executive order outright.
The open letter states: "We the undersigned take action in solidarity with those affected by Trump's Executive Order by pledging not to attend international conferences in the US while the ban persists.
Donald Trump's closest advisor Steve Bannon thinks there will be war with China in the next few years
"We question the intellectual integrity of these spaces and the dialogues they are designed to encourage while Muslim colleagues are explicitly excluded from them."
The proposed boycott has divided opinion, however, with some suggesting it could hinder US universities and that the academics' frustrations are unlikely to register with US government authorities.
Marina Costin Fuser, PhD candidate in film studies at the University of Sussex, said "American universities" should not be "our target".
She told Times Higher Education: "Let's be supportive of US universities at times like this. Universities have the potential to encourage critical ideas and organise resistance.
"I don't think Trump cares that much about higher education to actually feel threatened by this conference ban...unless applied hard scientists join in, we'll be boycotting ourselves – that is, departments that lean to the left, such as arts and humanities."
This week Harvard University President Drew Faust also publicly condemned Mr Trump's executive order, observing that almost half of the world-leading institution's deans are immigrants from countries including Iran.
At least two people from Harvard have already been blocked from returning, the Harvard Crimson reported.
Join our commenting forum
Join thought-provoking conversations, follow other Independent readers and see their replies