Most constituencies will be worse off in real-terms school funding despite Boris Johnson's cash boost, union says
Promises by prime minister 'will not fix the roof' as it is 'too little too late', education leader says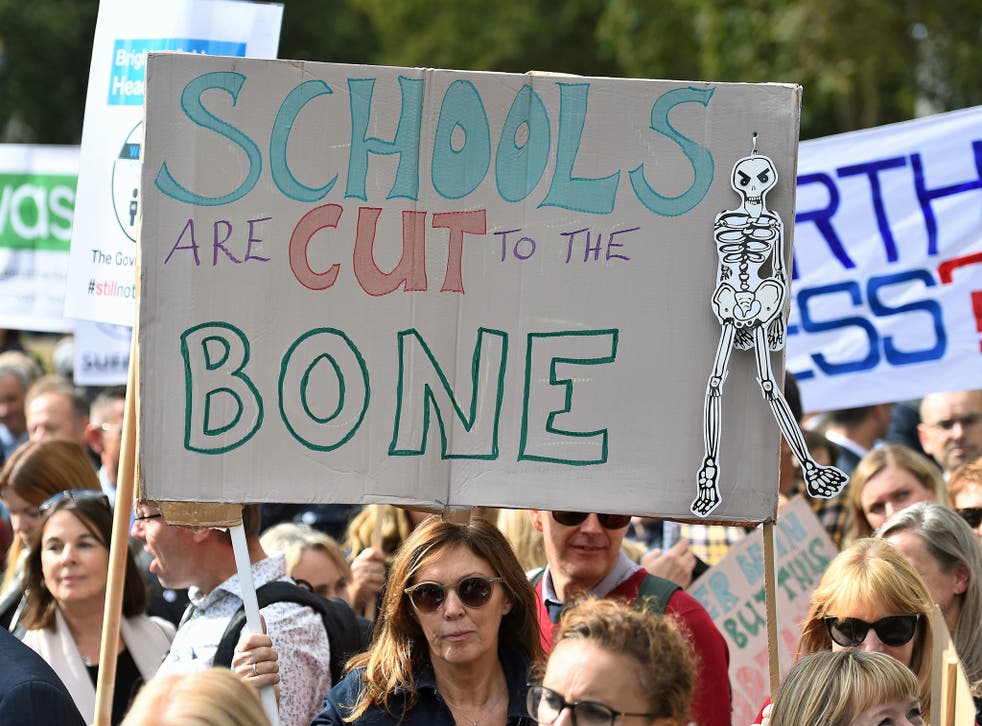 The vast majority of constituencies will still be worse off in real-terms school funding in April than in 2015 despite Boris Johnson's cash boost, an education union says.
Only 18 of 533 parliamentary constituencies will see their per-pupil funding above its 2015 level in real terms, an analysis by the National Education Union (NEU) suggests.
Nearly three in four (72 per cent) of the 18 constituencies set to benefit are Conservative-held, the analysis finds. Meanwhile, of the 100 worst hit constituencies, 77 are Labour-held.
The figures come after the government pledged to increase school spending by £7.1bn by 2022-23 after years of campaigning by headteachers, teachers and parents for more cash.
But the NEU says more than four in five (83 per cent) of schools will have less money per pupil in April in real terms – when the funding comes into effect – than they had in 2015.
UK news in pictures

Show all 50
Not a single cabinet member's constituency appears in the bottom 100, the union finds.
The NEU's league tables, which compared income per pupils in 2015-16 with income per pupil for 2020-21 by constituency, comes ahead of the general election.
Kevin Courtney, joint general secretary of the NEU, said: "Boris Johnson's promises on school funding will not fix the roof – it is too little, too late.
"Schools need a significant funding increase now, not the dribs and drabs promised from April 2020.
"Schools are losing support staff, dropping subjects, closing early, and cutting corners on basic maintenance, just to get by. These are not 'little extras'."
Angela Rayner, Labour's shadow education secretary, said: "Teachers and parents cannot trust Boris Johnson and his rapidly unravelling empty promises.
"It is now clear that Johnson has failed to keep his pledge to reverse the Tories' education cuts, let alone match Labour's plans to invest in a National Education Service."
She added: "Boris Johnson's Conservatives will only ever look after the privileged few – that is why pupils and schools in disadvantaged areas have quite deliberately been denied the extra funding they need, entrenching not tackling inequality."
Layla Moran, education spokesperson for the Liberal Democrats, said: "These figures reveal how the Conservatives are failing the next generation.
"Schools are already struggling to cope with catastrophic budget cuts, with headteachers having to ask parents for donations for basic resources like paper and textbooks.
"This chronic underfunding is only set to get worse, denying children up and down the country the opportunity to realise their full potential."
The Conservatives dismissed the research as an "inaccurate and misleading piece of political propaganda".
Conservative MP David Morris said: "The reality is we are boosting schools funding by £14bn over the next three years – meaning every pupil in every school will get more money, and funding across the country will be levelled up."
Register for free to continue reading
Registration is a free and easy way to support our truly independent journalism
By registering, you will also enjoy limited access to Premium articles, exclusive newsletters, commenting, and virtual events with our leading journalists
Already have an account? sign in
Register for free to continue reading
Registration is a free and easy way to support our truly independent journalism
By registering, you will also enjoy limited access to Premium articles, exclusive newsletters, commenting, and virtual events with our leading journalists
Already have an account? sign in
Join our new commenting forum
Join thought-provoking conversations, follow other Independent readers and see their replies