Cambridge University plans free degrees for poorest students
'Bursaries and scholarships available are spread too thin right across the student body', says Labour MP
Eleanor Busby
Education Correspondent
Saturday 18 August 2018 21:01 Comments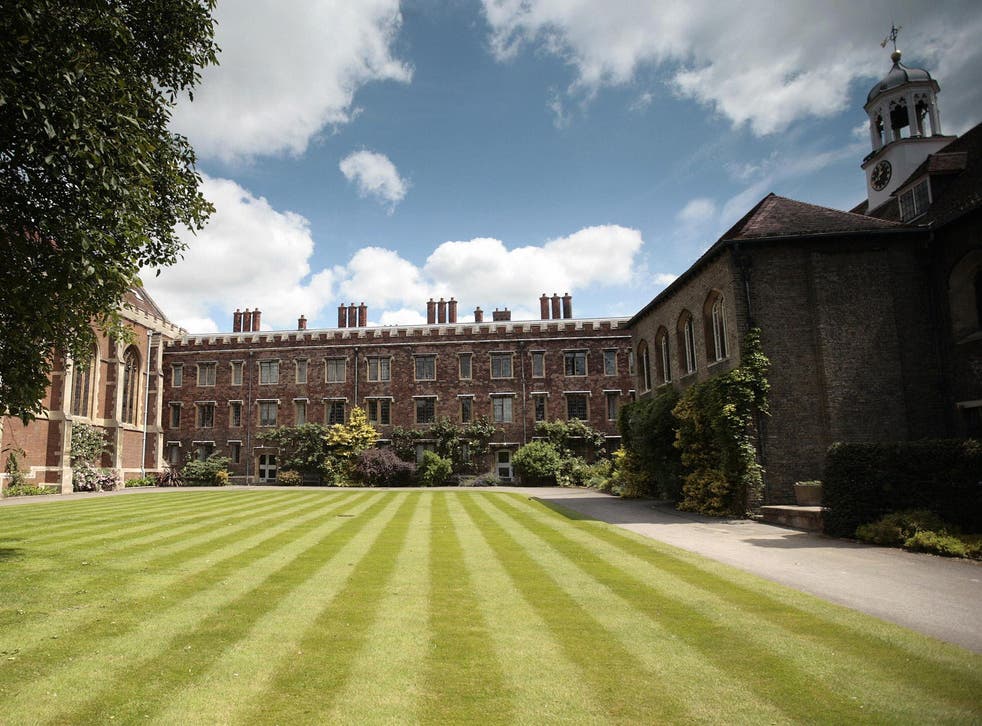 The University of Cambridge is considering rolling out fully-funded "debt-free" studentships for its poorest students following criticism about a lack of diversity at the prestigious institution.
Some students "with greatest financial need" could have both their tuition fees and living costs covered by the university, according to documents obtained by the student newspaper Varsity.
The university may target students who had received free school meals as part of a wider initiative to improve access to the most disadvantaged groups – which is set to be launched in the autumn.
It comes as Cambridge and other elite universities have been in the spotlight for failing to admit sufficient numbers of students from ethnic minorities and poorer backgrounds.
Ministers and the Office for Students have criticised top universities for not making enough progress after it was revealed that some Oxbridge colleges had admitted no British black students.
Details of the new scheme come in the same week that rapper Stormzy launched a scholarship to help two black British students get to Cambridge University.
The Stormzy Scholarship – which will pay the tuition fees of two students – was announced on A-level results day when thousands of students found out their grades and university places.
And now meeting minutes of a university task force, obtained through Freedom of Information requests, have revealed that Cambridge is looking to provide greater financial support for students who would usually be given the highest maintenance loans from the UK government.
Labour MP David Lammy, who has been campaigning for Oxbridge to improve access, welcomed the proposals from Cambridge, and called them "long overdue".
Mr Lammy, a former higher education minister, told The Independent: "The devil is in the detail though because it is clear that Cambridge will need to look closely also at other indicators.
"For example, there are significant parts of the north of England where people aren't making their way to Cambridge." He added that there were also ethnic communities that were underrepresented.
On the Stormzy scholarship, Mr Lammy said: "I welcome him reaching into his pocket – but you have got to ask why Cambridge alumni have not been able to do this in the past."
"I think that the bursaries and scholarships that are available are spread too thin right across the student body," he added.
Earlier this month, The Independent exclusively revealed that the head of the Russell Group, which represents the most selective UK universities, including Oxford and Cambridge, believes the government should bring back maintenance grants for poor students in order to improve diversity.
On the latest proposals from Cambridge, Gordon Marsden, Labour's shadow minister for higher education, said: "I think it is an interesting development. It highlights the issues of debt putting people off – and the costs of living particularly in accommodation that is rocketing in some places."
But he told The Independent: "That is why we have consistently said that we would reintroduce maintenance grants as they were before the government abolished them."
Mr Marsden added: "The government and universities need to look far more at trying to open up aspirations to young people from disadvantaged backgrounds at a much earlier age."
UK news in pictures

Show all 50
A University of Cambridge spokesperson said: "The university is committed to widening participation and ensuring student success.
"The university and the colleges provide a number of measures to support those in financial need, including support for low income students through bursaries, and work hard to raise aspirations among under-represented and disadvantaged groups through a wide range of outreach activities.
"This is a complex challenge that benefits from constant review and reflection. With that in mind, the university and colleges are considering a range of new initiatives aimed at addressing common barriers to higher education at Cambridge.
"Currently at research stage, they will seek to inspire and support young people at various stages of – and facing various challenges in – their educational journey, including their time at the university. We will have more information on this work in due course."
A Department for Education spokesperson said: "In 2017, there were record proportion of 18-year-olds going to university, including those from disadvantaged backgrounds.
"This is great news, but we are not complacent. That is why the Office for Students is working closely with universities – backed by £860m funding next year – to improve access for all students.
"We've also increased the maximum grants and loans by over 3 per cent for the 2018-19 academic year, and disadvantaged students starting their courses this year will have access to the largest ever amounts of cash-in-hand support for their living costs."
Register for free to continue reading
Registration is a free and easy way to support our truly independent journalism
By registering, you will also enjoy limited access to Premium articles, exclusive newsletters, commenting, and virtual events with our leading journalists
Already have an account? sign in
Join our new commenting forum
Join thought-provoking conversations, follow other Independent readers and see their replies