Camden School for Girls bans 16-year-old Muslim student from taking A-levels until she removes niqab
Sixth former banned from school until she removes her veil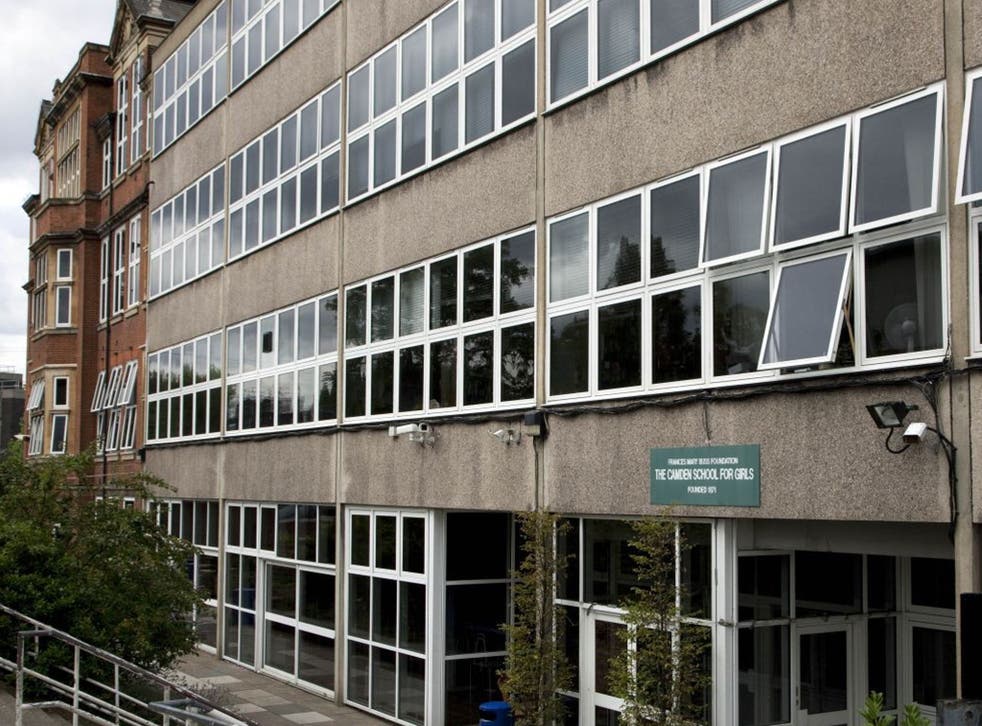 One of the country's top state schools is at the centre of controversy after banning a sixth form student because she wears an Islamic niqab to cover her hair and face.
Camden School for Girls, in London, which describes itself as one of the top 100 schools in the country is refusing to allow the Muslim teenager to start her A-levels unless she stops wearing the veil.
The 16-year-old, who has attended the school for the past five years, was supposed to start her sixth form studies this month. Her 18-year-old sister described the school's decision as "very upsetting" for the family and said: "My sister just wants to wear the niqab for her own reasons and attend a school. I don't feel like her education should be compromised or the way she dresses should affect the way anyone looks at her."
More than 700 people have signed a "Stop the Islamophobia" petition in protest at the school's stance. The petition at change.org, started by an anonymous protester, claims the 16-year-old was allowed to sit exams this summer wearing the veil, and that former pupils have been allowed to wear the niqab. It states: "This school is renowned for its 'individuality' and 'strong feminist views'. However, this poorly thought out decision made by the school contradicts this. What happened to 'freedom of expression'?"
One of those to have signed the petition, Farhana Khanom, commented on the website: "I went to Camden school for girls and many girls wore veils and were allowed to do so. This school had a reputation. And now discriminating [against] people that made their own choice to wear what they feel is utterly disgusting."
Another signatory, Cabrini Cotter-Boston, posted online: "This decision has set them back decades. It's disgusting that Camden teaches us as young women to empower ourselves, and to push the boundaries set by society, yet they themselves are taking away a young girl's education because of her choice in clothing."
The school was named as one of the top 100 best performing schools in the country by schools minister David Laws last year, and has been rated as "outstanding" in every Ofsted inspection it has had. Previous pupils include campaigner Sarah Brown, the wife of former Prime Minister Gordon Brown, actresses Emma Thompson and Tamsin Greig, and singer Geri Halliwell.
In a statement, the school's governing body refused to "discuss individual pupils" but cited "an appearance policy" which states: "Inappropriate dress which offends public decency or which does not allow teacher student interactions will be challenged." The statement added that the policy was adopted "several years ago" and "written at a time when a girl wished to wear a niqab, and teachers found that this made teaching difficult."
The school defended its decision as "very much an educational one" and said: "teachers need to see a student's whole face in order to read the visual cues it provides. In addition, it is important for the safety and security of the school community to know who is on site, and to be able to see and identify individuals."
Guidelines from the Department for Education allow schools to set their own uniform policy and enforce bans on certain clothing on the grounds of learning, security or safety.
And last year London Mayor Boris Johnson claimed full face veils in school were "completely wrong" after it emerged that some schools had forced children as young as 11 to wear the niqab.
Register for free to continue reading
Registration is a free and easy way to support our truly independent journalism
By registering, you will also enjoy limited access to Premium articles, exclusive newsletters, commenting, and virtual events with our leading journalists
Already have an account? sign in
Register for free to continue reading
Registration is a free and easy way to support our truly independent journalism
By registering, you will also enjoy limited access to Premium articles, exclusive newsletters, commenting, and virtual events with our leading journalists
Already have an account? sign in