Canadian teacher awarded $1m prize for work to reduce teenage suicide rates within indigenous community
Maggie MacDonnell was commended for her efforts to dramatically improve school attendance levels and for helping to reduce violence and substance abuse in poverty-stricken Salluit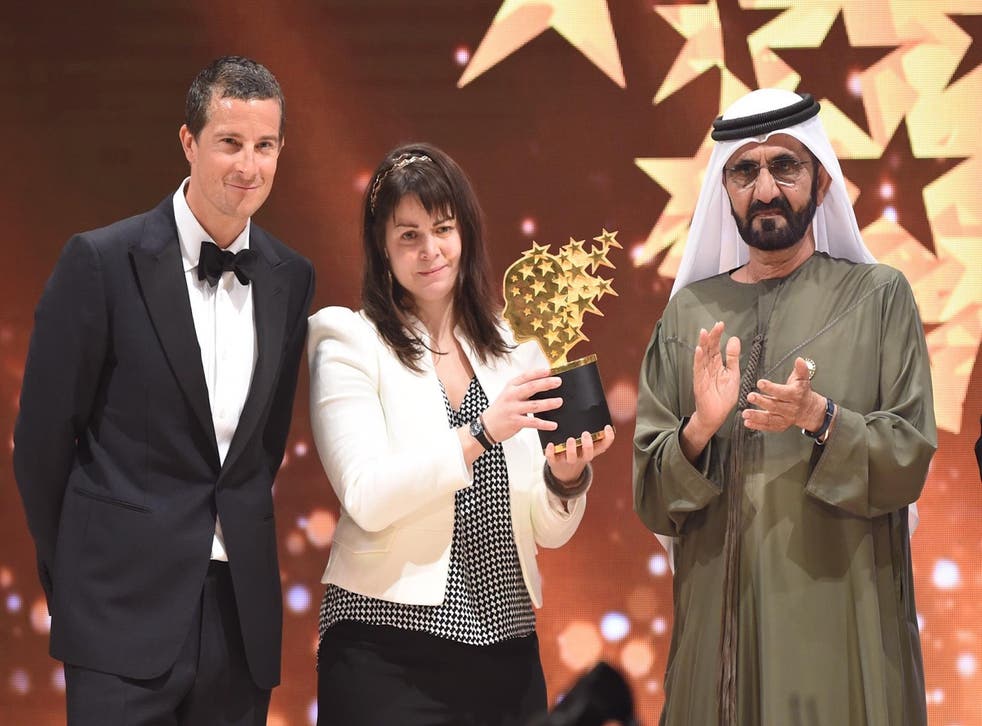 A school teacher working in an indigenous community in the remote Canadian Arctic has been awarded a US$1m (£803,000) global teaching prize for her work helping to reduce teenage suicide rates.
Maggie MacDonnell, who teaches at the Ikusik School in Salluit, a remote Inuit village, was commended for her achievements within the local community, where harsh conditions are a significant barrier to education.
A town of less than 1,000 inhabitants, Salluit is an area of high deprivation, isolation and limited resources, where rates of teenage drug abuse and self-harm are high.
Temperatures in the region reach minus 25C, and the school is only accessible by aeroplane.
Accepting the Varkey Foundation Global Teacher Prize, which was announced via the International Space Station, Ms MacDonnell said: "I have witnessed 10 suicides in just over two years.
"When I leave the church with the body and go with it to the graveyard, the memory that starts to haunt is you see these Canadian teenagers – the very own classmates of the deceased – digging the hole and burying the body in the tundra.
"As a teacher, you come to school the next day and there's an empty desk in that classroom. There's a stillness and a silence that's coming from that desk."
Now in its third year, the $1m award is the largest prize of its kind, and was set up to recognise exceptional teachers who have made an outstanding contribution to the profession, as well as shine a spotlight on the role teachers play in society.
In a special congratulatory video message broadcast into the ceremony hall, Canadian Prime Minister Justin Trudeau, said: "Maggie MacDonnell – on behalf of all Canadians – from one teacher to another – congratulations on winning the Global Teacher Prize 2017.
"I'd like to say thank you to every teacher out there. Teachers owe responsibilities to many people – to students, to parents, to the community, the school board. But in the end, as all great teachers know – they are ultimately responsible to something far greater."
World news in pictures

Show all 50
Prince Harry and Italian Prime Minister Paolo Gentiloni also paid tributes.
Speaking to The Independent before the announcement, Ms MacDonnell, originally from Nova Scotia, spoke of the extreme levels of deprivation seen in the remote Inuit community.
"There is so much intergenerational trauma," she said. "Decades of political issues means families are troubled and take to drink and drugs and violence and therefore young people are born into that situation.
"Often these kids can't go home at night because it's not safe."
Last year, the Canadian government held an emergency meeting to address sky-high suicide rates within indigenous communities in the northern territories.
In 2015 alone there were six suicides recorded within the Salluit community, all affecting young males between the ages of 18 and 25.
But the death rate is far more extreme, said Ms MacDonnell.
"Before moving to Salluit, I had been to two funerals", she said. "Some of these kids have been to 40, 50 or more funerals in their lifetime."
She added: "As long as the federal government continues to under-fund indigenous communities it's going to be rough for them."
Trade deal agreement signed between EU and Canada
Since moving to the community six years ago, Ms MacDonnell has created a life skills programme specifically for girls which has seen a 500 per cent improvement in girls' school registration.
She has also dramatically improved school attendance by getting her students involved in running a community kitchen, attending suicide prevention training and hiking through national parks to understand environmental stewardship.
The award winner has also set up a fitness centre and become a temporary foster parent to some of her own students.
She told The Independent: "Many of the students come in with harsh reputations – they may come from families that are stigmatised, that are part of the informal economy of drug dealing. They might have criminal records for vandalism, they might be just young girls who have experienced the foster care system and been subject to violence.
Gender roles within the community mean young girls are often given caring responsibilities at home and are most likely to drop out of school before graduating.
Some 50 per cent of girls in the town are said to have experienced some form of domestic violence, and teenage pregnancy rates are of the highest in Canada.
"What I try to do is create a community service approach within my classroom so I create ways and means for them to get involved in the community in a positive way," said Ms MacDonnell.
"I know for certain that a lot of my female students are going to be having babies very young – most are having them by 18 or 19.
"With all that in mind I also provide classes on things like brushing their teeth, being active, how to make a healthy breakfast – things they can learn right away so they will be good parents."
Multiple families typically share houses in Salluit due to an extreme lack of housing. Just three houses in the town are privately owned and individuals can wait for up to ten years for social housing.
"Starting a family is one way to get up the social housing list," she added.
Attending the Global Education and Skills Forum in Dubai with Ms MacDonnell, one of her students, Larry, told The Independent he grew up in a four bedroom house shared by 18 people, and often couldn't go home for fear of being exposed to drugs and violence within it.
"It was really rough," he said. "There was never enough food. They were always fights starting in the morning and I had to run away to my sister's house."
Larry, 19, now works in a fitness centre set up by Ms MacDonnell and has submitted a college application to attend university in Montreal.
"My role is to show them that the opportunities are there to be created and they can achieve their ambitions," said Ms MacDonnell. "I feel so proud of my students."
Join our new commenting forum
Join thought-provoking conversations, follow other Independent readers and see their replies