Children as young as five being excluded for 'sexual misconduct'
Incidents including young children watching pornography and sharing of indecent images has fuelled calls for a revamp of sex and relationships education in schools
Rachael Pells
Education Correspondent
Wednesday 09 August 2017 00:04 Comments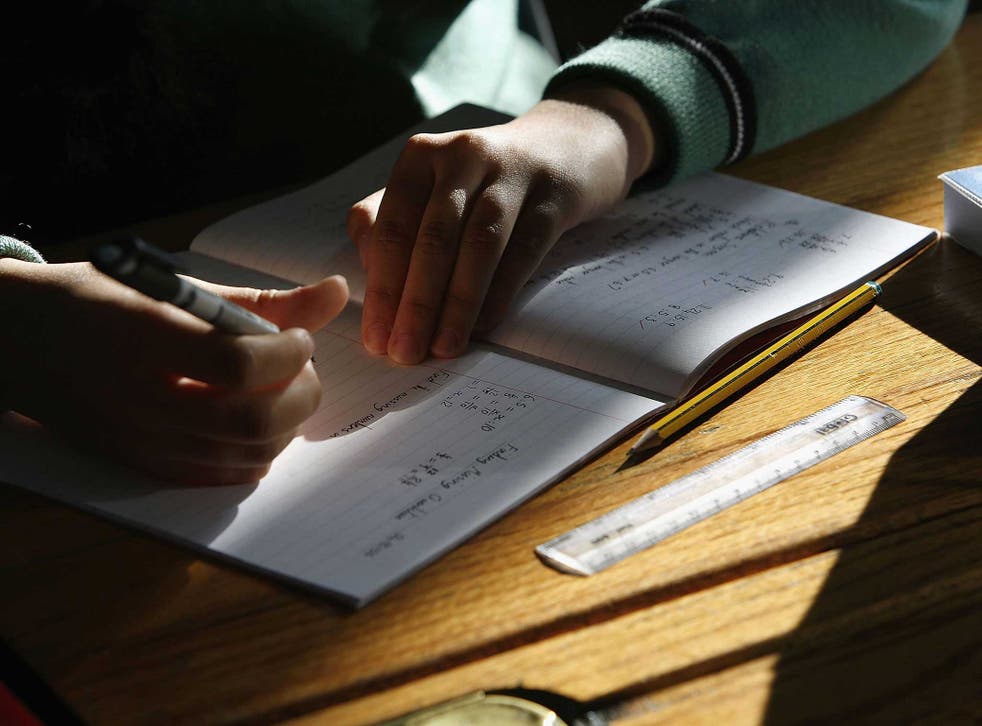 Children as young as five are being excluded from school for sexual misconduct, an investigation has found.
Hundreds of school pupils have been either permanently or temporarily removed from classrooms in the last four years after being involved in sexual acts, including watching pornography and sharing indecent images, latest figures suggest.
The data, obtained via Freedom of Information request by the Press Association, is also suggestive of a severe gender divide, with boys much more likely to be excluded for such behaviour at an early age.
Data released by local authorities in England shows there were 18 incidents involving boys for every one incident involving a girl.
The vast majority of exclusions were on a fixed-term basis, with 14-year-olds the most likely to be involved in sexual misconduct.
Some 754 incidents were reported between July 2013 and April 2017, however the true figure is believed to be much higher, as the vast majority of councils contacted said they did not hold the information or refused to disclose it.
The figures have prompted calls for a reassessment of sex education in the classroom.
Under new laws, all children from the age of four are to be taught about safe and healthy relationships in the classroom, and children in secondary schools will be given age-appropriate lessons about sex.
The move follows years of campaigning from MPs and charity groups, who successfully argued that the current curriculum is years out of date.
UK news in pictures

Show all 50
Some have expressed concern over a potential loop hole, however, that allows schools "flexibility" over how they deliver subjects, for instance in keeping with religion.
At present, parents are also within their rights to withdraw their children from sex and relationships classes should they so choose.
An NSPCC spokesman said: "Every child has the right to feel safe at school.
"Preventing harmful sexual behaviour through proper, up to date sex and relationships education is immeasurably better than excluding children after the harm has been done.
"By giving children the right information about sexuality, consent, risks and protection we teach them how to make healthy relationship decisions, how to treat others and how to know when something is not right.
"Social media, sexting, online porn and dating apps did not exist when sex education was introduced on the curriculum a generation ago.
"It must be dragged into the 21st century, it must be consistent, and it must be offered in every school as part of a broader [personal, social and health education] curriculum."
Figures show seven children in the first year of school were involved in sexual misconduct during the time period, although an age-range breakdown was not available from every authority.
Sex education to be made compulsory in all schools in England
There were at least 40 incidents of children below 10 years old, the age of criminal responsibility, disciplined for misdemeanours.
Schools said children could be censured under the term "sexual misconduct" for a range of issues, including sexual abuse, assault, bullying, graffiti and harassment, as well as lewd behaviour.
Other examples included holding, distributing or requesting indecent images, accessing internet pornography, and sexual misconduct involving social media.
The figures do not include those where children were victims at the hands of staff or adult volunteers.
There was a surge in incidents as children reached Secondary School, with 66 incidents involving 12-year-olds, peaking at 120 for those aged 14.
The figures show the numbers trail off for those aged 15 (86 cases), 16 (41) and 17 (eight).
Responding to the figures, Barnardo's children's charity chief executive Javed Khan expressed concern for underlying child protection issues.
"We know from our prevention work that many children who sexually harm themselves or others, have experienced some form of sexual abuse and trauma," he said.
"They need specialist support to help them recover and understand why their behaviour is harmful. This is particularly important as children and young people are more likely than adults to achieve successful rehabilitation and far less likely to commit further sexual abuse.
"It's vital all pupils are taught what a healthy relationship looks like so they understand what consent and respect mean."
Sarah Green, co-director of the End Violence Against Women Coalition, said children have access to extreme images online without being given the guidance, protection or discussions about "respect, equality and acceptable behaviour".
She added: "These figures, which reveal really alarming behaviour in schools, show that girls and boys are being failed by those who should protect them and prevent this.
"The Department for Education (DfE), and school leaders and parents, need to take responsibility now for ensuring better child protection, better policies on bullying which recognise sexual bullying, and good relationships and sex education. We can change this."
The data was based on results of 15 local authorities with data.
A DFE spokesman said: "Sexual assault of any kind is an offence and must always be reported to the police. Schools should be safe places and we issue safeguarding guidance to protect pupils' welfare.
"As announced in March 2017, all primary schools will be required to teach Relationships Education and all secondary schools will have to teach Relationships and Sex Education in the future.
"We want to help all schools deliver these lessons so that young people are equipped to have healthy relationships and treat each other with respect."
Figures released last month by the Government show there were 2,070 fixed-period exclusions for sexual misconduct in English schools for the academic year 2015/16, as well as 70 permanent exclusions for the same reason.
The data was collated from all state-funded primary and secondary schools, as well as special schools, but did not specify the age of children involved.
Register for free to continue reading
Registration is a free and easy way to support our truly independent journalism
By registering, you will also enjoy limited access to Premium articles, exclusive newsletters, commenting, and virtual events with our leading journalists
Already have an account? sign in
Join our new commenting forum
Join thought-provoking conversations, follow other Independent readers and see their replies