Defiant teachers say Gove won't stop strike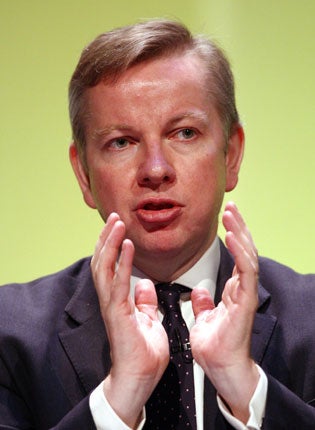 Leaders of teachers' unions stuck defiantly to their strike call yesterday despite intense pressure from the Government to call off an action that will close 40 per cent of the country's schools on Thursday and disrupt others. The Government's anxiety to see the action called off betrays uncertainty over who will get the blame as the public is inconvenienced by industrial action, either because they cannot send their children to school, or because of the closure of government offices hit by a civil servants' strike.
Yesterday, the Education Secretary, Michael Gove, went out of his way to emphasise that the prestige of the teaching profession has been on the way up, though he said their reputation is still "not as high as it should be". He appealed to teachers not to put their reputations at risk by going on strike. Speaking on the BBC's Andrew Marr Show, he said: "The individual leaders of the unions that are going out on strike this week – Christine Blower at the National Union of Teachers, Mary Bousted at the Association of Teachers and Lecturers – are very committed people who want the best in the system.
"I don't want to get into a pitched battle with them, but I do want to emphasise that the public have a very low tolerance for anything that disrupts their hard-working lifestyles."
But Mary Bousted, general secretary of the ATL, claimed that, if the Government were able to remove the pension rights of public employees – the issue at stake in Thursday's action – "there will be no honourable teaching profession". "Good teachers won't want to go into the profession because it won't be worth their while to do so," she told Sky News.
And Christine Blower, general secretary of the NUT, said: "We don't want to strike, but unless we take a stand now the Government will irreparably damage education in this country and the children will suffer."
The NUT and ATL returned substantial majorities in favour of strike action in a ballot.
Ministers have been reluctant to walk into the minefield of trade union law, which has remained unchanged since Margaret Thatcher took on the unions, but the Business Secretary, Vince Cable, has hinted that they might grasp this nettle if the country suffers serious industrial disruption.
Actions that ministers are considering in response to Thursday's strike include:
* Appealing to head teachers to keep schools open even their staff strike, getting parents in to help manage classes where possible.
* A clampdown on public employees who are currently allowed to act as union representatives during working hours. This would be a particular blow for the only non-teaching union taking part in Thursday's strike, the Public and Commercial Services Union.
* London's Mayor, Boris Johnson, and others have suggested making strikes illegal unless they are supported by a majority of members. Unions are compelled by law to conduct strike ballots by post, and turnouts are frequently low.
Around 4,000 schools have told councils they will be closing for the day, giving a million children a day off. The numbers are expected to swell substantially today or tomorrow, with the likelihood that most of the 30,000 state schools in England and Wales as well as some independent schools will face disruption.
A survey of 20 local authorities by The Independent revealed a total of 466 schools would be completely shut – while a further 174 would be partially closed. If that picture is mirrored throughout England and Wales, where the strike will take place, it will mean around 4,000 schools closing.
However, the survey is likely to be a conservative estimate as most authorities did not expect schools to contact them until today or tomorrow about their plans. In addition, schools do not have to let them know if they will be closed by strike action.
There was just as much militancy in the shire counties as in the traditionally more militant inner-city areas. In West Sussex, 47 schools will be closed and 23 partially closed, according to the latest information. In Gloucestershire, the figure was 64 closures. In Northumberland, so far 35 schools have said they will close, 23 will partially close and 23 remain open. In Camden in north London, not a single school had notified the council of its intention to remain open for all pupils by the weekend. Of the 26 contacted, 23 will be closed and three partially closed. Of the 40 to notify Barnet, also in north London, 19 will be closed and 14 partially closed.
The strike will hit independent schools, too, with Berkhamsted's headmaster Mark Steed expecting 60 to 70 per cent of his teachers to go on strike as 96 out of 107 ATL members voted in favour of it. Three trips planned by the Hertfordshire school are expected to go ahead, but for those pupils who remain at school it will resemble a "snow day".
The Government has said it wants to increase teachers' contributions to their pensions by around 50 per cent which unions estimate will cost the average teacher £100 a month. In addition, it wants to raise the retirement age eventually to 68 and base pensions on average salaries rather than end salaries – a move likely to penalise head teachers the most.
Whether or not a school closes hinges on the decision of the head teacher, and the National Association of Head Teachers is already planning to ballot its members on industrial action in the autumn if the dispute is not settled by then.
The former Labour minister Lord Hutton, who carried out a review of pensions for the Government, suggested independent school teachers could have the right to join the national pension scheme withdrawn.
Michael Gove has written to all head teachers saying it is their "moral duty" to keep schools open, but Russell Hobby, general secretary of the NAHT, said he thought the letter might be "counter-productive".
Teachers will be joined in strike action on Thursday by civil servants and university and college lecturers. Further strikes are being planned for the autumn, with a million more local authority and health service workers expected to join in.
Additional reporting David Brake and Zoe Slater
Join our commenting forum
Join thought-provoking conversations, follow other Independent readers and see their replies