Face masks in secondary school classrooms to be scrapped next week, government confirms
Recommendation will be dropped from 17 May, education secretary says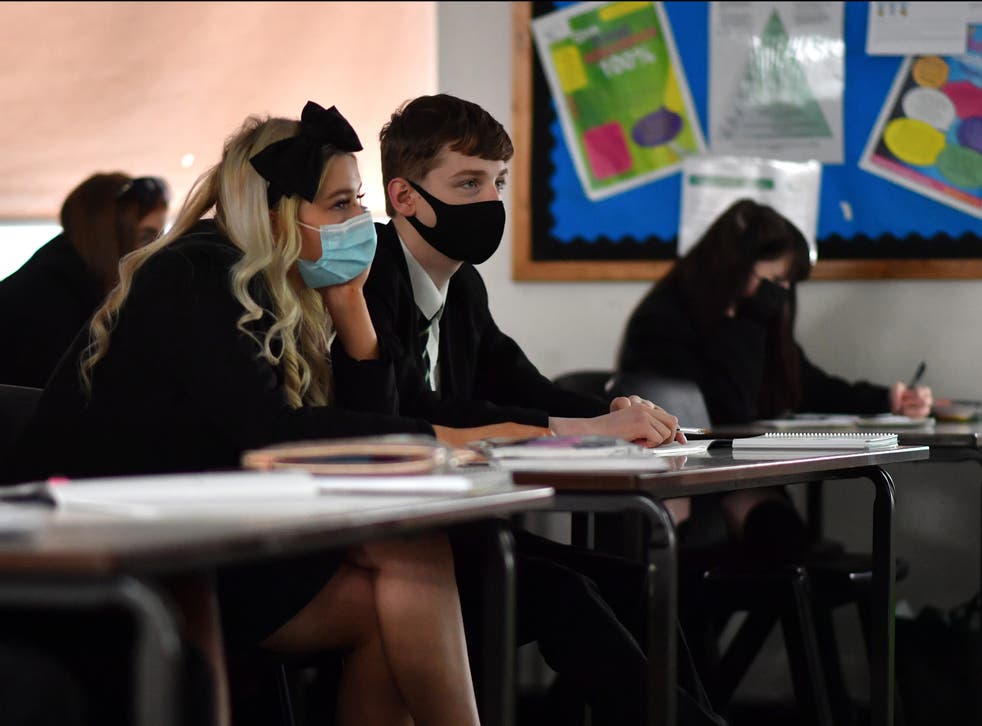 The government is scrapping guidance telling secondary school pupils in England to wear face masks in classrooms from next week.
It comes more than two months after the measure was introduced.
Gavin Williamson, the education secretary, said on Monday: "Pupils will no longer be advised to wear face coverings in schools and colleges from 17 May, as infection rates decrease and the vaccination roll-out covers most adults."
He added: "All other protective measures such as 'bubbles', extra hygiene and social distancing will remain in place."
The announcement comes despite a plea from scientists - including members of Independent Sage - and unions to keep face masks in secondary school classrooms for longer.
In an open letter last week, education unions, public health experts and parents warned the education secretary scrapping the guidance in mid-May would "have consequences for the health" of children, their parents and the wider community.
MPs and parents have raised concerns about face coverings in class disrupting pupils' learning and wellbeing since they were introduced in March.
When schools fully reopened in early March after lockdown pushed much teaching online, new government advice recommended masks in secondary school classrooms in England to prevent the spread of coronavirus.
Last month, Mr Williamson extended the advice to run until 17 May – but said he expected to scrap it after that.
The education secretary said last week the government planned on scrapping face masks in secondary school classrooms alongside England's next step out of lockdown.
On Monday, it was confirmed the guidance would be removed as lockdown measures are eased on 17 May.
Geoff Barton from the Association for School and College Leaders said: "It is obviously better for communication and learning if masks aren't required in classrooms, but any decision to this effect must follow the scientific advice."
He said it was "very worrying" the move "appears to contradict" evidence published by the Scientific Advisory Group for Emergencies (Sage), which said it was important to maintain current protective measures in schools - such as testing and mask wearing - in the coming months.
Mr Barton said: "It seems to us that school and college leaders are once again being placed in a very difficult position because many parents and staff will obviously feel that pupils should continue to wear masks regardless of what the government thinks."
"For the sake of a few more weeks all this unnecessary anxiety could have been avoided and we don't understand why the government is in such a rush over this issue."
The Department for Education has been approached for comment.
Announcing the change in mask guidance from 17 May, the government said the latest data shows infection rates are decreasing, deaths and hospitalisations are "at their lowest level" since last summer and the vaccine rollout is continuting "at pace".
The move to scrap masks in classrooms was "in line with this data", according to the Department for Education.
Mr Williamson said: "Step three of the roadmap allows people to mix indoors once again and in line with the latest data, we no longer need to recommend that face coverings are worn in the classroom."
"Over the past year we have always put the wellbeing of pupils and staff first, and this step is now the right one, as vaccinations protect the most vulnerable in society and we turn our attention to building back better from the pandemic."
He added: "Testing in schools and colleges continues to be important, so I urge all students, families and teachers to keep testing themselves twice weekly, to help reduce the risk of transmission."
Additional reporting by Press Association
Join our new commenting forum
Join thought-provoking conversations, follow other Independent readers and see their replies