Gaddafi son 'plagiarised his degree thesis' at LSE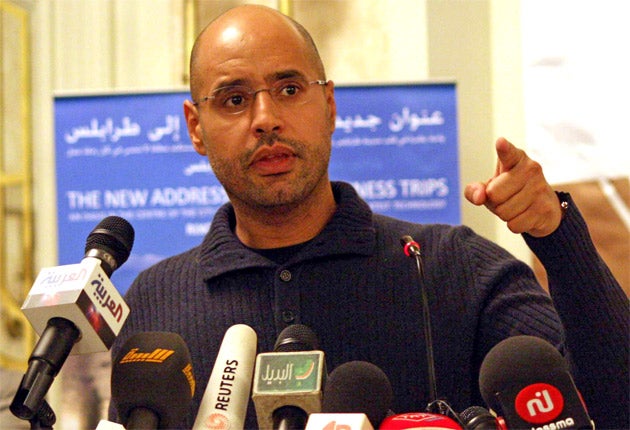 The London School of Economics (LSE) has launched an investigation into claims that Colonel Gaddafi's son, Saif, plagiarised his PhD thesis.
The 38-year-old graduated from LSE with a Master's degree in philosophy, policy and social value in 2003 and gained a PhD in philosophy in 2008. It is alleged that he used a ghost writer and copied sections of his thesis, The Role of Civil Society in the Democratisation of Global Governance Institutions, which was examined by Lord Desai, the Labour peer.
Howard Davies, the LSE director, has already admitted that he felt "embarrassed" about the university's ties to Saif Gaddafi. The LSE accepted his offer of a £1.5m gift from the Gaddafi International Charity and Development Foundation in 2009. The LSE received £300,000, half of which has already been spent on research related to North Africa and the development of civil society.
Analysis of Saif Gaddafi's thesis, which investigated arguments around "soft power," different voting systems and civil society, suggests 16 instances where he had plagiarised academic texts. Entire passages were lifted from International Monetary Fund research and a 2005 publication, Denying Democracy: How the IMF and World Bank Take Power from People, by Tim Jones and Peter Hardstaff.
Gaddafi acknowledged in the thesis that he used research commissioned from a consultancy, Monitor, in his text. An LSE spokesman said: "LSE is aware that there are allegations of plagiarism concerning the PhD thesis of Saif Gaddafi. The school takes all allegations of plagiarism very seriously and is looking into the matter in accordance with standard LSE procedures."
The LSE students' union has called for an external investigation amid claims that Gaddafi should be stripped of his PhD. The LSE is understood to have been aware of the plagiarism claims for some years.
Join our commenting forum
Join thought-provoking conversations, follow other Independent readers and see their replies