GCSE textbook saying working-class pupils lack right attitudes to succeed to be rewritten
'What about the students who have been taught this nonsense and believe it to be fact?'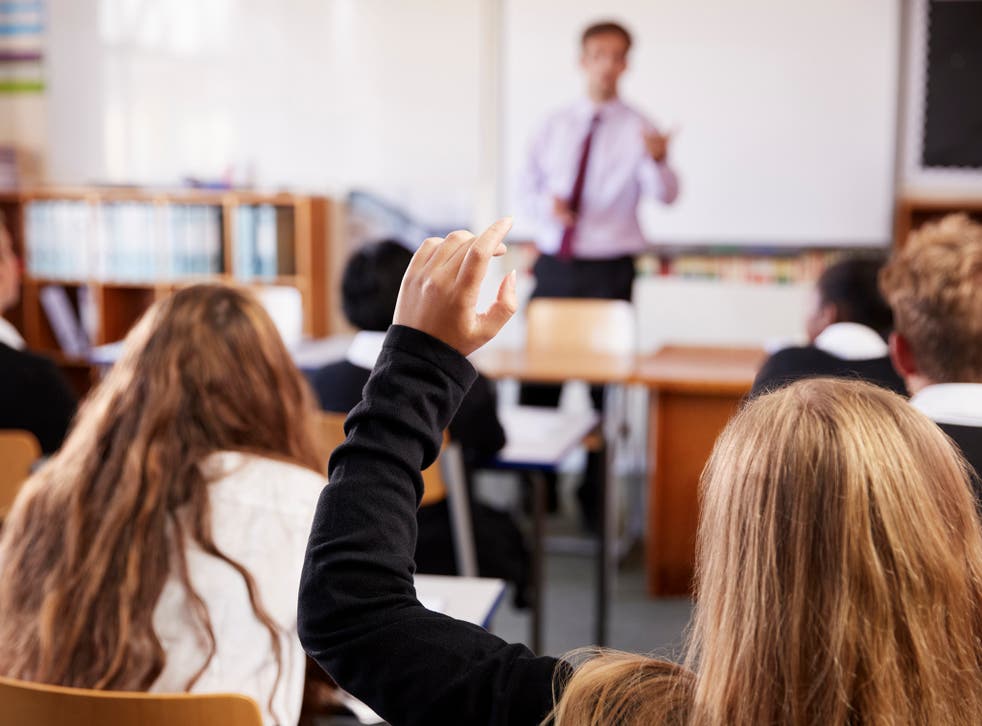 A GCSE textbook will be rewritten after more offensive statements came to light – including the claim that working-class children often lack the right "attitudes" to succeed in education.
The sociology textbook – which was taken off the market last week after it faced backlash for a "racist" description of Caribbean fathers being "largely absent" – has received even more criticism.
The resource, which has been criticised for reinforcing stereotypes, includes a claim that wives from sub-Saharan Africa are replaced if they cannot have children, according to reports by the HuffPost.
It adds that some ethnic groups do not show the same commitment to education – and that children with English as an additional language are at an immediate disadvantage.
And yet a study released this week revealed that pupils who speak English fluently as a second language do better than native speakers throughout their whole time at school.
The exam board-approved textbook – called GCSE (9-1) Sociology – says: "Working-class children often lack the appropriate attitudes, norms and values that are necessary to succeed in education."
Publisher Hodder Education has decided not to reissue the controversial edition of the textbook following a review of its content – and instead they have begun work on a new edition.
On Twitter, Leanne Lindsey asked: "What about the students who have been taught this nonsense and believe it to be fact?"
Bev, a PhD researcher, added: "It is despicable that this tripe has been allowed to be published? How will you reverse the reinforcement of the poisonous stereotypes you peddled?"
Fran Nantongwe, a teacher of sociology at Reepham High School and College in Norfolk, asked whether textbooks would be replaced free of charge. "Ebooks are only useful to teachers who have access to computers, and many don't," she said.
Ministers were criticised on Thursday after the textbook had to be removed from sale for containing stereotypes about Caribbean families.
Shadow Commons leader Valerie Vaz raised the issue in business questions and pressed the government on why it took a campaign by MPs and charities to remove the book from sale earlier this month.
Ms Vaz said: "I and many other members signed a petition for the removal of a sociology textbook approved by the exam board AQA, which I presume was approved by the Department for Education, which perpetuated an untrue racial stereotype about African Caribbean men. The book has now been withdrawn."
Commons leader Andrea Leadsom did not address the issue directly, but said she had been "delighted" to see that "there is more of the history of black races in the world being brought into our history books".
UK news in pictures

Show all 50
A spokesperson for Hodder Education said: "We have taken the comments we have received on content within our AQA GCSE Sociology textbook very seriously, and we are really very sorry for any hurt and offence we have caused.
"We have now reviewed the full text with our authors and feel we cannot reissue the current edition. Instead we are starting work on a fully revised new edition which will be published next spring.
"We plan to reach out to groups who have contacted us to help review this new edition and will review our internal processes to ensure something like this cannot happen again."
Join our new commenting forum
Join thought-provoking conversations, follow other Independent readers and see their replies