Parents urged to withhold personal data in latest school census targeting foreign-born children
'Eight years ago we were worried about the BNP. Four years ago we were worried about UKIP. Now it is the Conservatives themselves who are the driving force behind division and fear'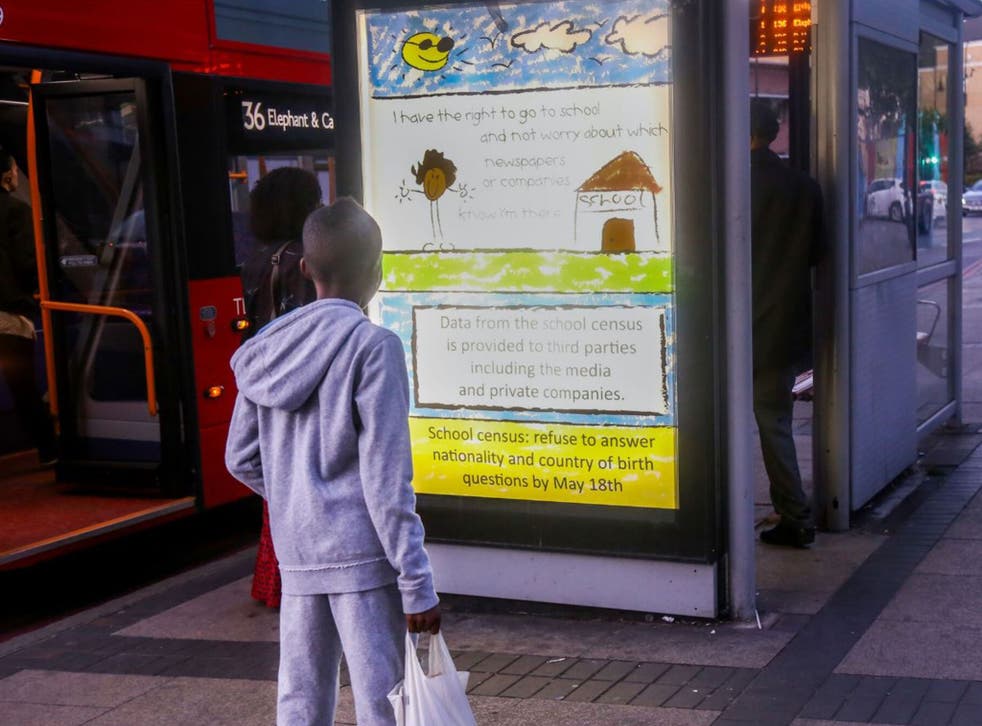 Parents have been urged to refuse to hand over their children's personal data in the latest school census, which campaigners say targets foreign-born children.
The controversial national census was widely condemned last year, with cross-party MPs labelling the system "racist" after schools were found to be demanding parents hand over passports as proof of their children's nationality.
Teacher and parent groups, human rights and data protection campaigners have likened the process to producing a "foreign children list" and expressed continued concern over the storage of personal information on the Government's National Pupil Database (NPD).
Following pressure from the media, ministers dropped plans to introduce ethnicity and nationality data collection for nursery school-age children last year.
The census continues to take place in primary and secondary schools, however, with the next summer term census forms to be issued to parents across the country this week.
Since the beginning of the new school year, schools have been asked request additional information from parents including pupils' country of birth and proficiency in English language – a move criticised as "dangerous and divisive" by MPs.
An anonymous group opposed to the latest data collection have arranged for a series of posters to appear around London this week, encouraging others to boycott the forms.
One billboard poster, which comes in the design of a child's drawing, states: "Up to 1,500 families a month are being targeted for deportation using children's school records.
"School census: refuse to answer nationality and country of birth questions by May 18th."
Campaigners against the new measures claim sensitive data has been handed over to third party organisations, and Freedom of Information data shows police forces and the Home Office have been handed information in the past.
Last term The Independent also revealed that a number of schools were being told to guess pupil ethnicity as part of the wider census, amid confusion from schools and local council around official Department for Education guidance.
The schools group Against Borders for Children (ABC) said they were "optimistic" following the ministerial decision last year not to collect nationality data on two to five year olds, suggesting the Government may reconsider its broader approach.
Instead, they said they regretted that ministers had instead decided to "defy the consensus" and press on with the data collection which the group said serve "no educational purpose".
Gracie Mae Bradley, coordinator of ABC, said: "We know this policy was devised to turn schools into a hostile environment for young people, and that – extraordinary as this sounds – it was adopted as a compromise by Ministers who really wanted to block the education of refugee and migrant children.
"Although the Government took the decision last year to protect the youngest children from this kind of inappropriate data collection last year, it is now clear that Ministers are determined not to listen to pupils, parents, teachers, and a growing list of human rights organisations.
The coalition group of parents, teachers and campaigners are now calling on schools and teachers to inform parents and young people of their legal right to withdraw from the census.
Ms Mae added: "A boycott of the sort we are calling for today is therefore the last option for anyone who cares about the safety of children and their right to privacy."
Mass refusal by parents to take part would make the system unusable, she said, as well as show the strength of the opposition to what was a "racist and intrusive measure."
The National Pupil Database, established in 2002, already contains personal and identifiable records on more than 20 million people.
UK news in pictures

Show all 50
In May 2016, the DfE announced the new policy of adding nationality and country of birth to the requirements, effective from September last year.
Alan Munroe, a primary school teacher and spokesperson for ABC said: "We have seen the impact of this approach already across the country, and it must be resisted.
"We know that schools have made assumptions about the country of origin of pupils who are supposedly in their care.
"Passports have been demanded, and young people stigmatised simply because they 'look foreign', a disgraceful state of affairs in a modern multicultural country."
Government's controversial school census to record pupil nationality 'has all the hallmarks of racism' Lords warn
Gargi Bhattacharyya, another group member added: "It's alarming to track the spread and history of this kind of effort to embed racism in our schools.
"Eight years ago we were worried about the BNP. Four years ago we were worried about UKIP. Now it is the Conservatives themselves who are the driving force behind division and fear.
"All children deserve privacy, they deserve to be safe, and they deserve a good education. [The] Government should be working towards an anti-racist culture in our schools, not doing the racists' work for them."
Responding to concerns raised last year over how pupil information might be used, the DfE insisted that any information on nationality, ethnicity or otherwise would be stored for the department's own analysis and records.
A spokesperson said at the time: "Gathering data on pupils' country of birth, nationality and English proficiency as part of the National School Census will be used to help us better understand how children with, for example, English as an additional language perform in terms of their broader education, and to assess and monitor the scale and impact immigration may be having on the schools sector.
"However, our guidance is clear that there is no requirement for headteachers to ascribe nationality or ethnicity to their pupils. A pupil's background is personal to them, and if a parent or guardian does not wish to provide this information, schools should record 'refused' on their systems."
Schools must make parents aware that any information is given voluntarily, they added.
Join our new commenting forum
Join thought-provoking conversations, follow other Independent readers and see their replies