Heads of new university technical colleges barred from hundreds of secondary schools
Some secondary pupils are prevented from hearing about the benefits of apprenticeships
Heads of the new university technical colleges (UTCs) set up around the country have been barred from entering hundreds of secondary schools to tell pupils about the kind of education they can offer them.
Former Education Secretary Lord (Kenneth) Baker told of one secondary school whose head said – on being asked if the local UTC could visit – "over my dead body".
Thirty-nine UTCs have been opened around the country, offering a range of vocational alternatives such as engineering, healthcare, construction and business management often leading to apprenticeships. They take in pupils from the age of 14 to 19 in an effort to provide the country with the skilled workforce it needs. However, because they recruit at 14, they need to go into state secondary schools to persuade teenagers of the value of a technical education. The majority of secondary schools have barred them, Lord Baker said.
"Heads [of UTCs] are being excluded from going into schools," he said. "One said: 'Over my dead body will you come into my school.' Some schools do allow us in but it is only a handful."
Lord Baker's revelations follow The Independent on Sunday's disclosure last week that Education Secretary Nicky Morgan is planning new legislation compelling schools to give just as much weight to telling pupils about apprenticeships as university courses.
He is confident that the final legislation will give leaders of UTCs the right to enter their neighbouring schools. "I think it is perverse [to deny entry] because it is denying the children a choice as to what they do," he said.
"It is a total hostility being shown by traditional education to something which is exciting and successful. We can give them the skills which are right for the workplace."
Lord Baker, who is head of the Baker Dearing Trust and is the main motivator behind the UTC programme, said it was often the worst performing secondary schools that tried the hardest to keep the UTCs out. This, he added, was despite the fact that it was these schools' pupils who were most likely to benefit from a high-class vocational education.
Ms Morgan said the reluctance to push the idea of apprenticeships was down to an "outdated snobbery" towards technical education. But Lord Baker believes the schools are also anxious to hang on to their pupils because of the money they bring with them.
He said that the situation among 16-year-olds was better, with more schools offering access at that age – "but not those with strong sixth forms", he said.
UK news in pictures

Show all 50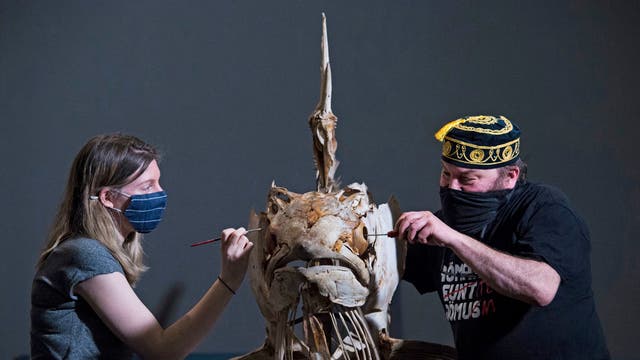 Most local authorities, he added, were reluctant to include UTCs in information about the opportunities open to parents and their children at secondary school level. In a handful of areas – Bristol, Birmingham and Leeds in particular – which had sent out letters telling parents about local UTCs, recruitment had soared to the extent that more UTCs were opening in those areas.
A further 20 UTCs are in the pipeline. As an indication of the Government's support for the project, Chancellor George Osborne – in his Comprehensive Spending Review before Christmas – included new UTCs as well as free schools in his pledge that the Government would open 500 new schools by 2020.
Figures show that out of 1,181 pupils who left UTCs at age 16 last summer, 99.5 per cent were either in education, training or employment. Of the 700 who left at age 18, 97.5 per cent were in education, training or employment – a far higher percentage than those from the rest of the state sector.
In addition, 42 per cent went on to university – compared with 37 per cent for the rest of the age group – and 24 per cent went into apprenticeships (compared with 8.5 per cent nationally).
As a result of the ban on entering schools, UTCs have had to resort to holding meetings in village halls, taking out adverts in local newspapers and sending leaflets to parents in order to let them know of opportunities, Lord Baker said.
Ms Morgan intends to have the legislation putting the promotion of apprenticeships on an equal footing with the promotion of university degrees ready by the end of the year. It is expected to be included in the Queen's Speech.
Join our new commenting forum
Join thought-provoking conversations, follow other Independent readers and see their replies