Illegal faith schools pose no physical threat to children, claims Jewish leader
Jonathan Arkush also says authorities may have turned a blind eye to pupils 'disappearing' because there was no space left in state system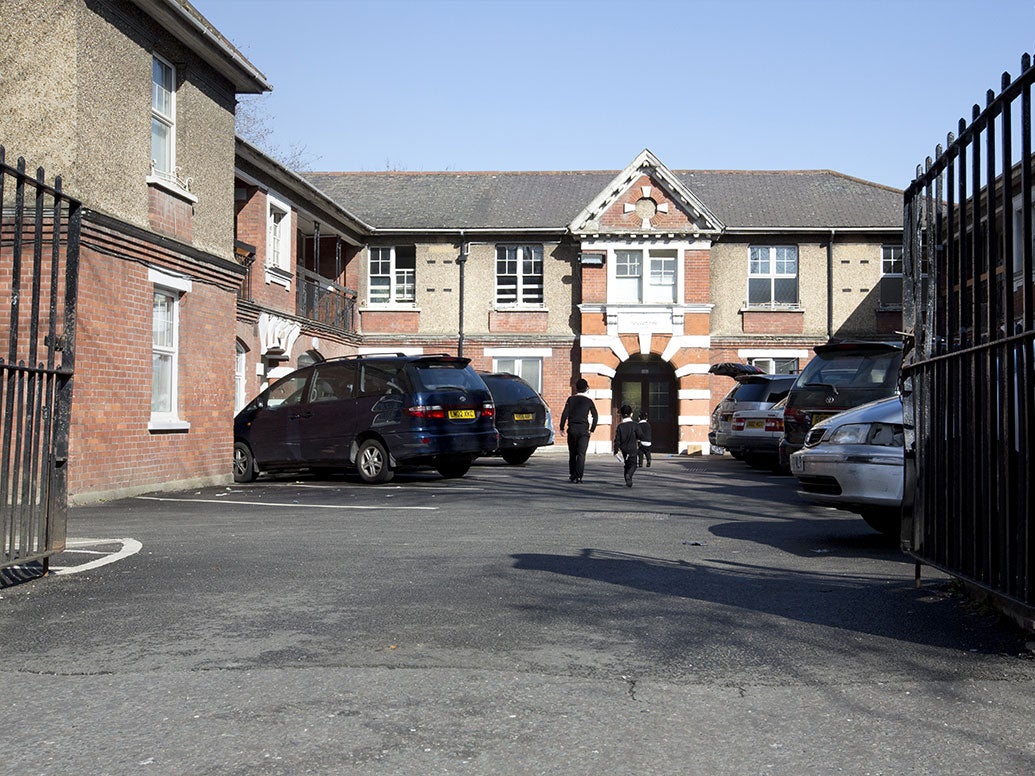 llegal Jewish faith schools may have operated with the tacit approval of the authorities because there was no space for their pupils in local state secondaries, the President of the Board of Deputies of British Jews has claimed.
Jonathan Arkush stressed he did not "condone" illegal schools, but said there was no "serious evidence of mistreatment of children" despite claims of physical abuse, substandard education and school days of up to 14 hours.
He compared those who have complained to Prince Charles, who famously did not enjoy his time at Scottish boarding school Gordonstoun.
The Independent has revealed that officials from the Government's Department for Education (DfE) and Hackney Learning Trust in London discussed the problem of children being taught in unregistered schools run by ultra-Orthodox Charedi Jews in the borough as long ago as 2010.
However, documents showing evidence of Jewish boys disappearing from state school rolls from the age of about 13 – suggesting they were going to faith schools -- were destroyed.
Mr Arkush said that this decision may have been influenced by practical considerations.
"What I would suggest is if it is the case that officials knew about it, it may well be the case that local government officials knew perfectly well that they did not have room in Hackney schools for any more children," he said.
"They would have obviously been concerned those children were being safeguarded. My assumption is although these schools were operating without registration, they were at least not causing harm to children. Health and safety is absolutely imperative.
"I would not condone for a single moment any school of any description that posed a health and safety danger. If a local authority looked away from that, then obviously they should not have done."
He said if the illegal Charedi schools were "centres of mistreatment" then there would have been "hundreds of complaints".
"You will be very hard-pressed to find any serious evidence of mistreatment of children," Mr Arkush said. "Of course you will find some people who will say 'I feel these schools are wrong for me'. If you asked His Royal Highness Prince Charles, I think he would say something pretty similar about his experiences at Gordonstoun, which he hated.
"One has to be really careful about suggestions, which are completely unsubstantiated, of abuse."
A former pupil of illegal schools in the Stamford Hill area of Hackney previously told The Independent that he was physically beaten by teachers, left school with no qualification and unable to speak English.
He accused the Government of being "discriminatory against Jewish children and anti-Semitic by not intervening". A former teacher at one of the schools told how she hated her job partly because of the "fear in which the children lived".
A source at Hackney Council said one of the problems was that if an illegal school was shut down, it would soon re-open.
"They get this closure order, then they open as a community centre a few weeks later, offering home schooling," the insider said, adding that "the parents don't want to send their kids to mainstream schools".
Under the Education and Skills Act 2008, it is an offence to operate an unregistered school.
An Ofsted spokesperson said: "Since November 2015, HM Chief Inspector has commissioned the inspection of eight unregistered schools. Seven have since closed.
"In January 2016… Ofsted established a new taskforce to identify, inspect and investigate unregistered schools, and prepare prosecutions against those found to be running them. We are currently investigating a number of unregistered schools."
Join our commenting forum
Join thought-provoking conversations, follow other Independent readers and see their replies