Government criticised over 'incomplete' attempt to get laptops to students, amid frustrations over device quality and delays
'We are still not sure that this will actually meet the need that exists,' one education union official tells Zoe Tidman
Monday 18 January 2021 10:54 GMT
Comments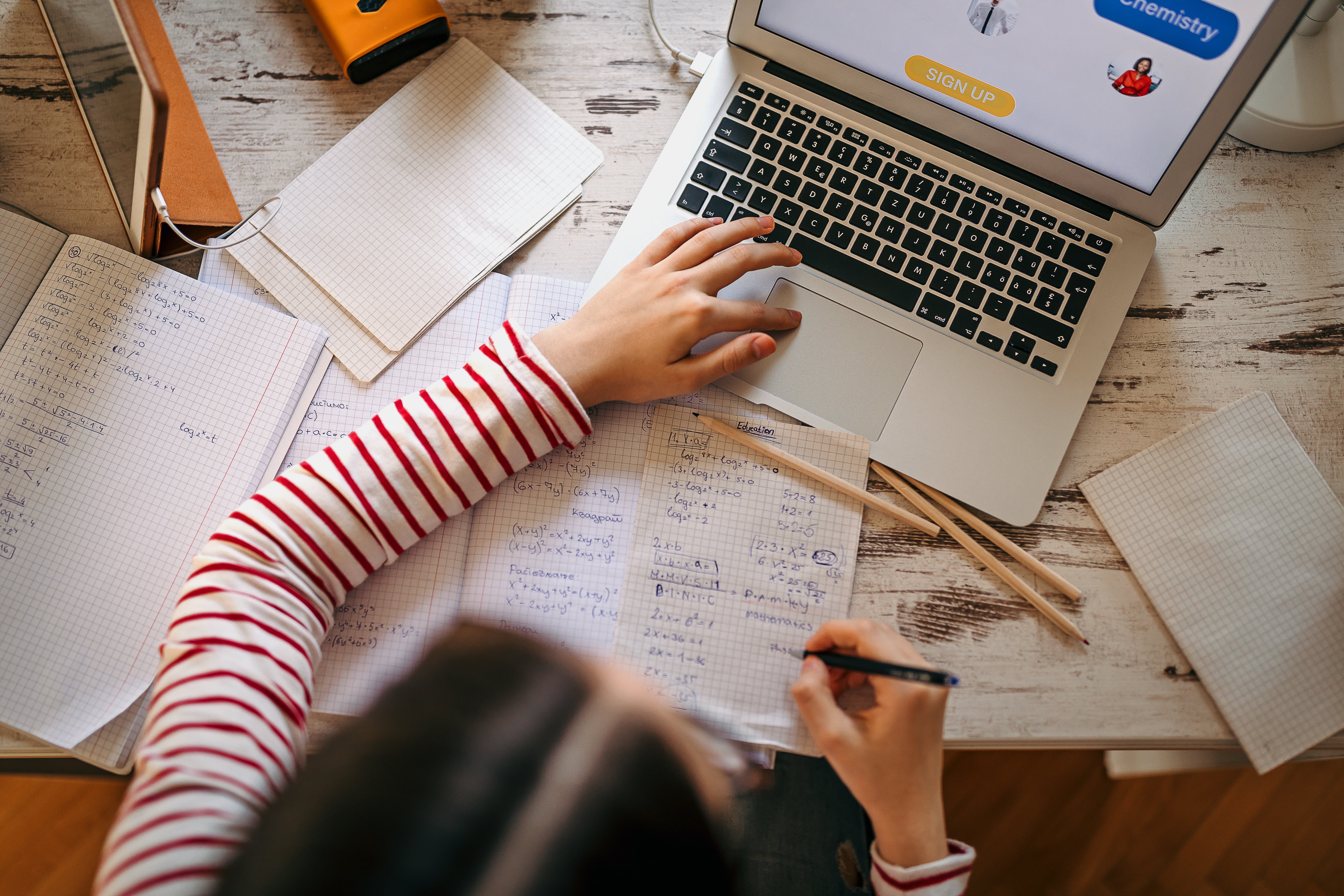 The government has faced criticism over an "incomplete" attempt to get laptops to students needing them at home, as school leaders raise concerns over the quality of laptops and waiting times for them.
One headteacher told The Independent he had not been allowed to order a single laptop for his school since England's new lockdown, with the online system telling him he would be able to "as soon as possible". 
Others have suggested those that have arrived were not up to task, with one school leader saying they did not seem durable enough.
In early January, schools were told to go online to all pupils but vulnerable and key worker children until at least mid-February. 
The government said pupils struggling with remote education at home – including due to a lack of computers – can be to be classed as vulnerable and continue going into school during lockdown, following concerns over the numbers without devices.
A government scheme has been delivering laptops to schools to support pupils learning from home, including those self-isolating before lockdown, and now those having online lessons in lockdown.
However, school leaders told The Independent they were still waiting to get government laptops more than a week into England's new lockdown.
Stuart Guest, a primary school headteacher in Birmingham, said the Department for Education (DfE) had told him they would be in touch when he could order more devices by the 13 January.
On 13 January, the portal now said he would hear back "as soon as possible" about when he could order new devices. 
"Once again I feel let down by promises that have not been met," the Colebourne Primary School headteacher said. "We are expected to offer places in school to children with no devices and yet the extra devices we are promised don't appear in a timely manner."
His school have instead ordered 300 new devices from elsewhere, using some government funding, their own budget and donations.
Michael Tidd, a headteacher in Sussex, told The Independent his school were allowed to place their order for government laptops on Monday afternoon – almost exactly a week after England was put into lockdown. 
In the meantime, his school sourced laptops from donations, which have been used to reach most pupils without a device. The DfE laptops would be useful in "filling the other gaps", particularly children whose older siblings tend to dominate devices at home, he said. 
Another headteacher in the West Midlands told The Independent she was still waiting for around 50 devices to be delivered, that had been ordered in mid-December. 
Julie McCulloch, from the Association of School and College Leaders (ASCL), said: "Schools were told some time ago that they would receive an allocation of laptops according to a specific set of criteria but there have been some delays in rolling out these allocations. Our understanding is that this should be resolved shortly."
She added: "However, we are still not sure that this will actually meet the need that exists, as the government doesn't seem to have ever really got a grip on how many children lack access to devices or do not have sufficient internet connectivity."
According to estimates from Ofcom, between 1.14 million and 1.78 million children in the UK do not have home access to a laptop, desktop or tablet computer.
On Tuesday, the DfE said 700,000 laptops had already been delivered to schools – which would rise to 750,000 by the end of the week – and the "vast majority" of secondary schools had received devices. 
Schools are allocated laptops based on the number of children eligible for free schools meals, which they can then distribute depending on their needs. The Independent understands schools can request additional devices, if they need more than their initial allocation.
On Tuesday, the DfE said it was buying 300,000 more laptops and tablets, which would provide "top-ups" to allocations and bring the total number purchased to support remote learning to 1.3 million. "It's been an incredible team effort to secure this number of devices despite global demand and logistical challenges during the pandemic," Gavin Williamson, the education secretary, tweeted.
But Paul Whiteman from the school leaders' union NAHT said government attempts to get devices to all pupils who need them were "still incomplete".
"The government needs to go beyond their boasts about the numbers of laptops delivered so far," he said. "Of more importance to pupils and schools, is the speed the government can meet the needs of the 1.8 million children in the UK that Ofcom estimates have no home access to a laptop, desktop or tablet.
"In our view, they have been miserably let down."
Anthony Rushworth, headteacher at The Bicester School, told The Independent there were a "number of students" without laptops and technology still and "plenty of others" sharing with siblings and parents.
He said he has received 38 government devices and was waiting for 50 more. Pupil premium students "desperately need them so they can engage in the live lessons" rather than in work packed up and sent to their homes, Mr Rushworth said.
Meanwhile Mumin Humayun, a headteacher in Luton, has received  more than 200 laptops, which is his school's full allocation. "The problem is there are lots of families who might not fall into the disadvantaged category officially but still need access to devices," he told The Independent.
The Stockwood Park Academy leader said there are "growing" requests for at least another 30 devices, and sixth formers not eligible for the scheme, which only covers disadvantaged pupils in year 3 to year 11.
One teacher told The Independent she is teaching college students who are doing lessons from their phones.
Jude Enright, a headteacher in London, said she has received around 100 devices for her school of more than 1,000 students from the DfE – but is "sure there will be more children" who will end up needing a device.
She said households struggling financially could see their current devices break, and is also worried about the quality of the government laptops –which she said were "lightweight" devices that lacked the durability needed for teenagers.
"I will say that 108 is not sufficient to meet the needs of our school community," the Queens Park Community School headteacher told The Independent.
She added: "We certainly feel that if we'd been given the money to buy laptops, we could have got much better quality."
Ian McNeilly, the chief executive of a multiacademy trust across Staffordshire and Derbyshire, said the laptops offered were "very basic". "Once an operating system was installed they have very little capacity left," he told The Independent.
One academy trust leader has suggested pupils turn to game consoles after claiming government-provided laptops were not good enough, according to the Yorkshire Post.
Another headteacher tweeted that the laptops that arrived had no sound driver installed, meaning pupils could not "hear or see their remote lessons". 
Ms McCulloch, ASCL's director of policy, said the union was "concerned" to hear reports of problems with government-provided laptops on social media.
"Anecdotally, feedback seems to be that the laptops provided over the course of the crisis have generally been of good quality, although they do require setting up before being distributed," she said.
The Independent understands the DfE are providing laptops and tablets to schools that meet defined minimum and technical specifications and standards. 
A DfE spokesperson said: "We have delivered over three quarters of a million laptops and tablets for schools to distribute to those children who need them most, amid unprecedented global demand and competition. This is part of a total commitment to provide 1.3 million devices for disadvantaged young people."
They added: "We are acutely aware of the additional challenges faced by disadvantaged children during this crisis, and how difficult this period has been for families, for schools, and for young people. That is why we have been, and are, doing everything possible to ensure pupils' education does not suffer because of the virus."
Join our commenting forum
Join thought-provoking conversations, follow other Independent readers and see their replies