Fewer university students say they are happy and believe lives to be worthwhile, survey finds
'It's really no wonder that students are more unhappy than ever. Now is the time for universities to take responsibility'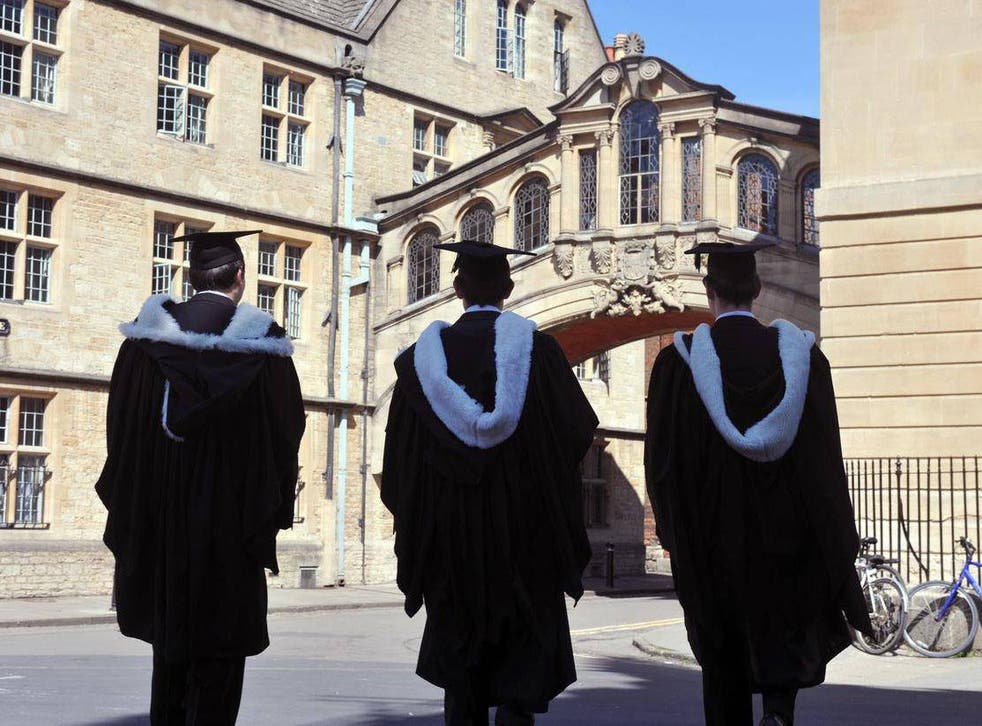 Fewer students are happy and believe their life to be worthwhile, new research suggests, amid growing concern about young people's mental health.
University undergraduates are more likely to have lower levels of wellbeing than all young people aged between 20 and 24, according to a study of more than 14,000 students.
Only 17 per cent of students said they felt their life was highly worthwhile, compared to 22 per cent in 2016, the survey from the Higher Education Policy Institute (HEPI) and Advance HE found.
And less than a fifth (17 per cent) of students said they were very happy in their lives, compared to 21 per cent two years' ago, the Student Academic Experience Survey 2018 revealed.
This was lower than the third of all youngsters in the same age group who felt happy in their lives.
Students at university who identified as lesbian, gay, bisexual, asexual or other (LGBT+) are much more likely to suffer from low wellbeing – with only one in 10 reporting low levels of anxiety, compared to 18 per cent of all students.
The study also found that students who spend more time working on their degrees (30 to 39 hours a week) are happier with their choice of course and university than those with lighter workloads.
But still less than two in five (38 per cent) students think they are getting their money's worth from their course, the study found.
When asked where they want their tuition fees – which are now up to £9,000 a year - to be spent, more than half (57 per cent) said the money should go towards student support services.
The report comes after students in Bristol marched in the city centre last month to demand more help for people with mental health issues at the university.
Ten Bristol students have died since October 2016, and three of those died in just three weeks earlier this year.
"The issue of wellbeing is very much on the agenda across the sector, and there is a wide range of initiatives under way at local and national levels," the study said.
"However, these results suggest that there is still a long way to go before the issue of student wellbeing is fully understood and supported in order to influence a positive change."
The report concluded that the declining wellbeing scores are clear evidence of the "crisis in students' mental health" and the need for universities to do more to support university students.
But it added: "While there are undoubtedly things higher education institutions can do, any solution will need more joint working with the NHS and better support before reaching higher education."
Nick Hillman, director of HEPI, said: "[Moving to university] is a bigger transition point in our country than in most other countries.
"You are much more likely to go away from home, have to make new friends and you may no longer have the same access to your GP that has been supporting you.
"And you are learning in new ways as well – universities expect you to do all that independent learning for example – so that helps partly explains why the anxiety levels are running so high."
He added that some universities have used local rugby teams to make counselling more accessible, and they have made sure student wellbeing centres on campus have male staff on the desk.
Best Universities for Life Sciences and Medicine

Show all 20
"Universities that are doing the most need to help inform the universities that are doing the least," Mr Hillman said.
Izzy Lenga, vice president for welfare at the National Union of Students (NUS), said: "It's disheartening but not at all surprising to see student wellbeing continue to decline.
"Low anxiety scored low, and we should all be concerned that only a fifth of respondents consider their life to be highly worthwhile."
"We know that students are facing increasing hardship, such as rising living costs coupled with a stagnant student support package.
"We also know that most university campuses have completely inadequate student support services which has contributed to a snowballing of student mental issues in recent years.
"It's really no wonder that students are more unhappy than ever. Now is the time for universities to take responsibility for this and make student mental health a strategic priority moving forward."
Register for free to continue reading
Registration is a free and easy way to support our truly independent journalism
By registering, you will also enjoy limited access to Premium articles, exclusive newsletters, commenting, and virtual events with our leading journalists
Already have an account? sign in
Register for free to continue reading
Registration is a free and easy way to support our truly independent journalism
By registering, you will also enjoy limited access to Premium articles, exclusive newsletters, commenting, and virtual events with our leading journalists
Already have an account? sign in
Join our new commenting forum
Join thought-provoking conversations, follow other Independent readers and see their replies