Michael Gove leaves door open for expansion of grammar schools
Education Secretary said he would be prepared to back future applications to expand selective schools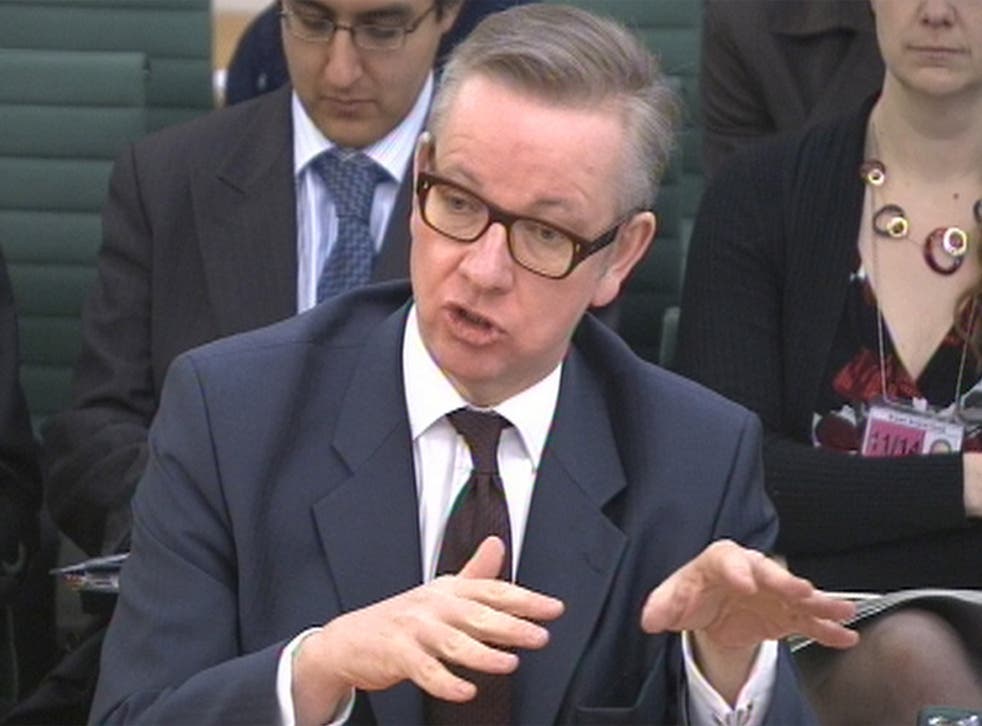 Education Secretary Michael Gove left the door ajar for an expansion of grammar schools on Wednesday.
In his first public comment since plans for a "satellite" grammar school in Sevenoaks, Kent, were rejected by his civil servants, he said he would be prepared to back future applications to expand selective schools.
"Should a future application come forward that is consistent with the law, then of course I would of course approve it for a grammar school as with any other school that's good and wishes to expand," he told members of the Commons select committee on education.
The issue with the "satellite" plans - put forward by two existing grammar schools in Maidstone to set up a new satellite in Sevenoaks was that officials ruled they were not expansion plans - but constituted a new school. It is illegal to open a new selective state school under present legislation.
Both applications came from single sex schools - whereas the Sevenoaks site was to have been co-educational.
Mr Gove was answering questions sent in by the public for a special session of the select committee.
Asked if he agreed with comments by chief schools inspector Sir Michael Wilshaw over the weekend that grammar schools were "stuffed" with middle class pupils and no answer to social mobility, he said he had the same response to both Sir Michael and grammar schools.
"In the words of the Billy Joel song 'don't go changing just to please me - I love you just the way you are'," he added.
"I love Sir Michael just the way he is and I love grammar schools the way they are."
In a wide-ranging question and answer session, he also firmly closed the door on any suggestion that private companies or sponsors would ever be able to run state schools for profit.
Asked by Labour MP Siobhain McDonagh whether he could ever envisage taxpayer funded schools ever being run for profit, he replied simply: "No."
Earlier this year The Independent reported that he had told friends he had no objections to "for profit" firms setting up free schools paid for by the state but independent of local authority control.
Bright Blue, a modernising pressure group within the Conservative party, was campaigning for this to be included in the next Conservative election manifesto.
On the question of free schools, Mr Gove revealed he had turned down "hundreds" of applications to set one up. At present, there are 174 operating in England.
He added: "When you're setting up 174 schools not all of them are going to be magnificent." He acknowledged there were "at least three" - the Discovery New School in Crawley, West Sussex, whose closure was announced by his department last week, the Al Madinah Muslim free school in Derby, where the trustees were persuaded to stand down and be replaced by new sponsors, and the Kings Science Academy in Bradford where there had been allegations of financial irregularities - where problems had occurred.
Meanwhile, the Government announced an extra £2.35 billion worth of capital funding to provide new school places over the next three years. Experts have predicted an extra half a million places will be needed by 2017 because of a bulge in the birth rate.
Register for free to continue reading
Registration is a free and easy way to support our truly independent journalism
By registering, you will also enjoy limited access to Premium articles, exclusive newsletters, commenting, and virtual events with our leading journalists
Already have an account? sign in
Register for free to continue reading
Registration is a free and easy way to support our truly independent journalism
By registering, you will also enjoy limited access to Premium articles, exclusive newsletters, commenting, and virtual events with our leading journalists
Already have an account? sign in
Join our new commenting forum
Join thought-provoking conversations, follow other Independent readers and see their replies