Michael Gove: New GCSEs will be more challenging and rigorous
A*-to-G grades set to be replaced with numbered system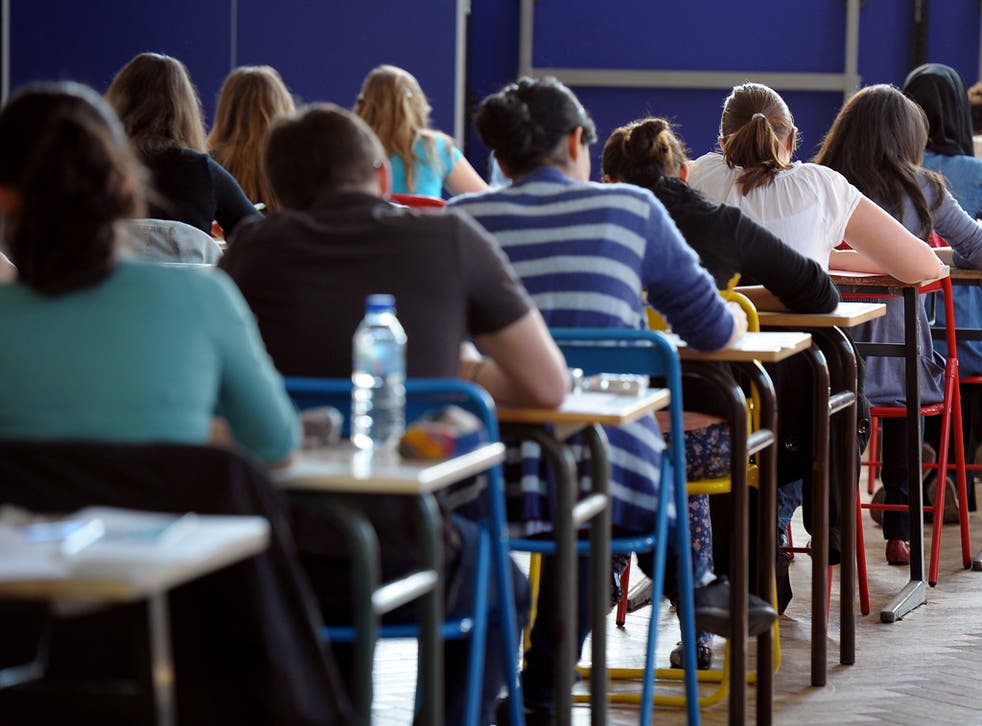 Education Secretary Michael Gove today pledged "more ambitious and more rigorous" GCSE exams as he outlined outlined the biggest shake-up to the exam since it was first introduced 25 years ago.
His proposals will see a return to a more traditional syllabus for the exam - with more weight given to 19th century authors like Dickens and Jane Austen, concentration on spelling, grammar and punctuation and a boost to Latin and Greek.
In addition, Ofqual - the exams regulator - is consulting over a radical change to the grading system which would make it harder for pupils to get top grade passes.
Instead of the current A* to G grade system, pupils will be awarded points on a scale of one to eight with six, seven and eight being reserved for those who would have got A* or A grades under the present system.
Mr Gove told the Commons: "The new specifications are more challenging, more ambitious and more rigorous.
"That means more extended writing in subjects like English and history, more testing of advanced problem-solving skills in mathematics and science... and a greater focus on foreign language composition so that pupils will require deeper language skills."
Latin and Greek will be used to help pupils learn the derivation of English words - and understand the formal syntax, punctuation and grammar used by the ancient languages.
Mr Gove's proposals will also see the virtual ending of coursework and controlled assessment - whereby teachers mark their own pupils' work - in favour of the old O-level style end of course examination.
His proposals came in for heavy criticism from teachers' leaders and opposition MPs who were worried about the haste with which the proposals were being implemented. The new syllabus will be taught in most core subjects from September 2015 with pupils first sitting the new exams in the summer of 2017.
"The haste with which Michael Gove is pushing through huge simultaneous changes to both exams and the curriculum carries major risks that will put last summer's GCSE debacle into the shade," said Mary Bousted, general secretary of the association of Teachers and Lecturers.
"We particularly feel for the children in their first year of secondary school who are going to be Mr Gove's guinea pigs.
"They will have a single year when they are 13 and the move straight into the new and untested GCSE exam syllabus at age 14."
She added: "We have serious concerns that the new style GCSE will not give all children the chance to demonstrate what they have learned and will particularly disadvantage children with difficult home lives. End of course exams on a single day test recall and memory rather than the range of skills that young people need in the 21st century."
What pupils must learn
ENGLISH LITERATURE:
* At least one play by Shakespeare
* A selection of Romantic poetry
* At least one 19-th century novel
* Poetry from 1850 to 1980.
* British fiction, poetry or drama since the First World War
ENGLISH LANGUAGE
* Good spelling, punctuation and grammar will count for 20 per cent of the marks (instead of 12 per cent at present).
* Speaking skills will no longer count towards the exam after claims that assessment by classroom teachers could lead to the marks being bumped up.
* Digital texts (blogs, emails and web texts) will not be included in the course context.
MATHS
* There will be questions on algebra, including the law of indices, co-ordinates, perpendicular lines as well as ratio, geometry and measures and probability
* Exam will be more challenging with students having to apply their knowledge and reasoning to provide clear mathematical arguments
SCIENCE
* Increased emphasis on recall of essential knowledge such as formulae in physics
* More up-to-date perspectives on topics such as genetics/genomics and ecology in biology; inclusion of nanoparticles in chemistry: increased content on energy and space in physics
HISTORY
* Greater focus on the history of Britain (up to 40 per cent from 25 per cent of content and students will be expected to show an understanding of chronology
* No more courses narrowly focused on one period of history - such as Hitler or the Tudors
* A substantial element of study of the history of the wider world (25 per cent)
GEOGRAPHY
* More emphasis on the human and physical geography of the UK
* In physical geography, students will have to show they understand weathering, slope movement and erosion by water, coasts and rivers and climate change.
* In human geography, they should study the causes and effects of urbanisation
MODERN LANGUAGES
* Equal weight (25 per cent of content) to listening (previously 20 per cent), speaking (30 per cent), reading (20 per cent) and writing (30 per cent)
* Oral exams to be part of new GCSEs
LATIN AND GREEK
* Fifty per cent of course devoted to both linguistic competence and cultural competence (an understanding of the literature, society and values of the country)
* Students will be expected to identify and explain the derivation of English words from the ancient language.
Register for free to continue reading
Registration is a free and easy way to support our truly independent journalism
By registering, you will also enjoy limited access to Premium articles, exclusive newsletters, commenting, and virtual events with our leading journalists
Already have an account? sign in
Register for free to continue reading
Registration is a free and easy way to support our truly independent journalism
By registering, you will also enjoy limited access to Premium articles, exclusive newsletters, commenting, and virtual events with our leading journalists
Already have an account? sign in
Join our new commenting forum
Join thought-provoking conversations, follow other Independent readers and see their replies