Most students who graduated during recession 'now have top-level jobs'
Figures show four out of five either have top jobs or are undertaking further study, while just 4% remain unemployed
Richard Garner
Education Editor
Thursday 01 October 2015 00:08 Comments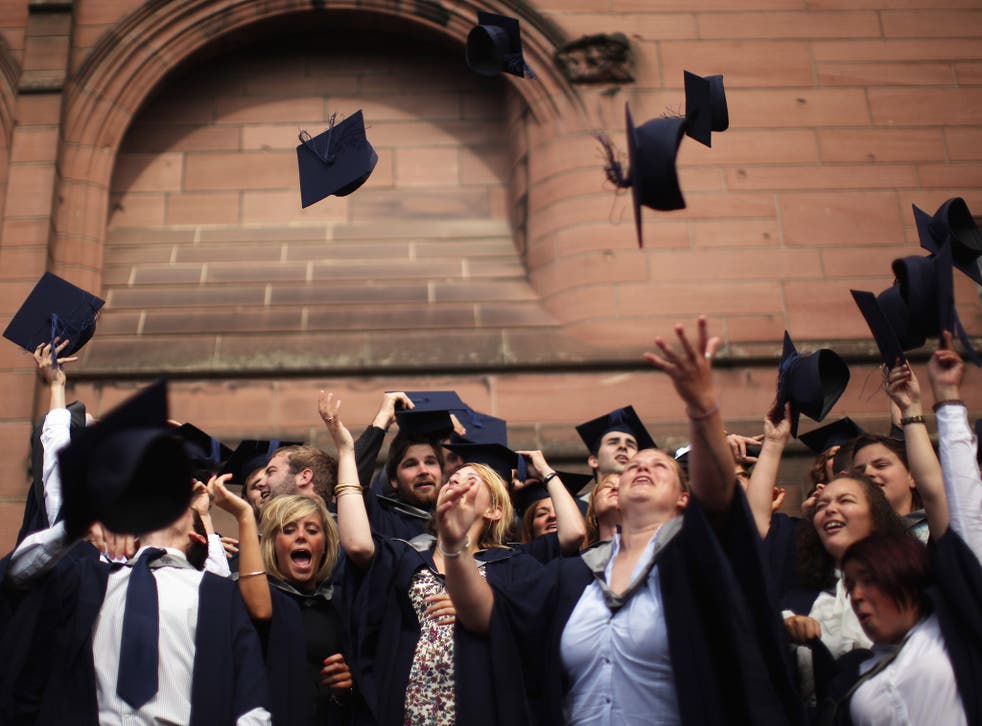 The vast majority of students who graduated at the start of the recession have found top-level professional jobs, says a new report.
Figures from the Higher Education Funding Council for England show four out of five either have top jobs or are undertaking further study.
Only four per cent have not managed to get a job, it adds.
The figures show a marked improvement on the situation six months after they graduated - when less than two-thirds (64.2 per cent) had obtained graduate type employment. "It is really encouraging to see how graduates' early careers develop in such dynamic ways within three years," said Madeleine Atkins, chief executive of HEFCE.
"We know that on average graduates earn 100,000 pounds more over their lifetime than those without a degree so this is further confirmation that degrees are worth it."
However, the research goes on to show that students from disadvantaged backgrounds are more likely to end up in dead end, non-professional jobs despite having a degree.
The figures show that only 59.7 per cent of young people from poorer homes find top-level emplyoment. The gap between their employment prospects and those from wealthier suburbs refuses to narrow between six and 40 months after graduation.
During the same period, women retained better employment outcomes - although the gap between them and men narrowed from 5.1 percentage points to 1.7.
Chinese students made the most gains between six and 40 months. They were 12.8 percentage points behind white graduates in terms of the numbers getting jobs after six months. This figure had narrowed to 0.7 percentage points after 40 months.
"The research confirms findings from other studies that professional employment outcomes are lower for some groups of students and we will continue our work with universities to address these areas of inequality," said Ms Atkins.
Register for free to continue reading
Registration is a free and easy way to support our truly independent journalism
By registering, you will also enjoy limited access to Premium articles, exclusive newsletters, commenting, and virtual events with our leading journalists
Already have an account? sign in
Join our new commenting forum
Join thought-provoking conversations, follow other Independent readers and see their replies