Nancie Atwell: World's best teacher pays visit to Capital City Academy after winning Global Teaching Prize
Her pupils back in Maine produce an average of 20 pieces of publishable writing a year and read on average 40 books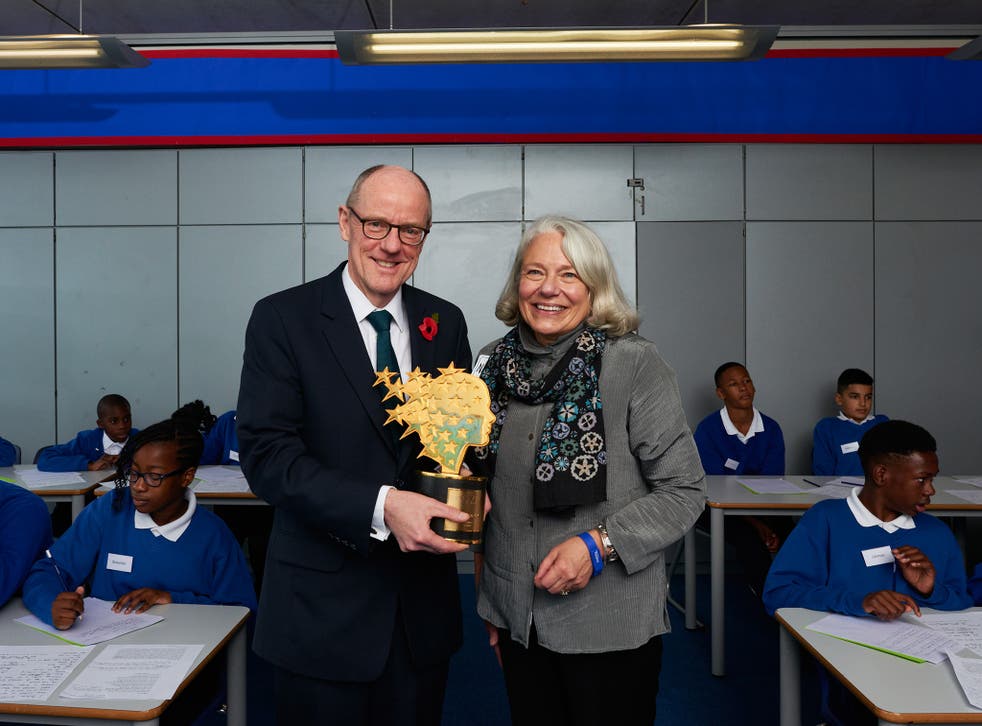 It was quite a billing for Nancie Atwell to have to live up to.
The pupils she was teaching early on 9 November at the Capital City Academy in Willesden, north-west London, had been told they were about to be given a lesson by the world's best teacher.
It held no terrors for Nancie, an expert literacy teacher from Maine in the United States, though. In fact, she modestly introduced herself as not only the best teacher in the world - but in the planet and galaxy, too.
Her style, though, was anything but racy or over the top. What followed was a lesson delivered in a soft conversational style with individual pupils - she admitted afterwards she did not have much time for "shouty" teachers.
She was ever so polite to her new charges, too. Every time a pupil was given a hand-out and said "thank you" she replied: "You're welcome." She also addressed them all by their first names - occasionally referring to them as "sweetie" and "sweetheart".
"I like the soft conversational style," she said. "It's good for engaging the kids."
She admitted that her style had been very different when she first started as a teacher 30 years ago. "I'm teaching in a way I didn't when I started when it was kids sitting in their seats doing what they're told to do."
Instead she gave the 12 and 13-year-olds from Year Eight copies of two poems written by her own pupils back in Maine - in which they described the kinds of things that made them tick.
She asked her new charges for the day to write down what they had learnt about the two pupils - and then encouraged them to write their own poem listing the kind of things they believed.
"I think it was brilliant," said 12-year-old Destiny, one of the pupils. "I feel I've learnt a lot more from this lesson."
"I think it was very different to other lessons," said Kush, also aged 12. "We don't usually do so much writing."
The lesson went off without any disciplinary problems or poor behaviour - which Nancie put down to her style of engaging the pupils in the lesson. She said the pupils would be able to look at their poems in 20 years' time and think: "Yes, that really sums up how I was then."
She said of discipline problems: "I am strict and - if someone does misbehave - I would go up to that student and say 'what's the problem?' I also have what I call 'the look' - they fear it."
Nancie is the first winner of the Global Teaching Prize awarded by the Varkey Foundation earlier this year with the aim of making it an annual "Nobel Prize" for teaching.
She won it for her innovative teaching methods. Her pupils back in Maine produce an average of 20 pieces of publishable writing - a rich mix of genres from poetry to all kinds of prose - a year and read on average 40 books.
One of the observers in the classroom was Schools Minister Nick Gibb who praised her efforts "to help spread the love of reading around the world".
"Every child, no matter what their background, should read widely and read well, giving them the best opportunity to get on in life."
However, Nancie was critical of the "teaching to the test" culture now prevalent in the United States - and causing no little controversy over here in the UK.
"We have a curriculum which practically condemns kids to teaching for the test," she said. "You don't need a standardised test to tell teachers who's struggling with reading and with maths. They should know already."
She added that the standardised approach meant pupils only concentrated on a handful of books which would help them get better marks in the tests - rather than read more widely.
She was optimistic, though, that the core curriculum approach in the US would be abandoned sooner rather than later as the latest test scores showed it had led to a decline in reading and maths skills for the first time in year.
The lesson on 9 November will be the only one Nancie delivers while on a short trip to the UK. Capital City Academy - the first academy ever to open in England - was chosen because of its focus on developing literacy. "I think there is obviously a bonus for our students to get to work with a fantastic professional," said its principal Alex Thomas.
A 12-year-olds in the class put it more succinctly: "I thought it was really good fun."
Join our new commenting forum
Join thought-provoking conversations, follow other Independent readers and see their replies