Tough new GCSE grades will cause success rates to 'plunge', says thinktank
Report comparing global education standards suggests English system needs 'significant improvement' if it is to match the best
Rachael Pells
Education Correspondent
Wednesday 23 August 2017 09:43 Comments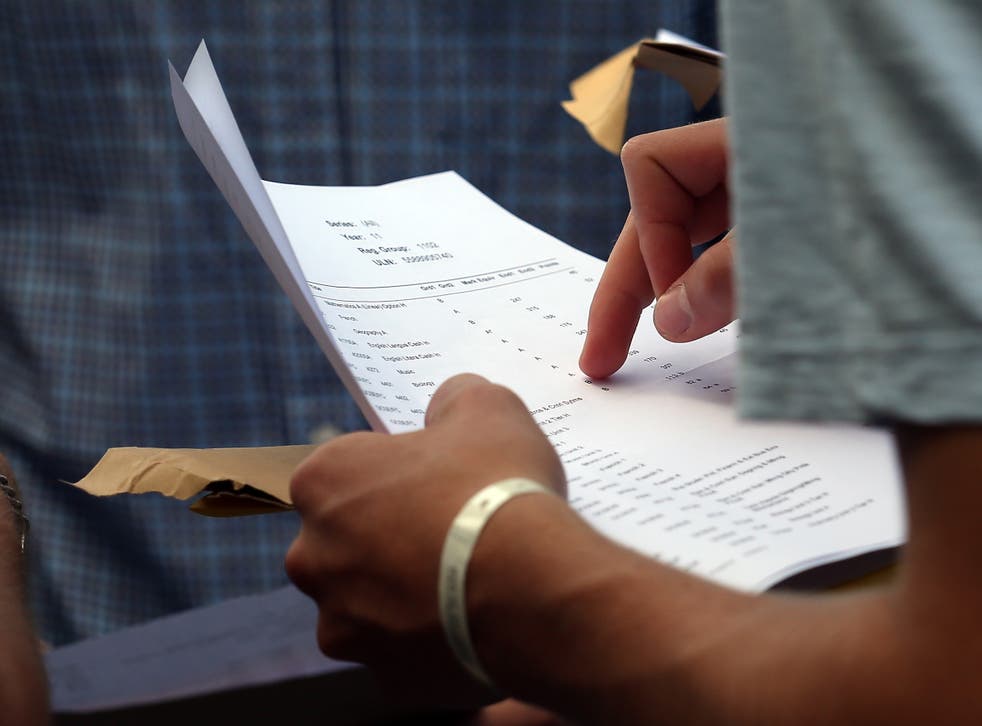 Tough new GCSE exams designed to bring British pupils up to a "world-class" standard will cause success rates to "plunge", experts have warned, leaving some 360,000 pupils below the benchmark grade.
Publishing a major new report comparing international standards, researchers from the Education Policy Institute (EPI) think tank said the education system in England and Wales in particular must undergo "significant improvement" if it is to compete with the rest of the world.
Tens of thousands more teenagers need to score good grades in GCSE English and maths to put the nation on a par with the best performing countries, such as Hong Kong, Finland and Canada.
The previous benchmark of a C grade is "no longer an adequate national aspiration" if the UK is to succeed as an educational powerhouse, the experts warned.
The analysis, done in collaboration with UCL's Institute of Education, comes as hundreds of thousands of GCSE candidates wait to receive their exam results on Thursday - which include the first set of results for English and maths under the new grading system.
For the first time since GCSEs were introduced, the traditional A*-G grade scale is to be replaced by a new 9-1 scale - with the Government defining a grade 5 as a "strong pass".
The reforms come as part of government efforts to raise the standard of British education in line with other leading countries, but critics argue the move will be damaging to individual students this year and could result in thousands of pupils receiving incorrect grades.
The EPI estimates just 40 per cent of pupils will achieve the "strong pass" grade required by the newly raised standards - a fall of 20 per cent on those meeting the benchmark standard last year.
Executive Chairman and former Liberal Democrat Minister for Schools, David Laws, said: "An accurate understanding of what it would mean for England to have a 'world class' education system becomes even more important as the government introduces new GCSE exams with a new grading system, explicitly designed to set a 'world class standard'.
"When the new system is in place, it is likely that the proportion of pupils achieving the government's key measure of GCSE success will plunge by around 20 per cent – unless the government waters down its ambition to raise the benchmark for what constitutes a robust pass."
UK news in pictures

Show all 50
The two core subjects are the first to be completely reformed as part of the government's efforts to combat grade inflation and provide school leavers with the skills needed to go on to further jobs and education.
Pupils in England are the first cohort to sit the exams under the new system – Wales and Northern Ireland are also making changes to their GCSEs but are not introducing the 9-1 scale.
Earlier this month, the Institute of Directors – which represents top UK business leaders – labelled the new GCSE grades "gibberish", warning that employers are likely to favour job candidates with the old-style lettered GCSE grades instead.
The comments have fuelled fears this year's cohort will be left at an unfair disadvantage when applying for jobs and further education.
Experts have previously told schools to expect a drop in attainment figures this year with the introduction of the new mark scheme, and statisticians predict the proportion of pupils who will receive an unreliable grade for their English GCSE in particular will rise from 30 to 45 per cent.
Since there is uncertainty around each grade boundary, the chance of a candidate being awarded the wrong grade multiples with the addition of even more boundaries, they explained, as is the case with the new system.
Using performance data from the international PISA rankings – designed to chart educational standards across the developed world – EPI analysts said pupils in England must, on average, achieve a "strong pass" in maths and English in order to match the standards of Finland, Canada, Singapore and others.
This is a grade 5 under the new GCSE grading system - equivalent to that of a high C or low B grade under the old system.
Last year less than 40 per cent of pupils in state-funded schools in England achieved this world-class standard - with 136 out of 150 local authorities failing to get half of their pupils at this level.
Could you pass a GCSE exam?
Responding to concerns over the new grades, the schools watchdog acknowledged there would be some degree of volatility in schools following the changes, but said inspectors do not rely solely on exam data when making their judgements.
Mr Laws added: "This analysis highlights the gulf between education outcomes in England and the performance of the world's best education nations.
"In certain subjects, such as maths, England needs both to significantly raise the number of top performers and almost halve the number of low performers if it is to compete with the world's best. The dire performance of Wales is also highlighted by this analysis - performance in the country is shockingly bad by international standard.
"Our analysis suggests that the Department for Education is right to be re-focusing our education system on students achieving the new "strong pass" of a grade 5. The old "C" grade is not an adequate national aspiration if England wants to compete with top education nations."
An Ofsted spokesperson said: "We understand that there is always more school-level volatility in results when qualifications change. So we are providing inspectors with guidance, specific training and support from our data analyst team about what they can and can't infer from individual schools' exam results this year.
"Schools can be assured that we will always use data as a signpost, not a destination for inspection and that we appreciate this year's data may be more variable at school level than usual."
A Department for Education spokesperson said: "Our education reforms are raising standards in our schools. There are now 1.8 million more children in good or outstanding schools than in 2010. This report underlines the importance of our reforms in creating new gold-standard GCSEs, benchmarked against the best education systems in the world.
"Over the last six years we have incorporated the best features of successful curricula and qualifications from the around the world into our education system and signalled our intent to continue raising standards with the introduction of a standard and strong pass at GCSE.
"This is complemented by our ongoing investment in apprenticeships and the technical education system. We will continue to work with the teaching profession to ensure there is no limit on any child's potential."
Register for free to continue reading
Registration is a free and easy way to support our truly independent journalism
By registering, you will also enjoy limited access to Premium articles, exclusive newsletters, commenting, and virtual events with our leading journalists
Already have an account? sign in
Join our new commenting forum
Join thought-provoking conversations, follow other Independent readers and see their replies