Number of young people planning to go to university falls to lowest level in eight years
Sutton Trust poll reveals increasing numbers of young people say they are not interested in going on to higher education, fuelling concerns over rising costs and a decline in social mobility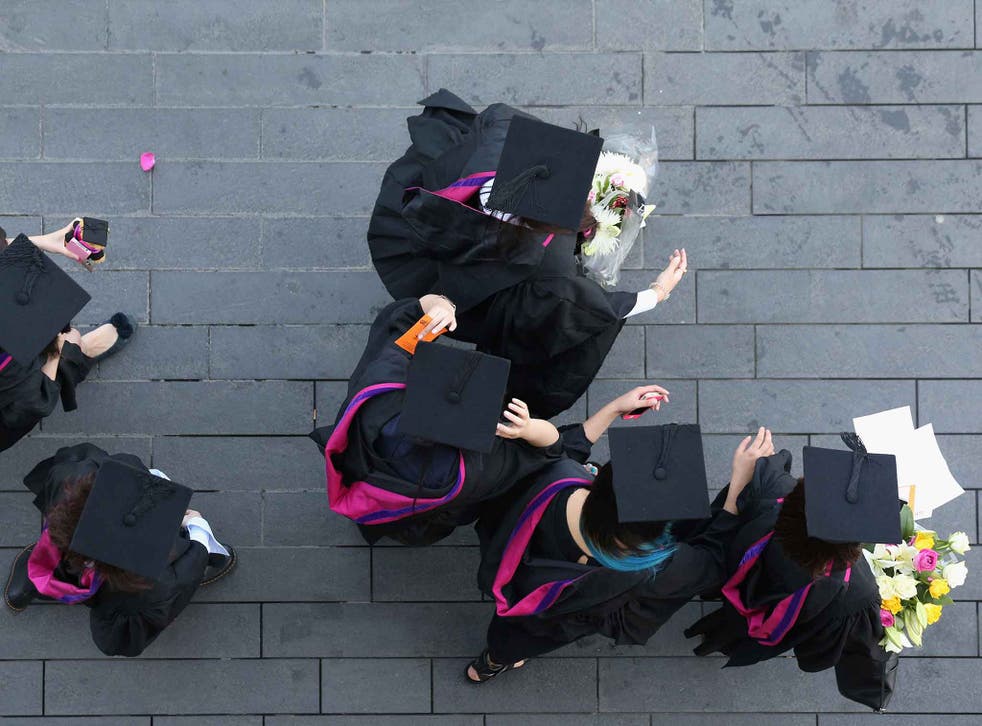 The proportion of young people who think they are likely to go to university is at its lowest level in years, new figures suggest, with many citing cost as a primary concern.
According to a new report, the prospect of going on to higher education has become less desirable for many young people – news that closely follows separate figures published on Tuesday revealing a decline in student satisfaction levels overall.
Responding to the annual Sutton Trust poll – which questioned more than 2,600 11 to 16-year-olds in England and Wales – around one in seven (14 per cent) said they were unlikely to go on to higher education, compared with 11 per cent last year and eight per cent five years ago.
The proportion of secondary school pupils planning to study for a degree remains high, at around three-quarters (74 per cent).
But this figure is at its lowest level since 2009, and is down from a high of 81 per cent in 2013.
Last year, around 77 per cent of young people surveyed told researchers it was likely they would go to university.
Of those who said they were unlikely to go, seven in 10 said they did not like the idea, or did not enjoy studying, while nearly two-thirds (64 per cent) had financial reasons – wanting to start earning as soon as possible, for example – and debt concerns.
More than two in five (44 per cent) thought they were not clever enough, or would not get good enough results, while a similar proportion (42 per cent) did not think they would need a degree for the jobs they were considering.
As many as 28 per cent of respondents cited social reasons for not wanting to go, including phrases such as: "People like me are not expected to go to university".
UK news in pictures

Show all 50
Of those who said they were likely to study for a degree, around half (51 per cent) said they were worried about the cost of higher education, up from 47 per cent last year.
The biggest money concern was tuition fees, followed by having to repay student loans for up to 30 years and the cost of living as a student.
The figures have fuelled concerns over a lack of social mobility within higher education, and come amid growing debate on the future of tuition fees, which rose above £9,000 to £9,250 in English universities for the first time this year.
A national survey undertaken every year by final year students suffered a mass boycott this year by students objecting to government plans to link their perceived satisfaction levels with rising fees.
While the vast majority of the 304,000 university and college students who responded did so positively, this year's publication shows a dramatic fall in participation – down by 12,000 people on 2016.
Ucas figures show 32.5 per cent of English 18-year-olds entered higher education last year, the highest recorded entry rate for England.
Sir Billy Connolly: The closest I got to university was delivering coal
Application rates for universities across the UK were down overall, however, with UK applicants declining five per cent on last year.
The Sutton Trust said its findings are an important indicator of young peoples' plans before they sit their GCSEs.
Trust chairman Sir Peter Lampl said: "It is no surprise that there has been a fall in the proportion of young people hoping to go into higher education.
"Our own separate research has shown that graduates will be paying back their loans well into middle age, affecting their ability to go to graduate school, afford a mortgage and decisions on having children.
Students in England are said to graduate from university with average debts of more than £50,000, according to IFS figures.
Those from the poorest backgrounds will graduate with debts of over £57,000 after interest rates are raised on the Government-funded student loans, the think tank reports.
Mr Lampl said these figures were indicative that the system is badly in need of reform.
"It is outrageous that someone from a council estate should pay more than someone from a top boarding school.
"This reform should include means-testing tuition fees and restoring maintenance grants so poorer students face lower fees and lower debt on graduation," he suggested.
Dr Mary Bousted, general secretary of the Association of Teachers and Lecturers, agreed it was "no surprise" that young people are unwilling to take on the "huge debts" now required for a university education.
Cheapest universities for undergraduate cost of living

Show all 3
"Cuts to university budgets have also affected widening participation programmes, so there is less money for outreach programmes to help make disadvantaged young people aware of the opportunities in higher education," she said.
"The increase in disadvantaged young people not applying for university is as a result of the Government abolishing maintenance grants for students from low-income homes," she added, "and allowing universities to put up their fees further if they reach agreed standards in teaching."
Her comments are echoed by the Government's universities tsar, Professor Les Ebdon, who highlighted that children from more disadvantaged backgrounds need greater support and encouragement in seeking and applying for higher education.
In a new briefing, also published on Thursday, the director of Fair Access to Higher Education warned there are still variations between different groups of students – such as socioeconomic or ethnic background – in terms of university application and acceptance rates.
Mr Ebdon said: "Today, the doors of universities and colleges are open to thousands who would have been unable to enter them in the past.
"But although much has been achieved, our higher education system does not yet offer true equality of opportunity.
"There are still stark gaps between different groups in terms of whether they apply to higher education and where they apply to; whether they are accepted; the likelihood of having to leave their course before they finish it; the level of degree that they get; and whether they go on to a rewarding job or postgraduate study."
The online document, which uses data from a number of official sources, shows the progress that has been made in improving access to university for under-represented groups.
It notes that while the proportion of the most disadvantaged young people going on to study for a degree is at a record high, these entry rates are still low compared with those from wealthier backgrounds.
"Currently, young people from the most advantaged neighbourhoods are nearly two and a half times more likely to go to higher education than young people from the most disadvantaged neighbourhoods," the briefing says.
"That is better than a decade ago, but since talented intelligent people are found in all parts of our society, the remaining gap in entry rates suggests there is still a way to go to reach true equality of opportunity."
Universities Minister Jo Johnson said: "The reality is that young people are more likely to go to university than ever before, with entry rates for 18-year-olds rising every year since 2012. Those from disadvantaged backgrounds are 43 per cent more likely to enter higher education than in 2009.
"Our student finance system ensures that costs are split fairly between graduates and the taxpayer. However, there is still more to do to ensure that students get value for money.
"That is why we have created a new regulator, the Office for Students, that will hold universities to account for teaching quality and student outcomes through the Teaching Excellence Framework."
Register for free to continue reading
Registration is a free and easy way to support our truly independent journalism
By registering, you will also enjoy limited access to Premium articles, exclusive newsletters, commenting, and virtual events with our leading journalists
Already have an account? sign in
Register for free to continue reading
Registration is a free and easy way to support our truly independent journalism
By registering, you will also enjoy limited access to Premium articles, exclusive newsletters, commenting, and virtual events with our leading journalists
Already have an account? sign in
Join our new commenting forum
Join thought-provoking conversations, follow other Independent readers and see their replies