Ofsted: Nearly 100 schools no longer offer 'good' or 'outstanding' education after converting to become academies
'Becoming an academy does not insulate you from decline'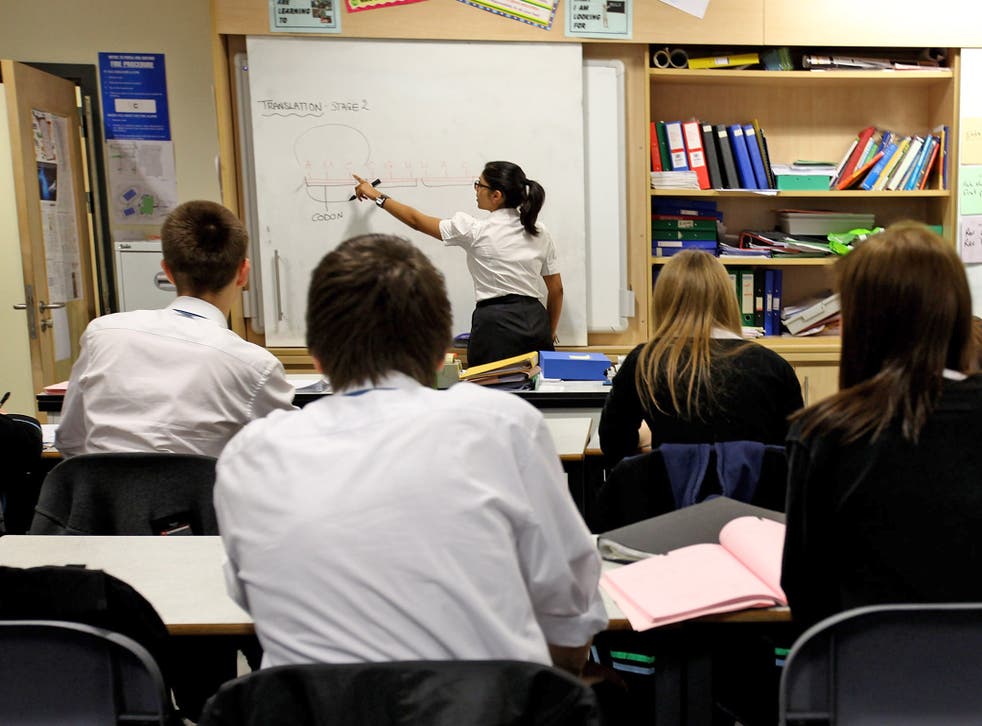 Nearly 100 schools no longer offer a "good" or "outstanding" education after converting to become academies, education standards watchdog Ofsted's annual report has revealed.
"Becoming an academy does not insulate you from decline," it said. "In 2014/15, there were 99 converter academies that declined from good or outstanding to less than good."
The findings have fuelled the debate over the Government's drive to create more academies with teachers' organisations saying ministers have ploughed millions of pounds into academies "for no tangile gain".
However, Prime Minister David Cameron is insisting he wants every state school to become an academy by 2020.
Chief schools inspector Sir Michael Wilshaw said 2,000 of the 3,300 secondary schools in England had now become academies and had "undoubtedly injected vigour and competition into the system".
However, he warned: "As academies have become the norm, success or failure hasn't automatically followed."
UK news in pictures

Show all 50
In one of 16 areas to be singled out for failing to provide "good" secondary schools for more than a third of their pupils - Doncaster, every single secondary school is an academy. In Bradford, where Sir Michael called for a commission of enquiry into its low performance, more than half the schools are academies.
"It is clear that becoming an academy can lead to improvement, but it does not insulate schools from decline," he added. "If oversight is poor, leadership is complacent and teaching is indifferent, standards will inevitably drop. This is true whatever type of institution the nameplate on the door proclaims the school to be."
He said the time had come to "move on from what has become a sterile debate" over school structures, adding: It would be a distraction to seek to turn the clock back."
The key issue was ensuring every school was a good school rather than running a fragmented system with local authority maintained and free schools and academies. Local authorities, he said, had "failed to cut the mustard" in terms of improving schools in the 50 years up until the birth of academies.
However, Christine Blower, general secretary of the National Union of Teachers, said the report "begs the question as to why the Government has ploughed millions of taxpayers' money into the academies and free schools programme for no tangible gain".
Russell Hobby, general secretary of the National Association of Head Teachers, added: "Whether a school is an academy or a local authority school is not particularly important in the long run. The all-consuming debate on school structures is a huge distraction from what really happens and yet the Government seems wedded to that approach."
The report shows that sponsored academies - which, in the main, were set up by labour to replace failing inner city schools - had the biggest impact on standards with 53 per cent now considered good or outstanding - three percentage points higher than last year.
On free schools, - new schools run by sponsors introduced under the Coalition government, Sir Michael said inspection results from the first 158 were "broadly in line with those for all schools".
"I believe it is right to give more autonomy to the front line (as happens with academies and free schools) but we must ensure that schools have the capacity to use their freedoms effectively," he added. "Without enough good leaders and teachers, effective oversight and governance and a concerted effort to support the most disadvantaged, we will not bring about the improvements needed."
The Department for Education said that five academy sponsors had been awarded grants of £5 million each and given the specific task of driving up standards in the north of England - where performance had historically been poor.
A spokesman said; "The academies programme is already transforming the life chances of pupils across the country by giving more power and responsibility to education professionals like giving the best schools the freedom to excel further.
"Becoming an academy enables us to intervene swiftly to tackle underperformance and poor leadership."
Join our new commenting forum
Join thought-provoking conversations, follow other Independent readers and see their replies