More than 100 MPs demand Oxford and Cambridge universities end 'social apartheid'
Letter labels admissions system 'highly subjective' and say much more work required to find most talented students from disadvantaged backgrounds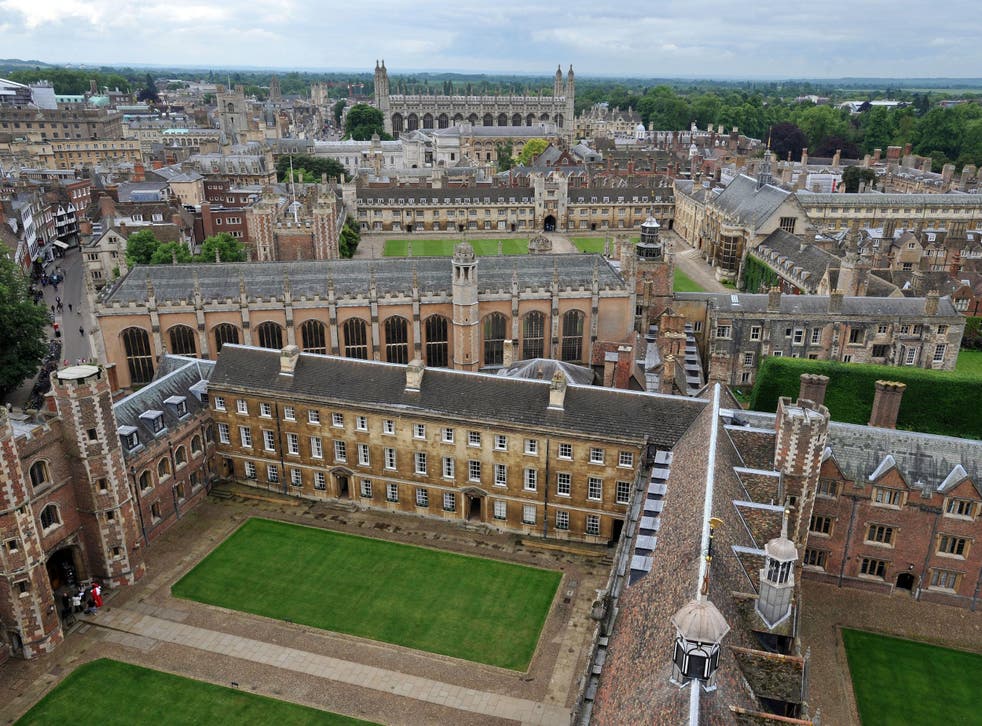 More than 100 MPs have written to the heads of Oxford and Cambridge University calling for urgent reforms after data revealed a "social apartheid" in student admissions.
The MPs, many of whom represent parts of the country that are under-represented at Oxbridge, criticise the institutions for continuing to draw the "overwhelming majority" of their students from a "small minority in terms of both geography and socio-economic background".
The letter, organised by Labour MP David Lammy, calls on Oxbridge to "take the initiative" in directly contacting talented students and in "reaching out to parts of our society and our country that are under-represented".
It accuses the collegiate admissions system of being "highly subjective", arguing that Oxbridge must consider implementing a centralised admissions process in order to achieve "real and sustained progress".
The letter states: "Much more work is required to find the most talented students who may be from disadvantaged backgrounds, lack the confidence or support networks to apply to Oxbridge or live in parts of the country and attend schools that do not traditionally send many students to Oxbridge.
"We call on you to take the initiative in directly contacting talented and straight A students, whether following GCSE, AS Level or A Level results, and in reaching out to parts of our society and our country that are under-represented."
Data published last week by Mr Lammy following Freedom of Information requests found a decline in the social diversity of students at Oxford and Cambridge, with 82 per cent of Oxbridge offers currently made to applicants in the top two social classes, compared to 79 per cent in 2010 and 77 per cent in 2004-09.
It also revealed that Oxbridge makes more offers to applicants from four of the Home Counties than the whole of the North, drawing just under half (48 per cent) of its students from London and the South East, with 11 per cent from the Midlands, 15 per cent from the North and 2 per cent from Wales.
Thirteen Oxford University colleges failed to make a single offer to black A-level applicants over a six-year period, with only three of its 32 colleges making an offer to a black A-level applicant every year between 2010 to 2015, the figures showed.
Mr Lammy, who accused the institutions of "social apartheid" when the figures emerged, said Oxbridge were letting down "whole swathes of the country" – arguing that the taxpayer should not continue to "foot the bill" for them.
"These universities are public bodies taking over £800 million each year from taxpayers in every city, town and village, but they are letting down whole swathes of the country – particularly across the North, the Midlands and Wales," he said.
"Oxbridge are failing to live up to their responsibilities so there is no reason why the taxpayer should continue to foot this bill. An Oxbridge degree is still the golden ticket in our society and a gateway to the top jobs so the Government has a responsibility to hold Oxbridge to account.
"For far too long Oxbridge have been long on rhetoric when it comes to improving access and widening participation but very short indeed on action and this needs to change urgently."
The vice-chancellor of Cambridge University, Professor Stephen Toope, said in response to the letter: "I believe that all universities, including Cambridge, have a duty to be open to people from all backgrounds, irrespective of race, class and origin.
"Our excellence is built on diversity. We recognise that more hard work is required, but a great deal has already changed in our outreach work, in the financial support we give students, and in our admissions processes – particularly over the last 10 years."
He claimed the university's latest admissions statistics show the highest proportion of state-educated students in 35 years, and a significant increase in the proportion of UK students coming from the hardest to reach communities.
We currently spend £5m a year on measures to widen access to students from across the UK. Last year we invested nearly £8 million on bursaries that supported more than 2,600 students from lower income families. We are making real and sustained progress.
A spokesperson for Oxford University said its vice-chancellor would respond to the letter in the coming days, but said the institution shared the concerns expressed by MPs about "uneven access to Oxford", and acknowledged that it had "a great deal of work to do".
"We are committing more money and people than ever before to addressing these problems, including opening our latest outreach centre in Sunderland next month," the spokesperson said.
UK news in pictures

Show all 50
The MP said foundation year programmes should be rolled out across every college and Oxbridge must make more of an effort to reach out directly to talented students from disadvantaged or under-represented areas.
"They should be writing to these students to persuade them to apply or attend an open day, as the Ivy League colleges do in the US. It is also time for Oxbridge to seriously consider moving away from a collegiate system for admissions," he said.
"Warms words can only go so far when the admissions process is actually in the hands of autonomous colleges, many of which are complacent and unconcerned at best about improving access."
A Department for Education spokesperson: "Young people from disadvantaged backgrounds are not only entering our world class universities at record rates, the latest UCAS data shows that they are 51 per cent more likely to go to one of the most selective universities than in 2011.
"We have also seen record entry rates across all ethnic groups. But we recognise there is more to do. That is why we have already produced guidance instructing the Office for fair Access to push universities, particularly those that are highly selective, to close the gap in access faster.
"The Prime Minister also recently launched a Race Disparity Audit and a programme of work to tackle disparities across all levels of society – including employment, education and criminal justice. The audit highlights how far we must still go but also how committed we are to confront inequality in order to truly build a country that works for everyone."
Join our new commenting forum
Join thought-provoking conversations, follow other Independent readers and see their replies