Oxford University is 'for stupid people', claims Philippines president
President Rodrigo Duterte reacts to university research paper detailing millions spent on hiring Twitter trolls to defend him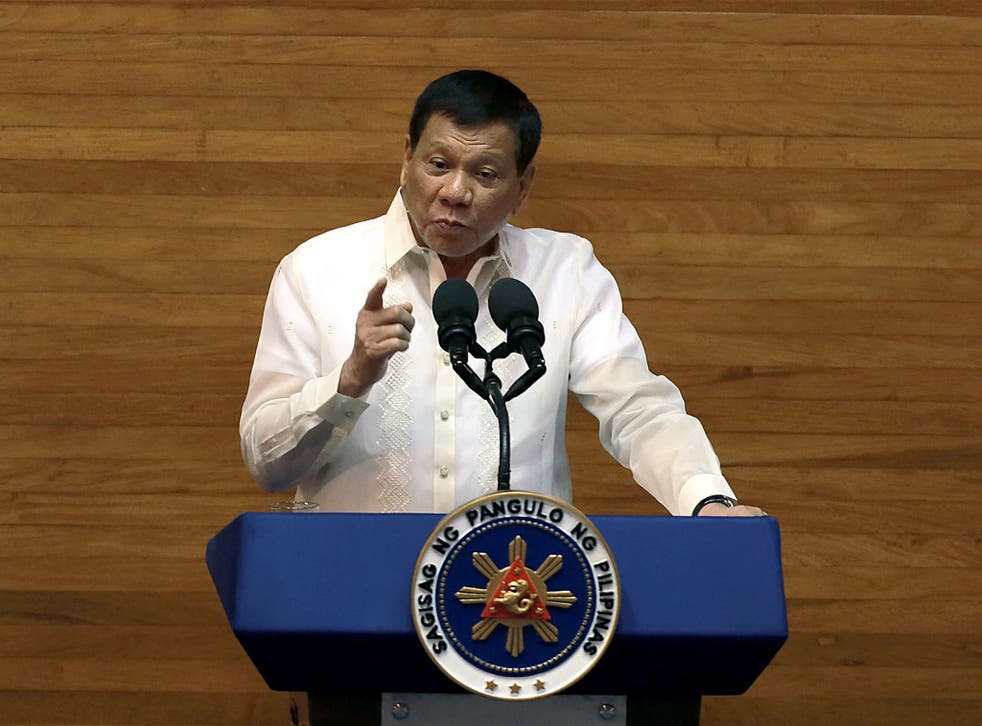 The President of the Philippines, Rodrigo Duterte, has labelled Oxford University as a "school for stupid people" following a disagreement over a research paper detailing his social media habits.
According to the university's report "Troops, Trolls and Troublemakers: A Global Inventory of Organised Social Media Manipulation", Mr Duterte has spent the equivalent of hundreds of thousands of pounds on hiring social media trolls to promote and defend him on Twitter.
Academics Samantha Bradshaw and Professor Philip N. Howard found Mr Duterte had used automated bot accounts to post supportive messages on social media during his 2016 president campaign, and continues to do so now he is in power.
In a press conference on Monday, the president admitted to spending around 10 million Philippine pesos (around £153,000) on social media campaigning during the elections last year, but denied that it was ongoing.
According to local news network ABS-CBN he went on to say: "I don't need to defend myself from attacks, I'm not anymore eligible for reelection".
"Oxford University? That's a school for stupid people," he added in Filipino.
QS World University Rankings: top 10 UK institutions

Show all 10
The Oxford research paper looked at 27 other countries besides the Philippines to examine the prevalence of military or political parties' commitment to using social media to influence the public.
It is said to be a global phenomenon, with every authoritarian regime studied using social media campaigns to target their own populations.
Only a few of the countries targeted foreign populations, researchers found.
"Over time, the primary mode for organizing cyber troops has gone from involving military units that experiment with manipulating public opinion over social media networks to strategic communication firms that take contracts from governments for social media campaigns.
The report documents how so-called cyber troops have been used to silence political dissent online and on how the methods used can lead to real-life threats and reputational damage.
"In the Philippines", it states, "many of the so-called 'keyboard trolls' hired to spread propaganda for presidential candidate Duterte during the election continue to spread and amplify messages in support of his policies now he's in power."
An Oxford University spokesperson said the institution would not be commenting on the matter.
Register for free to continue reading
Registration is a free and easy way to support our truly independent journalism
By registering, you will also enjoy limited access to Premium articles, exclusive newsletters, commenting, and virtual events with our leading journalists
Already have an account? sign in
Register for free to continue reading
Registration is a free and easy way to support our truly independent journalism
By registering, you will also enjoy limited access to Premium articles, exclusive newsletters, commenting, and virtual events with our leading journalists
Already have an account? sign in
Join our new commenting forum
Join thought-provoking conversations, follow other Independent readers and see their replies