Primary school places 2020: Families denied real choice because of 'haphazard' approach to admissions, headteachers warn
Warning comes as parents submit applications for primary schools across England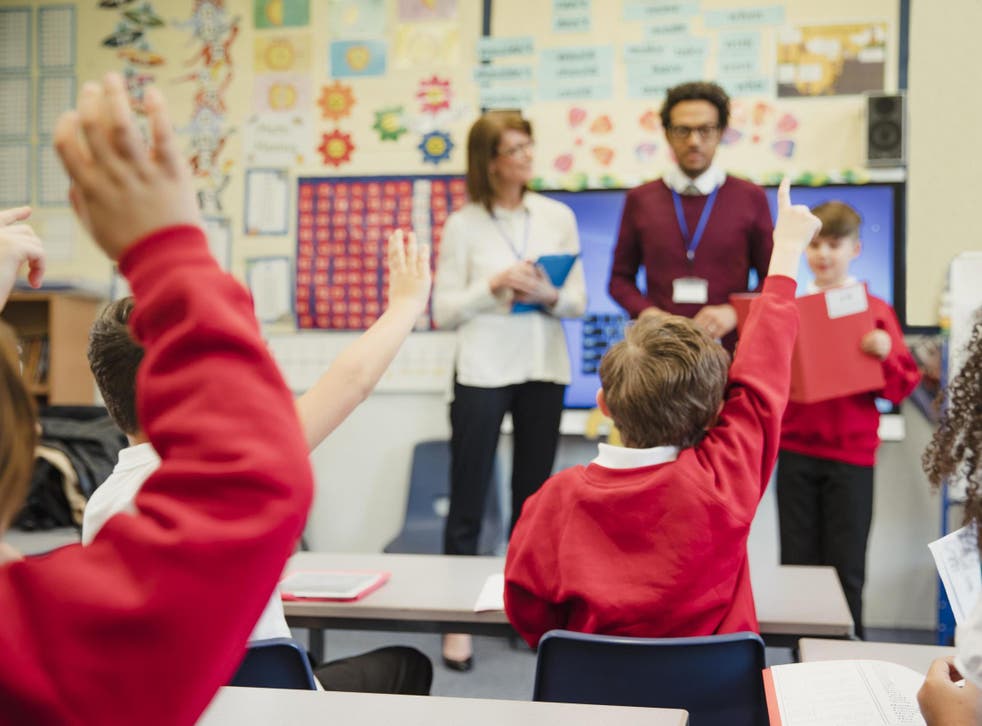 Families are being denied a true choice over where their children go to primary school as a result of a "haphazard approach" to admissions, headteachers have warned.
Many parents will have to hope they "get lucky" under the current system for allocating school places, the National Association of Head Teachers (NAHT) say.
The union is calling for the government to adopt a national approach to ensure there are enough school places for children, otherwise they argue choice for parents will remain an "illusion".
The warning comes on deadline day for parents in England to submit their applications for primary school places for children starting in September.
Councils are responsible for ensuring there are enough school places in the area – but critics say their powers to create new schools and direct academies to expand have been curtailed.
UK news in pictures

Show all 50
New school places are not always being commissioned in the areas of the country where they are most needed as often decisions are being made in isolation, according to the NAHT.
Paul Whiteman, general secretary of the NAHT, said: "This haphazard approach the government favours is denying parents and families a true choice over where to send their children to school.
"It's difficult to imagine other public services being provided in this way. New hospitals, roads or rail lines would not be opened just because there's a willing sponsor and not necessarily a public need.
"As well as harming choice, this must be a dreadfully inefficient way to go about delivering such an essential public service."
He added: "Deadline day can be an anxious time for families. Choosing the right primary school and securing a place can feel like a shot in the dark for parents.
"The reality is that until we have a co-ordinated approach to place planning, parents will still have to hope they get lucky."
He cited official government pupil projection figures, which estimate that the secondary school population will be 418,000 higher in 2027 than in 2018 – a 14.7 per cent increase in pupil numbers.
Judith Blake, chair of the Local Government Association (LGA) children and young people board, said: "This time of year can be extremely stressful for parents and carers choosing the right school as everyone wants their child in a school where they can be happy, safe and reach their full potential.
"Councils need to be allowed to open new schools and have a final say where they are placed, as well as direct academies to expand. It makes no sense for councils to be given the responsibility to plan for school places but then not be given any control."
England's school system has been put under strain in recent years amid a growth in population. A baby boom in the early 2000s is now making its way through primary schools and is moving into secondary schools.
Nearly one in five children did not get their first choice of secondary school last year, Department for Education (DfE) figures showed, which was a 10-year high.
The proportion of children in England who got into their first-choice primary school last year fell from 91 per cent to 90.6 per cent – despite the number of applications remaining "virtually unchanged".
Nick Gibb, school standards minister, said: "Choosing a primary school for your child can be a difficult decision but it has been made easier for parents who are now significantly more likely to have a good or outstanding school on their doorstep than they were 10 years ago.
"We have also made sure that the supply of school places meets demand, meaning that last year the vast majority of parents got their first choice of primary school or another of their top three choices.
"It also means we have managed to keep primary school classes broadly stable in size despite a large increase in pupil numbers."
Register for free to continue reading
Registration is a free and easy way to support our truly independent journalism
By registering, you will also enjoy limited access to Premium articles, exclusive newsletters, commenting, and virtual events with our leading journalists
Already have an account? sign in
Register for free to continue reading
Registration is a free and easy way to support our truly independent journalism
By registering, you will also enjoy limited access to Premium articles, exclusive newsletters, commenting, and virtual events with our leading journalists
Already have an account? sign in
Join our new commenting forum
Join thought-provoking conversations, follow other Independent readers and see their replies