Pause tests for primary school children to let them catch up, government told
Move would help schools 'bridge learning gaps and focus on wellbeing', campaign group says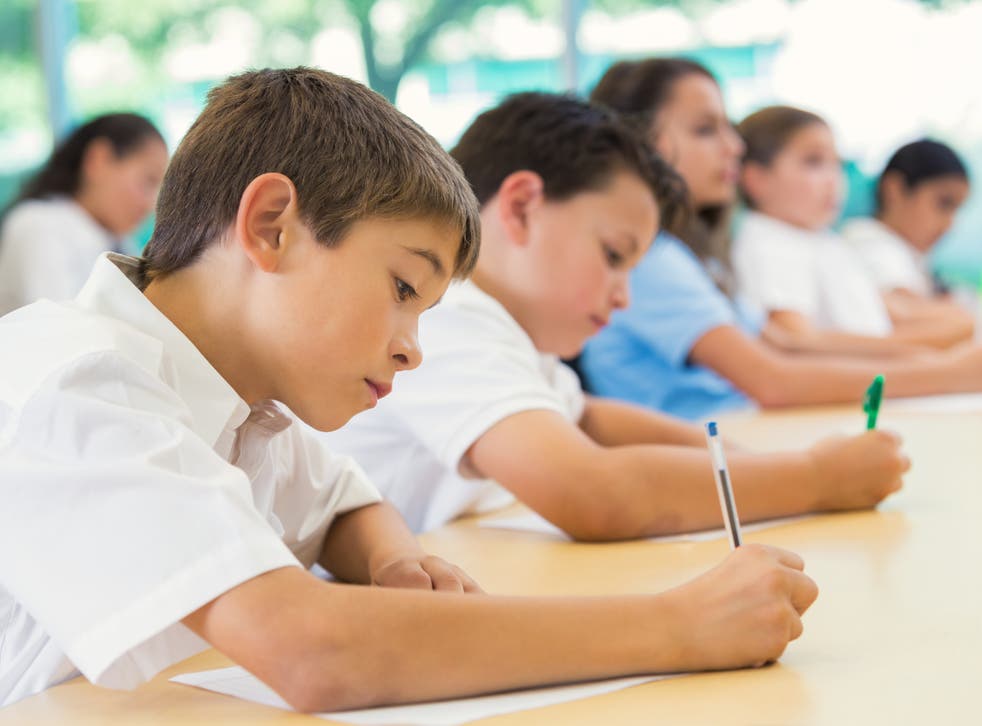 The government has been urged to pause formal tests for primary school pupils in England to help them catch-up amid the disruption of the coronavirus pandemic.
A coalition of head teachers, parents and MPs made the plea in light of the past 12 months, which saw most children not allowed in school during two separate lockdowns and students told to stay at home during periods of self-isolation.
The group said Sats and all formal tests for children aged between four and 11 should be paused to support efforts to overcome gaps in learning.
A report by More Than A Score said this would "give every child at primary level all the time they need to catch up properly without the additional stress that Sats cause children, parents and teachers".
A YouGov survey – commissioned by the campaign group – of parents in England with children aged four to 11 suggested only 15 per cent thought spending time preparing for Sats should be included in a "catch-up" programme for pupils.
More than two in three parents would prefer the programme to include children taking part in activities not available during lockdown – such as group sports, outdoor play and drama, the poll of more than 2,000 found.
The findings came as Sats in England's primary schools have been cancelled for a second year in a row.
But the statutory rollout of the Reception Baseline Assessment (RBA) – a new one-to-one assessment for pupils in Reception – is due to take place from September, after it was delayed by a year due to Covid-19.
More Than A Score's report urges the government to pause the introduction of the RBA, as well as Sats and all other statutory assessments in Years 1, 2, 4 and 6 – including the phonics and times tables checks – during the next academic year.
Alison Ali from the campaign group said the cancellation of these formal tests in primary schools "has had zero negative impact" over the last two years.
"Keeping them out of schools will give teachers and children the time they need to bridge learning gaps and focus on wellbeing," she added.
In the report, Geoff Barton from the Association of School and College Leaders (ASCL) said: "The long-term impact of the Covid crisis on the learning and mental health of our children and young people won't be known for some time."
The union's general secretary added: "But what we do know is that primary teachers and other staff need the time, trust and space to help children settle back into the rhythms and routines of school life without the distraction of KS2 tests and accountability measures."
The report's call to action has been signed by a cross-party group of MPs and peers, writers, including Michael Rosen and Jamila Gavin, and hundreds of head teachers, academics and education experts.
In the report's introduction, Ms Gavin said: "We value freedom above all else, yet we are not entrusting our teachers and children with it, allowing them to choose the paths they feel are best for their class – the freedom to play, explore, create – and yes, to learn."
The education secretary has previously said longer school days and a five-term school year were being considered as ways to help pupils recover lost learning in England.
Earlier this year, Sir Kevan Collins, the education recovery tsar, said extra hours for sports and music would also need to be considered alongside academic study to tackle the impact of Covid-19 on children.
He said teachers would be asked to "increase learning time for children" and to go over content that may have been missed.
Experts have also called for children's play to be prioritised instead of extra schooling, following months of restrictions on socialising.
A Department for Education (DfE) spokesperson said: "Assessments are designed to enable teachers to track pupils' progress, helping to make sure they stay on track to fulfil their potential throughout school.
"Our reforms are helping to ensure children leave primary school with a secure grasp of reading, writing and mathematics, as part of a broad and balanced curriculum."
They added: "We have already invested £1.7bn in ambitious catch-up activity, and are working with parents, teachers and schools to develop a long-term plan to make sure all pupils have the chance to recover from the impact of the pandemic as quickly and comprehensively as possible."
Join our new commenting forum
Join thought-provoking conversations, follow other Independent readers and see their replies