Private schools can't help comprehensives with guns pointed to their heads, says leading headmaster
Independent schools chair argues the private sector already contributes significantly to charity by supporting less affluent families in education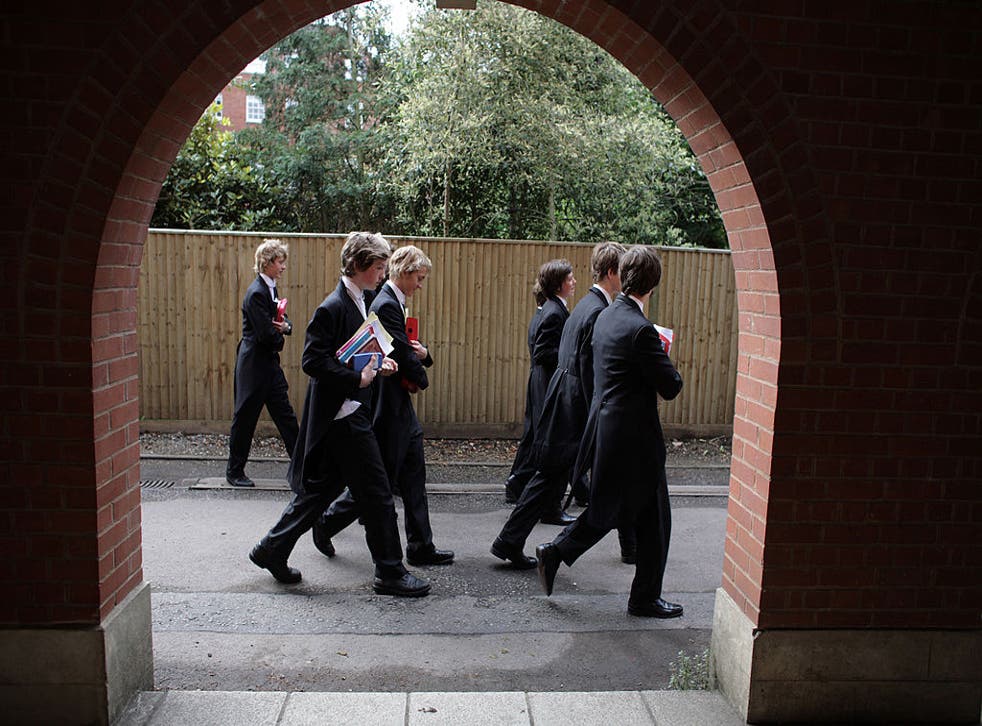 Independent schools cannot be expected to fulfil their charitable role towards state schools with "a gun pointing to their heads", a leading head teacher has said.
Mike Buchanan, Chairman of the Headmasters' and Headmistresses' Conference (HMC), likened the way in which state and private educators work are being asked to work together to a "forced marriage".
"Using charitable status as a stick to beat us with is both a blunt instrument and one which is unlikely to hit its target," he said. "Indeed, it's likely to erode some of the excellent charitable activities painstakingly built up over many years."
His comments come in response to new government proposals for secondary education in England.
The Prime Minister has suggested that independent schools will only be able to maintain their charitable status and enjoy tax breaks if they help set up or provide sponsorship for a neighbouring state school.
Smaller private schools will be expected to share resources by offering up teachers to give lessons in local state schools, and independent educators must offer more scholarships and bursaries to pupils who cannot afford fees.
Addressing top educators in his speech on Monday, Mr Buchanan, who is Headmaster of Ashford School in Kent, said: "Independent and state schools cannot make our relationships work with a gun pointing at our heads.
"We hope the prime minister understands that - after all, she had the good sense to outlaw forced marriages as home secretary.
"She must know, then, that all good partnerships are based on mutual desire, understanding, respect and co-operation. They work best when the parties have a good deal in common."
UK news in pictures

Show all 50
Last month, Ms May said fee-paying schools must do more to ensure that children at state schools are able to benefit from some of the support made available in the private sector, for instance extra teaching, special events and sports facilities.
The proposals come as part of reforms that include lifting the ban on new selective grammar schools in England.
Representing 282 of the UK's top independent schools, the HMC Chairman agreed that the sector would support the Governent's aims to improve state school education and offer more scholarships and bursaries.
However, he stressed that "coercion is unnecessary", since every HMC school already partners with one or more state schools and offers support
"Quite frankly, we cannot solve the structural problems in education that taxpayers entrust to the government – to the tune of £86 billion each year - nor should we be expected to," he said.
"Regarding tax 'breaks', the money our schools put back into the economy is much more than what we receive."
Around 520,000 pupils attend independent schools in the UK – the highest level since records began. Those represented by the HMC charge an average of £13,000 per year for day pupils.
The schools add more than £9.5bn to the UK economy, the Chairman added.
A Department for Education (DfE) spokeswoman said: "We recognise that many independent schools already have successful partnerships with state schools and we welcome the pledge from the independent school sector to continue to help to drive further improvements in the state education system."
A three-month consultation has opened on the DfE website over the plans to create more good school places.
The spokeswoman said: "We believe independent schools could and should do more in recognition of the tax benefits they receive.
"That is why we are proposing that independent schools with the capacity and capability should sponsor academies or set up a new free school, or offer a proportion of places to less wealthy children."

Join our new commenting forum
Join thought-provoking conversations, follow other Independent readers and see their replies