Sacked Education Secretary Michael Gove still sees papers via allies allowing him to 'back-seat drive' department
Exclusive: The Chief Whip doesn't want his controversial school reforms watered down by his less abrasive successor, Nicky Morgan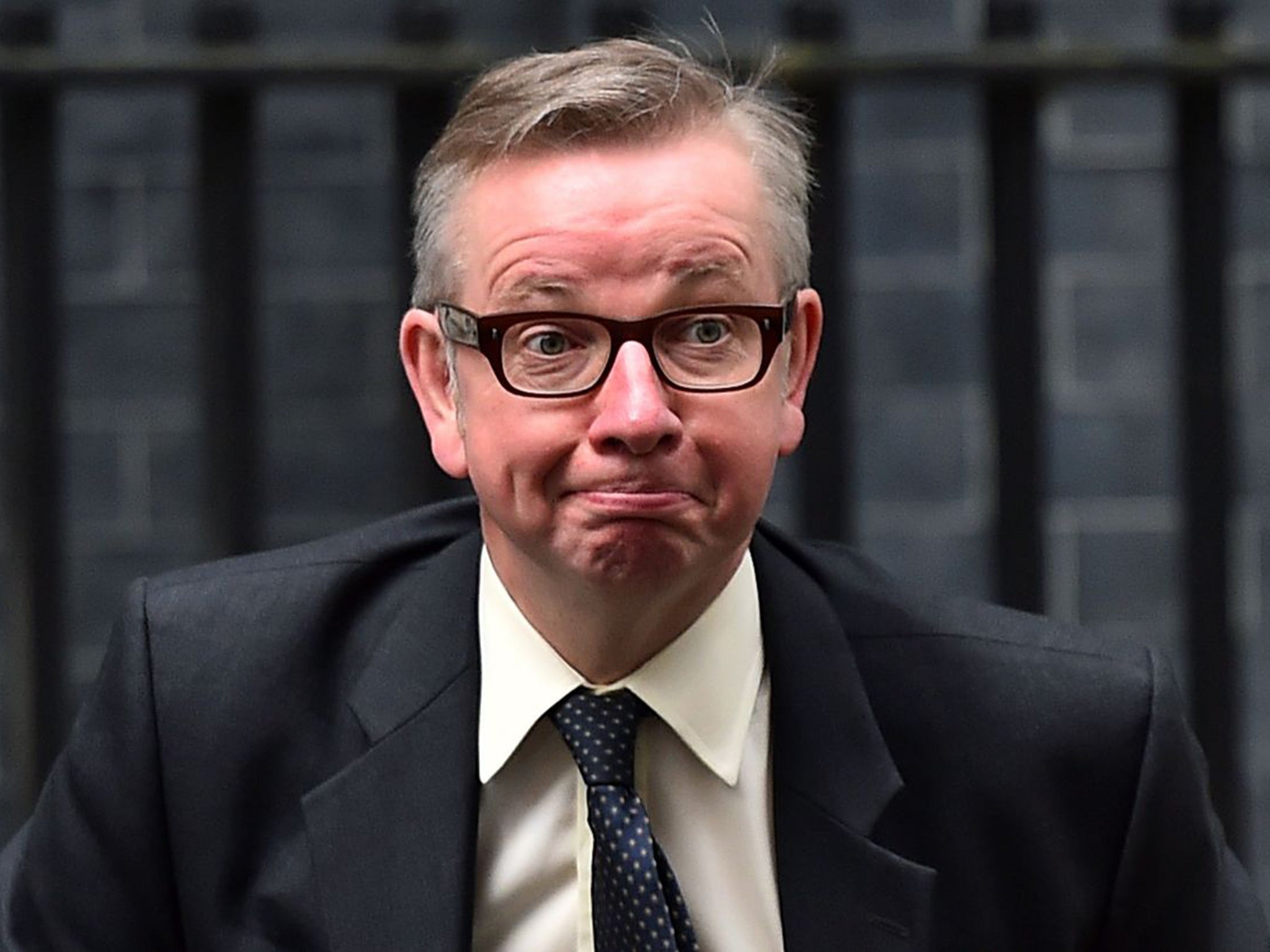 Michael Gove is still receiving copies of the Secretary of State for Education's paperwork in his red box every night despite being sacked from that job six months ago, it was claimed last night.
Allies of the Chief Whip are funnelling copies of the documentation, which also goes to his successor, Nicky Morgan, to Mr Gove through Whitehall back channels in addition to red box papers relating to his day job.
The extraordinary claim, made by a source in No 10, underlines complaints by allies of Mrs Morgan that Mr Gove is continuing to meddle in his former department and block any attempt to water down his legacy as a controversial and reforming education secretary. The discontent reached a peak in December when Mrs Morgan reached out to teachers and said she was not going to wage an ideological war in education – seen as a clear criticism of Mr Gove's approach.
The claims are made on the eve of a major speech by David Cameron on education tomorrow, when he will give a personal account of his support for the state system, in which his own children are taught. He will say that, having had an extraordinary education himself, he wants every child to have the same.
The red box row is the latest sign of discontent in Whitehall at Mr Gove's "back-seat driving" on education, as one source described it. Like all ministers, Mr Gove receives a red box every night. In his role as Chief Whip, he gets to see paperwork that is also seen by the Prime Minister in his red box, including summaries of what is going on across government – something that has alarmed ministers. But, in addition to that, he is also being passed detailed Department for Education (DfE) paperwork, which is extremely unusual.
While Mr Gove has steered clear of the DfE building, there is still a network of allies loyal to their old boss who can provide him with a constant supply of important paperwork. What is more, say sources, he feeds back his concerns and responses into the department.
The funnelling of paperwork to Mr Gove has not been sanctioned by Mrs Morgan or her permanent secretary directly, which would breach civil service procedures, but via this back channel. Members of the current Education Secretary's staff are understood to be exasperated that Mr Gove sees all the documents and comments on most of them.
A source in No 10 said: "Michael is very pleased to still be able to keep such a close eye on education policy, even after he was forced out of the department. He likes to see all substantial documents and comment on them because, in his vanity, he still likes to think of himself as education secretary.
"Nicky is a much more inclusive, consensus-building politician than Michael and that is the Education Secretary she is trying to be. But she is driven to distraction by malign Govite tendencies in the department and the never-ending tensions between her Spads [special advisers] and those over here."
Mr Gove was sacked as Education Secretary last July and moved to the job of Chief Whip after Lynton Crosby, in charge of Tory election strategy, advised that he had become toxic to the Conservatives' message on education.
The move outraged Mr Gove's allies, including his wife, the journalist Sarah Vine, who tweeted a story from the Daily Mail with the headline "A shabby day's work which Cameron will live to regret". Yet, as soon as Mrs Morgan was at her new desk, allies claimed she was being undermined by the "back-seat driver" Mr Gove.
Mrs Morgan gave an interview in December that hinted at her concern at how her predecessor was still trying to be involved in policy. Asked if it was true that Mr Gove had blocked any of her ideas, Mrs Morgan said: "Well, there is always a discussion about things in the party and with No 10, and I'm not entirely sure where ideas get to and where they come from. So I'm not aware that he has said no – or that, if he has, that it has been acted upon."
A spokesman for Mr Gove last night denied that Mrs Morgan's papers were being passed to the Chief Whip, saying: "This is total nonsense as usual. The story is categorically untrue. The only way it could happen would be if Nicky's private office sent us copies of all her papers every evening. Obviously, she and the DfE permanent secretary would not allow that." However, the source in No 10 said that this did not exclude officials passing paperwork through a back channel without the knowledge of Mrs Morgan or her private office.
It is understood that Mrs Morgan's office has no evidence that her paperwork is being copied into Mr Gove's box.
Join our commenting forum
Join thought-provoking conversations, follow other Independent readers and see their replies