Schools told to expect more Sats 'chaos' as moderators fail to mark pupils' work correctly
Just six per cent of moderators were able to correctly assess pupils' work in one local authority during a trial run
Rachael Pells
Education Correspondent Comments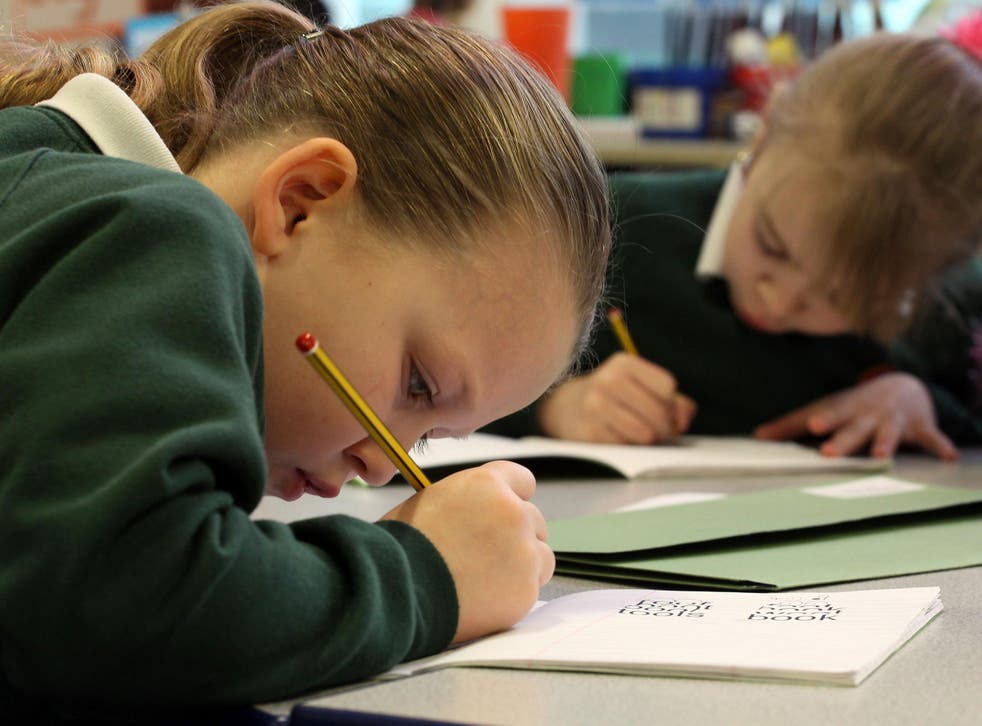 Schools and parents have been told to expect more Sats "chaos" after it was revealed the majority of moderators trained for this summer's marking have incorrectly assessed pupils' work.
New data obtained by TES magazine suggests the government could fail in its promises to ensure this year's national primary schools tests are "more consistent" and "reliable" following a host of problems raised last year.
Two-thirds of moderators trained to assess this term's exams marked papers incorrectly when tested earlier this year.
Moderators have described the system as "crude", "ridiculous" and a "farce", the news platform reports, expressing concern that teachers will struggle to assess the latest Key Stage 2 papers fairly.
The concerns follow changes made to Sats brought in for the new curriculum last year.
Parents and teachers complained the new tests were far too "tough" and had reduced children to tears.
"Chaos" ensued when a spelling, punctuation and grammar paper was leaked online by a "rogue marker", and a number of MPs were ridiculed for being unable to answer the questions set out for 11-year-olds.
This year, headteachers say they are concerned teacher assessments of writing will still be published and used to judge their schools, despite continuing confusion over where standards should lie.
"Schools have every right to be worried," said Mary Bousted, general secretary of the Association of Teachers and Lecturers teaching union.
UK news in pictures

Show all 50
"We know moderation of writing was a complete nightmare last year. The moderation arrangements were chaotic. It's still not sorted.
"If [the Standards and Testing Agency] can't guarantee consistency, why are we spending these millions of pounds and having all this stress, for writing scores that in all probability won't be accurate?"
Figures obtained by Freedom of Information requests found this year's moderators – trained to check teacher assessments of the tests on behalf of local authorities – performed poorly when they assessed specimen portfolios of children's work against the new standards.
Responses from 101 local authorities also revealed large variations in the moderators' understanding – just six per cent of moderators managed to correctly assess all three portfolios of pupils' work in Sheffield, while 13 other authorities had a 100 per cent success rate.
In 21 authorities, fewer than a fifth of moderators got the three assessments right, including five authorities where the proportion was less than 10 per cent.
The Department for Education has attempted to reassure schools by stating in its current consultation on primary assessment that "no single piece of data will determine any decision on intervention".
Meanwhile, Ofsted has said that it will treat data from this year's writing assessments with caution.
A DfE spokesperson said: "Local authorities have given written assurance to the STA that they have provided additional training to individual moderators who did not correctly identify one of the Key Stage 2 standardisation collections [portfolios].
"Local Authorities have also been required to implement quality assurance procedures to ensure that all moderators are able to make consistently accurate judgements."
Register for free to continue reading
Registration is a free and easy way to support our truly independent journalism
By registering, you will also enjoy limited access to Premium articles, exclusive newsletters, commenting, and virtual events with our leading journalists
Already have an account? sign in
Join our new commenting forum
Join thought-provoking conversations, follow other Independent readers and see their replies