More than one in four secondary schools running at a loss, study finds
'The trebling of council-run secondary schools in deficit is particularly striking'
Eleanor Busby
Education Correspondent
Friday 16 March 2018 01:07 Comments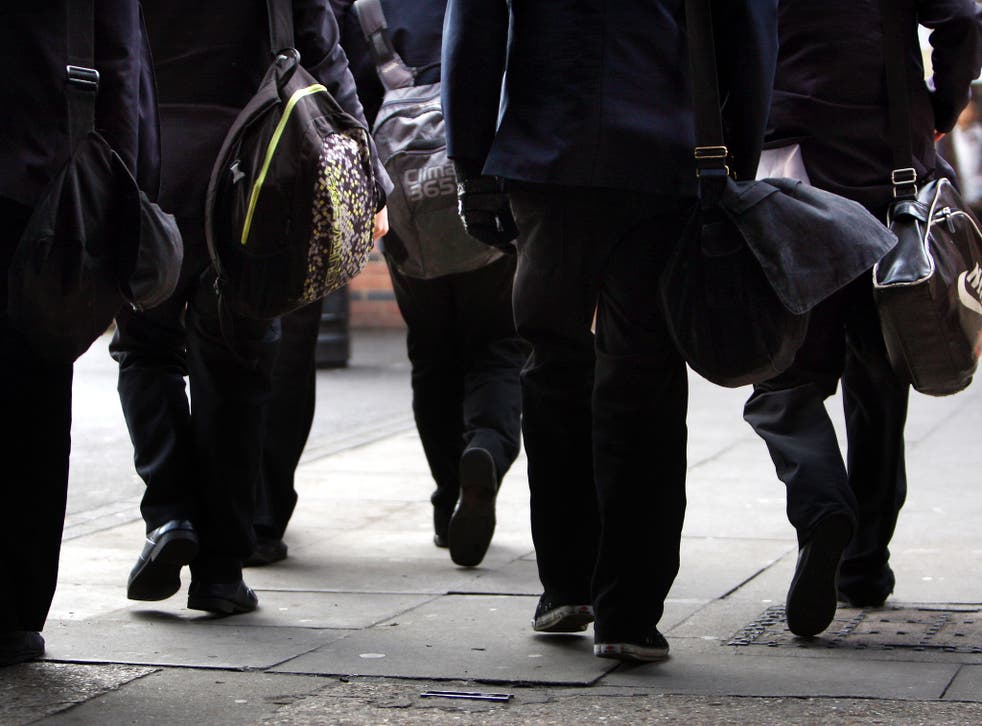 More than one in four council-run secondary schools are running at a loss, according to a new study.
The number of local authority secondaries across England in deficit has nearly trebled – from 8.8 per cent to 26.1 per cent – in four years, the think tank Education Policy Institute (EPI) found.
And more than two in three council-run secondary schools spent more money than they had coming in in 2016-17, the report reveals.
The study, which highlights the significant cost pressures facing schools, comes just days after the Education Secretary was forced to admit he'd wrongly claimed that spending was going up.
It finds that the South-west had the highest proportion of council-run secondaries in deficit – with more than a third running at a loss, while the lowest was the East of England at 17.5 per cent.
The report, which analysed council-run secondary and primary schools in England over seven years, also found that the number of primaries running at a loss increased to 7.1 per cent last year.
And three in five local authority primary schools spent more money that they had coming in in 2016-17.
The study warned that the Government's allocated funding failed to meet pressures on schools budgets – including the cost of providing teachers with a 1 per cent pay rise.
In January, the recently-appointed Education Secretary, Damian Hinds, claimed in Parliament that schools were set to receive a real-terms increase in school funding up to 2020.
UK news in pictures

Show all 50
But the official statistics watchdog criticised Mr Hinds, pointing out that funding has frozen – and that he was also wrong to claim that every school will enjoy "a small cash increase".
The Department for Education has rejected the study, although earlier this month, when speaking to headteachers, Mr Hinds did acknowledge that funding is "tight".
David Laws, EPI executive chairman and former Lib Dem schools minister, said: "This analysis highlights the nature and scale of cost pressures facing England's schools.
"After 15 years in which school funding has either been growing healthily or has at least been protected from inflationary pressures, school budgets are clearly now being squeezed.
"This is evident from the sharp rise in the number and proportion of local authority schools which are in budget deficit. The trebling of the proportion of maintained secondary schools over recent years is particularly striking."
He added: "Many schools will need to find savings and it will not be easy to do this without reducing staff numbers. Schools and the Department for Education will need to work hard to ensure that reduced staff numbers do not impact on education standards.
Geoff Barton, general secretary of the Association of School and College Leaders (ASCL), said: "This report shows that many schools are so cash-strapped they are unable to afford even a meagre pay rise of 1 per cent for their staff next year without having to make further cuts.
"The Government has failed to provide schools with funding for pay awards over the course of several years, and this is one of a series of additional cost pressures which have pushed school finances to breaking point.
"Staffing cuts are not just likely in the future, as the EPI report suggests, but have already taken place in many schools.
"If the Government values education it must put its money where its mouth is and provide schools with the funding they need to give all of our young people the very best start in life, and it must fully fund decent pay awards for school staff after years of austerity."
And squeezed budgets is not the only pressure that schools face. Data released by the Government yesterday showed that the number of schools that are full, or in excess of capacity, is growing.
"It is essential that the Government funds schools sufficiently to ensure that they are able to provide all of these young people with the education they need and deserve," Mr Barton added.
On the EPI report, Mary Bousted, joint general secretary of the National Education Union, said: "With most schools overspending their income, it is clear that schools' needs are not being met by the Government. This includes the need to invest in teachers and support staff."
Paul Whiteman, general secretary of school leaders' union NAHT, added: "This report paints a stark picture – one that is all too familiar to school leaders.
"It is now crystal clear that school budgets are at breaking point. Government funding is not keeping pace with inflationary pressures, and schools are falling into debt."
A Department for Education spokesman said: "We do not recognise these findings. The fact is, thanks to our reforms and the hard work of teachers, standards are rising in our schools.
"By 2020, core school funding will rise to a record £43.5bn - the IFS (Institute for Fiscal Studies) has confirmed that by then per pupil funding will have increased more than 70 per cent since 1990.
"Latest figures show schools hold surpluses of more than £4bn and we are providing support to help them get the most out of every pound they spend."
Register for free to continue reading
Registration is a free and easy way to support our truly independent journalism
By registering, you will also enjoy limited access to Premium articles, exclusive newsletters, commenting, and virtual events with our leading journalists
Already have an account? sign in
Join our new commenting forum
Join thought-provoking conversations, follow other Independent readers and see their replies