Secondary schools lose 15,000 staff due to funding cuts, unions warn
'The education system is buckling under the weight of funding cuts, which are driving away staff who haven't already lost their jobs, and jeopardising our children's future'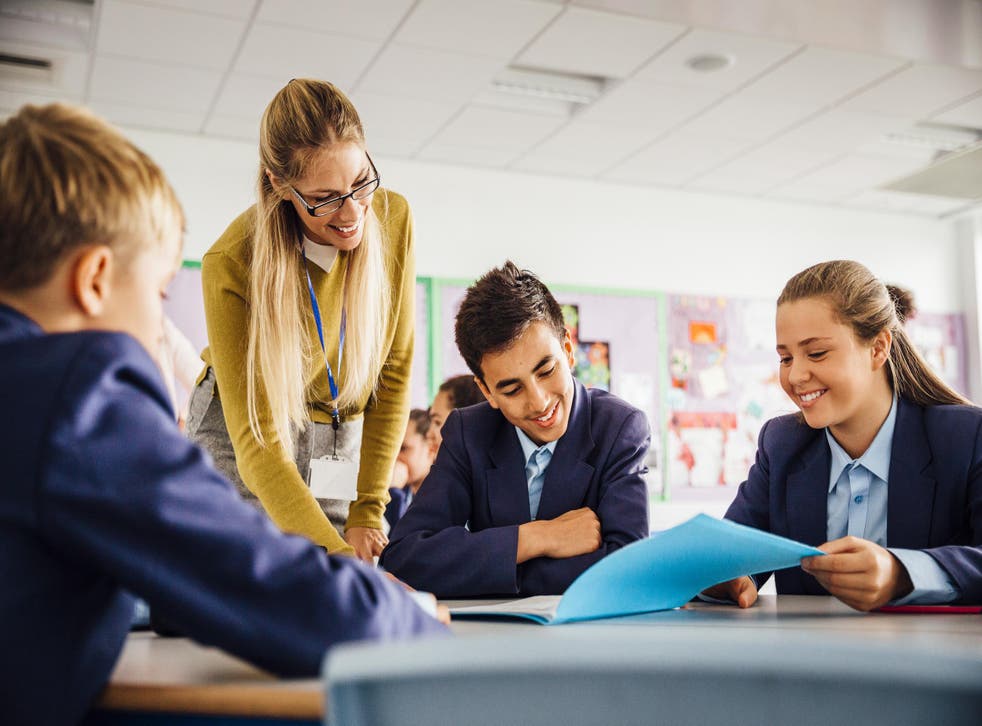 Funding cuts have led to 15,000 secondary school staff in England being dropped as pupil numbers continue to rise, the unions have warned.
Secondary schools across the country are being forced to cut staff, leading to bigger classes and less individual attention for children, according to the School Cuts alliance of education unions.
Their analysis of official Government figures shows that each secondary school has lost 5.5 staff members on average since 2015 - despite having 31,000 more pupils to teach.
The number of classroom teachers fell by 6,463, teaching assistants by 4,455, support staff by 2,454, auxiliaries by 1,453 and people in leadership positions by 238, according to the research.
Some of the largest staffing cuts are in the areas with the lowest average funding per pupil – including Reading, Isle of Wight, Central Bedfordshire, East Riding of Yorkshire, York, Derby and Milton Keynes.
The alliance said the situation was likely to get even worse, as it predicted that nine out of 10 schools in England and Wales will be hit by a real-terms cut in funding per pupil between 2015-19.
"Our analysis of the Government's figures now confirms what teachers and head teachers have been saying for the last two years: the cuts to education are damaging for children's education," said Mary Bousted, Joint General Secretary of the National Education Union.
"Schools are cutting back on teacher numbers and the pupil-to-teacher ratio is worsening. Children only have one chance to go to school. We should be investing in this generation of young people who will see such profound changes during their lifetimes."
Jon Richards, Head of Education at UNISON, added: "Children with special educational needs and disabilities rely heavily on teaching assistants, so sadly they'll be suffering the most as a result of these devastating staff cuts.
"The education system is buckling under the weight of funding cuts, which are driving away staff who haven't already lost their jobs, and jeopardising our children's future."
UK news in pictures

Show all 51
Meanwhile, Paul Whiteman, General Secretary of the National Association of Head Teachers, said school budgets were at "breaking point."
"The school funding crisis is real. Funding increases need to be in real terms, not in cash terms. We will keep on making our case loudly and clearly, alongside the thousands of parents, governors, school staff and others who have been campaigning tirelessly together for over a year," he said.
The Independent has contacted The Department for Education for comment but none had arrived at the time of publication.
Register for free to continue reading
Registration is a free and easy way to support our truly independent journalism
By registering, you will also enjoy limited access to Premium articles, exclusive newsletters, commenting, and virtual events with our leading journalists
Already have an account? sign in
Register for free to continue reading
Registration is a free and easy way to support our truly independent journalism
By registering, you will also enjoy limited access to Premium articles, exclusive newsletters, commenting, and virtual events with our leading journalists
Already have an account? sign in
Join our new commenting forum
Join thought-provoking conversations, follow other Independent readers and see their replies