School recruits bird of prey to prevent pupils' lunch being stolen
Spiney the Harris Hawk was recruited to patrol the school playground and ward off aggressive seagulls
Rachael Pells
Tuesday 07 June 2016 11:48 Comments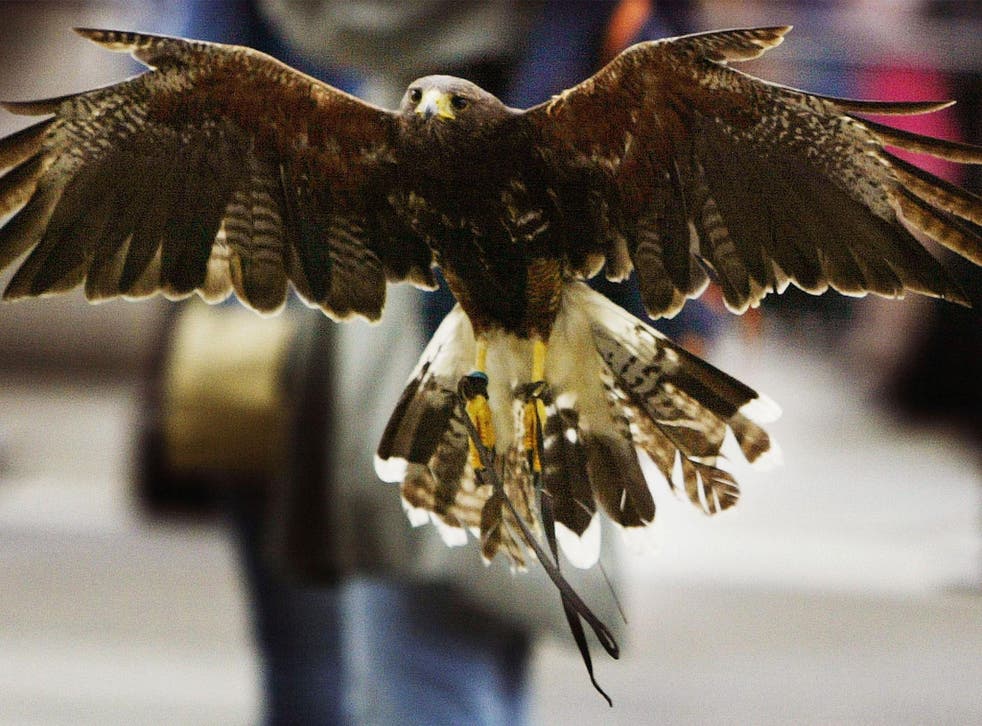 A school in Scotland recruited a hawk to scare of "nuisance" seagulls and prevent them from stealing pupils' lunches.
Spiney the Harris Hawk was brought in to watch over Perth Grammar School in Tayside as an extreme measure in pest control following a series of complaints from staff and pupils.
The bird was part of a £7,000 operation put into place after staff reported that gulls have been dive-bombing pupils and stealing food.
He was joined briefly by another hawk named Jean, who accompanied him in patrolling the school fields and playground
Using birds of prey has become an increasingly popular method of controlling unwanted vermin and deterring seagulls humanely, with several falconry centres advertising their birds as such.
Last week, Hillingdon Hospital announced it had employed a hawk trainer to scare off roosting pigeons thought to be a danger to public health.
Spiney the hawk spent a few weeks protecting pupils at Perth Grammar School, but his contract has now come to an end, the school has confirmed.
A Perth and Kinross Council spokesman said: "The council arranged for hawking activity to take place at Perth Grammar School as a pest control measure to deter seagulls which had been nesting on site and causing a nuisance to pupils, staff and visitors."
"The total cost for all the hawking services was £6,000, with an additional cost of £1,000 for seagull programmed nest disruption."
He added: "This stage of pest control action has now concluded, however we will continue with other measures to discourage gulls from the school premises, such as disruption to nesting and making sure the school environment and pupils do not encourage the gulls to return."
Register for free to continue reading
Registration is a free and easy way to support our truly independent journalism
By registering, you will also enjoy limited access to Premium articles, exclusive newsletters, commenting, and virtual events with our leading journalists
Already have an account? sign in
Join our new commenting forum
Join thought-provoking conversations, follow other Independent readers and see their replies