Parents raise concerns over school safety ahead of full return
Group write to ministers days before all students are to be allowed back in classrooms
Zoe Tidman
Saturday 06 March 2021 00:42 Comments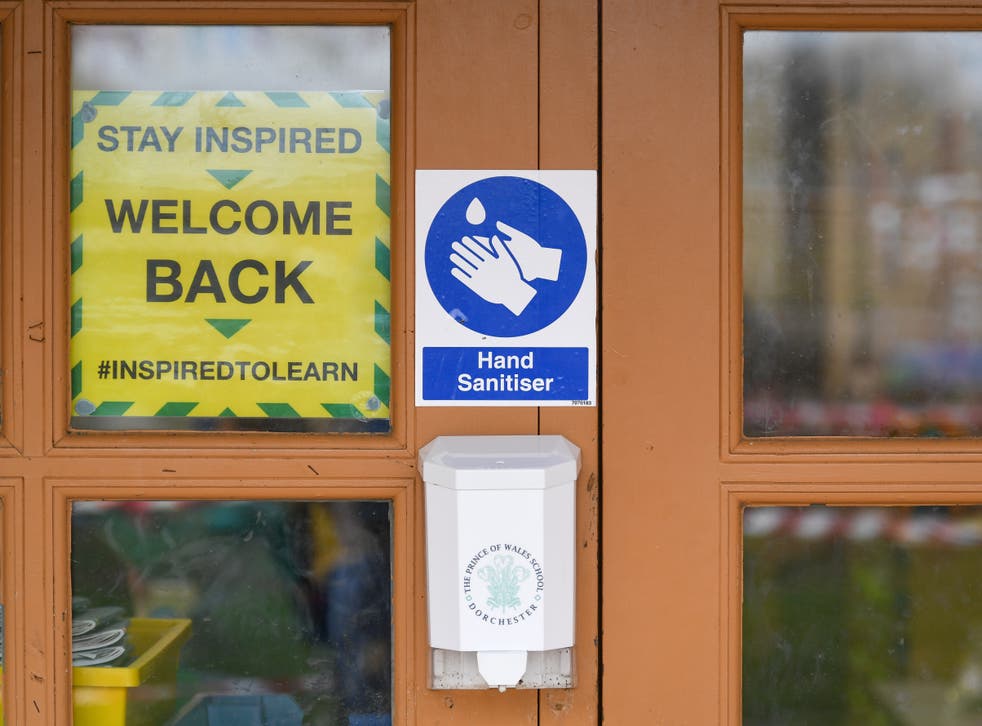 Parents have raised concerns over the safety of the full return to school in England next week without greater restrictions onsite.
SafeEdForAll, an informal group of parents, has called on the government to take further action to reduce the risk of coronavirus for pupils and their families, including a guarantee schools "will no longer face pressure" to maximise attendance.
All students in England will be allowed back onsite on 8 March, around two months after schools were told to move online for all but vulnerable and key worker children.
Education unions expressed concerns over the "big bang" approach when it was announced last month, warning it could lead to further disruption and risked increasing the rate of infections.
In a letter to Gavin Williamson and Matt Hancock days before the planned return, SafeEdForAll said they were "concerned about the risks posed by the imminent restart of in-person teaching" to children, families, school staff and the community.
The group said schools - unlike other indoor settings in the UK - are not required to limit the number of people onsite to allow for social distancing, nor ensure everyone wears a face mask.
As this is not expected to change for 8 March, their letter - backed by scientists and campaign groups - called on the government to send a "clear message" it is not yet safe for children to go to school if there is someone with a known clinical vulnerability in their household.
The group of parents urged to government "to ensure that schools in England no longer face pressure from the DfE to maximise attendance at this crucial time", saying removing threats for families who choose to keep children at home will give them flexibility to risk assess their household and reduce numbers onsite, which could improve school safety.
SafeEdForAll also urged the government to "send a clear message" that masks are a "widespread and effective measure" globally to limit the spread of coronavirus in schools, with pupils aged six onwards told to wear them in places, and "would constitute best practice in the UK".
In updated advice for the full school return, the government has recommended secondary school pupils wear face coverings in classrooms until Easter in a bid to reduce the risk of Covid-19 transmission.
Nick Gibb, the schools minister, told BBC Breakfast last week it was "highly recommended" that secondary school pupils followed this measure "because we want to do everything we can to reduce the risk of transmission in the school", but added it was not compulsory.
Guidance for younger pupils has remained the same as before lockdown, with children in primary schools not advised to wear face masks onsite.
The Department for Education (DfE) said last week a regional schools commissioner was working with two primary schools to make sure they were following government guidance, after they asked pupils to wear face coverings in classrooms from 8 March.
Under new guidance for the easing of lockdown in England, the government has recommended staff and adult visitors in primary schools wear face masks where social distancing is not possible, such as in corridors and communal areas - but not children.
A Department for Education spokesperson said: "School is the best place for children's education and wellbeing. That is why this government has prioritised all children returning to school as soon as the public health situation permitted and based on the latest scientific and medical advice.
"Teachers and other school staff across the country have been working tremendously hard to make sure schools are as safe as possible when children return. On top of the protective measures that were already in place, the advice is for secondary school students to wear face coverings wherever social distancing cannot be maintained."
They added: "Twice-weekly testing is also available to everyone working in education, families of children, and all secondary school and college students as an extra layer of reassurance and to help break chains of transmission of the virus."
The Department for Health was approached for comment.
Register for free to continue reading
Registration is a free and easy way to support our truly independent journalism
By registering, you will also enjoy limited access to Premium articles, exclusive newsletters, commenting, and virtual events with our leading journalists
Already have an account? sign in
Join our new commenting forum
Join thought-provoking conversations, follow other Independent readers and see their replies