'Staggeringly high' numbers of teachers threatening to quit the classroom
Teachers are stuck in roles they can no longer cope with but can't leave because of their financial circumstances, says Education Datalab head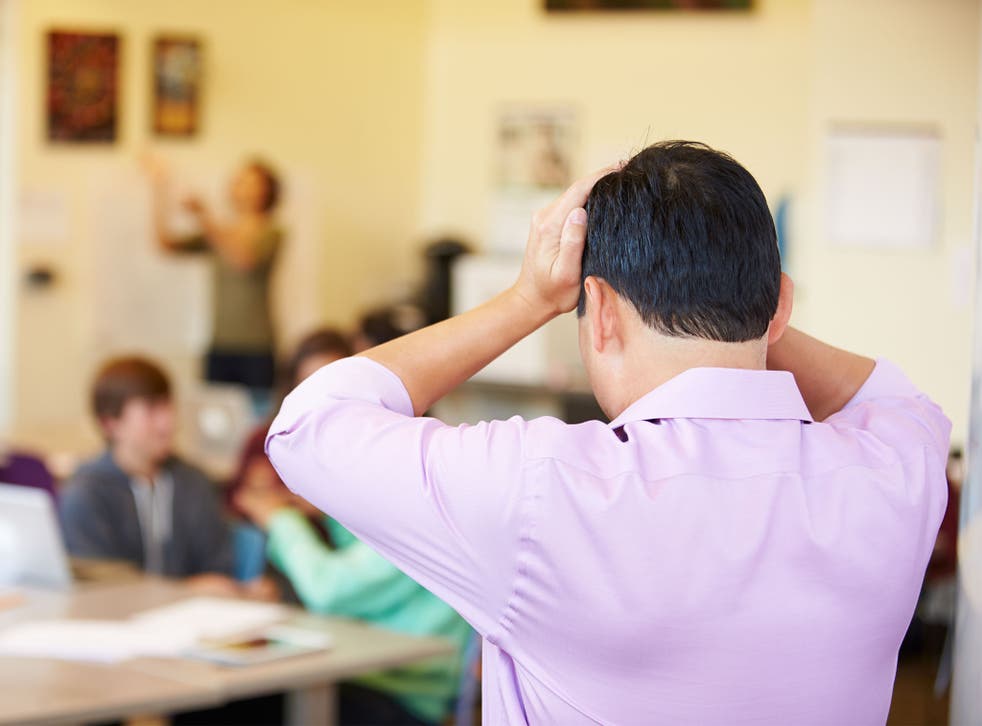 "Staggeringly high" numbers of teachers are ready to quit the profession, a leading education researcher has warned, as growing pressures placed on staff and schools make the job "just too big an ask".
Rebecca Allen, director of the Education Datalab think tank has become the latest expert to highlight what has been referred to as a "crisis" in teacher recruitment and retention.
Children across the country are being taught by teachers who do not want to be there, but are trapped by their financial circumstances, Ms Allen said.
Speaking at a General Election briefing on education, she warned teaching is now "incredibly difficult", as staff are increasingly bogged down with paperwork and accountability tasks that are leaving them exhausted and unmotivated.
More needs to be done, in particular to help new teachers, to stop them walking out the door, she said.
Her comments come amid growing fears for teachers' mental health, with figures from a teaching union survey last month revealing almost four in ten young teachers could quit the classroom within the next five years.
In the survey of more than 3,000 teachers under the age of 36, almost half said mental health concerns could force them to resign, with heavy workloads and lack of support cited as key problems.
Teaching in England is now "an incredibly difficult job" with school workers "putting in hours in excess of anything that people could imagine", said Ms Allen.
"It's something that is essentially a performance job and I think as a profession they're exhausted.
"I think they're exhausted not just by the day to day of delivering lessons, but more importantly everything else that they're expected to do."
UK General Election 2017

Show all 47
She added: "When you look at surveys of the profession that say what proportion of people are thinking about leaving, the numbers are staggeringly high.
"They don't all walk out the door but they don't walk out the door in part because they can't."
A surge in the number of teachers leaving their jobs has led teacher shortages to reach "crisis" point in England and Wales, a cross-party group of MPs said in February.
Ministers need to take urgent action to address the shortage, the Education Committee said, as it is set to worsen with the number of secondary school-age pupils expected to spike by more than 500,000 to 3.3 million by 2025.
While some have pointed to poor pay conditions as a contributing factor for teachers feeling dissatisfied in their roles, Ms Allen said in fact teachers leaving the classroom were most likely at risk of losing money by retraining for other jobs.
It is for this reason that so many teachers feel trapped into staying in roles they can no longer cope with, she said.
"We know that when teachers leave, they often go into the labour market and end up earning less, at least on day one as a consequence.
"But I don't want my children to be taught by teachers who are there in the classroom but want to leave and are being trapped by their economic circumstances, and I think we're getting into that situation because the job is just too big an ask."
General Election polls and projections: May 27
Ms Allen said there is a need to look at improving the experience of teachers at the start of their career, which could include measures such as mentoring, smaller teaching workloads, or extending the teacher training period.
Professor Becky Francis, director of the UCL Institute of Education said the prospect of taking longer to achieve qualified teacher status (QTS) may be off-putting to some would-be teachers.
Instead, she suggested there could be a scheme where an initial QTS is awarded at the end of teacher training and then again at further stages of development, which recognise a teacher's work and progress.
Figures published last October showed nearly a third of teachers who began work in England's state schools in 2010 were not in the classroom five years later. About one in eight (13 per cent) had left after just a year.
Ministers have previously insisted teacher retention rates have been "broadly stable" for the last 20 years.
A Conservative Party spokesperson said its manifesto includes new policies to attract people into teaching, and remain in the profession.
"We will bear down on unnecessary workload and offer forgiveness for teachers on student loan repayments while they're in the profession," they said.
A Labour spokesperson said: "We will lift the public sector pay cap to give our teachers a much needed pay rise, and put professionals at the heart of our review of the curriculum and assessment regime.
"We will also consult on teacher sabbaticals and reduce unnecessary monitoring and assessment."
Additional reporting by PA
Register for free to continue reading
Registration is a free and easy way to support our truly independent journalism
By registering, you will also enjoy limited access to Premium articles, exclusive newsletters, commenting, and virtual events with our leading journalists
Already have an account? sign in
Register for free to continue reading
Registration is a free and easy way to support our truly independent journalism
By registering, you will also enjoy limited access to Premium articles, exclusive newsletters, commenting, and virtual events with our leading journalists
Already have an account? sign in
Join our new commenting forum
Join thought-provoking conversations, follow other Independent readers and see their replies