Working-class students turning to loan sharks as universities charge hidden fees, National Union of Students says
'It is a scandal that students are having to fork out more cash for core course activities'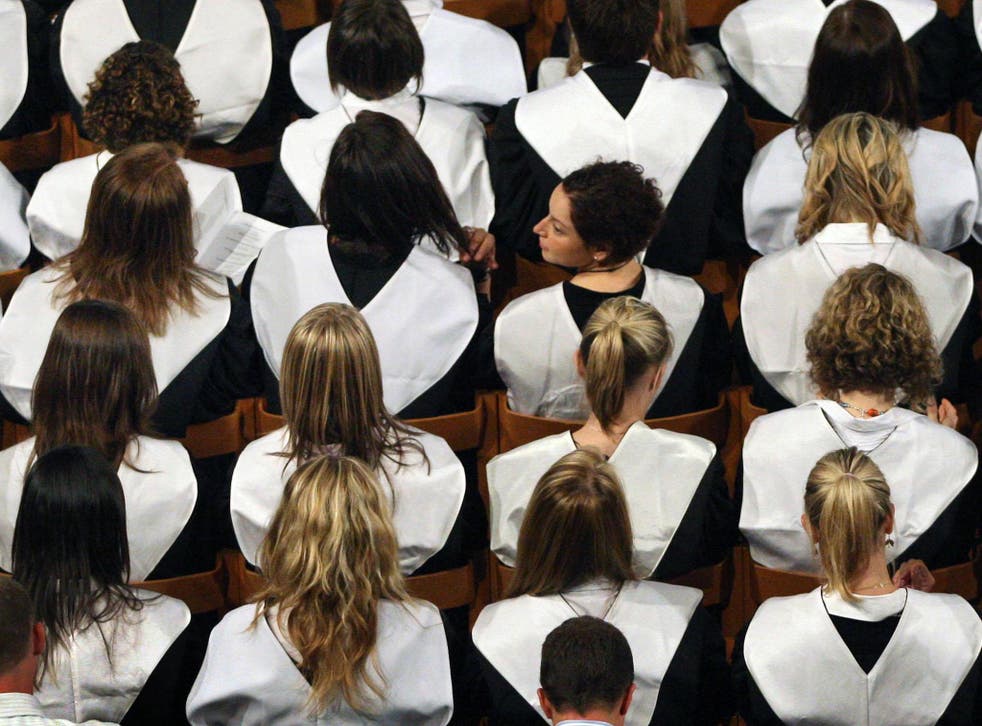 Working-class students are being forced to turn to loan sharks after being confronted with a series of "hidden costs" when they arrive at university, the National Union of Students (NUS) has warned.
Cash-strapped students are being asked to fork out hundreds of pounds extra a year for compulsory course materials and trips they have not budgeted for amid a lack of transparency across the sector.
Universities and colleges should cover these mandatory costs and be upfront with prospective students about all the fees for resources and activities to ensure working-class students' ability to study and wellbeing is not damaged, according to an NUS briefing shared with The Independent.
Shakira Martin, NUS president, says working-class students are having to take on multiple jobs at a time to fund their education – and they are being forced to turn to sex work, payday loans and loan sharks.
It is having a detrimental effect on their grades as well as their mental health, resulting in a number of them dropping out, Ms Martin told The Independent.
Student news in pictures

Show all 34
Official figures released earlier this month revealed that students from disadvantaged backgrounds are more likely to give up their university courses within 12 months than their more advantaged peers.
In some universities, more than a fifth of young students from the most disadvantaged social backgrounds dropped out in their first year, the Higher Education Statistics Agency (HESA) data shows.
A higher proportion of disadvantaged students now attend university and institutions need to offer a higher level of support to ensure these young people complete their studies and succeed, experts say.
Ms Martin said: "It's a scandal that students pay so much to get into education, only to arrive and find they have to fork out more and more cash in order to simply take part in core course activities.
"Institutions should do everything they can to ensure that every working-class student that walks through the door has the support not only to get in but to get on in education."
The new NUS briefing has been released to encourage student unions across the UK to campaign for support funds from universities to cover these unexpected costs. It comes just days after education ministers called on top universities to pay for the accommodation and equipment for children in care.
Steph Hayle, community and wellbeing officer at York University Students' Union, had to work three jobs in one term when she arrived at university as her loan failed to cover all the costs she faced. She did not have time to study or socialise until third year, when she had saved up enough to cut down to two jobs.
She told The Independent: "Hidden course costs are a massive concern, especially when people are budgeting in advance based on their rent and food and not realising this is going to happen."
Students have been caught off guard by mandatory trips and travel costs, she said, and nursing students were having to fork out more than £1,000 a year on laundry costs for their uniforms on placements.
Ms Hayle added: "These costs are not promoted. It is not really mentioned in any of the literature that gets sent out to you. I don't think it is something that institutions are necessarily proud to advertise.
"You have the £9,250 course cost and nobody wants to explain that it is actually going to cost you a lot more than that. It is really shocking for a lot of students to come in and encounter these costs."
Megan Hatfield, academic affairs officer at Aberystwyth University Students' Union, said unaware first-year students at the university have been asked to pay hundreds of pounds for art materials and trips abroad.
But many students have already spent most of their loan on accommodation and have not budgeted for these extras, she said. "They are struggling to pay for food and they are concerned that if they are not able to pay these costs then is it going to impact on their degree."
And staff at the students union have noticed a rise in the proportion of students struggling with money. "Having these costs on top of that isn't helping," Ms Hatfield added.
The financial pressure on working-class students has increased since the removal of maintenance grants as more young people are struggling to cover living costs on their loan alone, the NUS says.
The union is calling for the grants to be reinstated as part of the government's post-18 funding review, which is due to report later this year, and universities across the UK are calling for the same move.
Ms Martin believes the situation will get worse for poorer students if the grant is not brought back and if funding across the sector is not improved. "It would be a huge opportunity lost and fundamentally it is working-class students that will be most at risk – and that is something that angers me."
Support free-thinking journalism and attend Independent events
A Universities UK spokesperson said: "Universities remain committed to ensuring all students succeed in every aspect of university life, regardless of their background."
They added: "It is important institutions are transparent when detailing the additional costs of attending university, and that they continue to offer a range of emotional and financial support to students.
"We'd encourage students under financial pressure to contact student support services if they need help – however, greater government support would help to alleviate student concerns with living costs."
A Department for Education spokesperson said: "There is a record rate of 18-year-olds from disadvantaged backgrounds now going to university and we expect universities to provide students with information about the total course cost – this includes any extra costs students are likely to incur.
"Students from the lowest-income households who started their courses this year have access to the largest ever amounts of cash-in-hand support for their living costs.
"The education secretary has been clear that he wants universities to focus on the successful participation of disadvantaged groups, and higher education institutions are spending £860m this academic year on measures to improve access and outcomes for students from underrepresented groups."
Register for free to continue reading
Registration is a free and easy way to support our truly independent journalism
By registering, you will also enjoy limited access to Premium articles, exclusive newsletters, commenting, and virtual events with our leading journalists
Already have an account? sign in
Register for free to continue reading
Registration is a free and easy way to support our truly independent journalism
By registering, you will also enjoy limited access to Premium articles, exclusive newsletters, commenting, and virtual events with our leading journalists
Already have an account? sign in
Join our new commenting forum
Join thought-provoking conversations, follow other Independent readers and see their replies