Students protest at 'racist' supervisor
Cambridge don calls black people 'impulsive'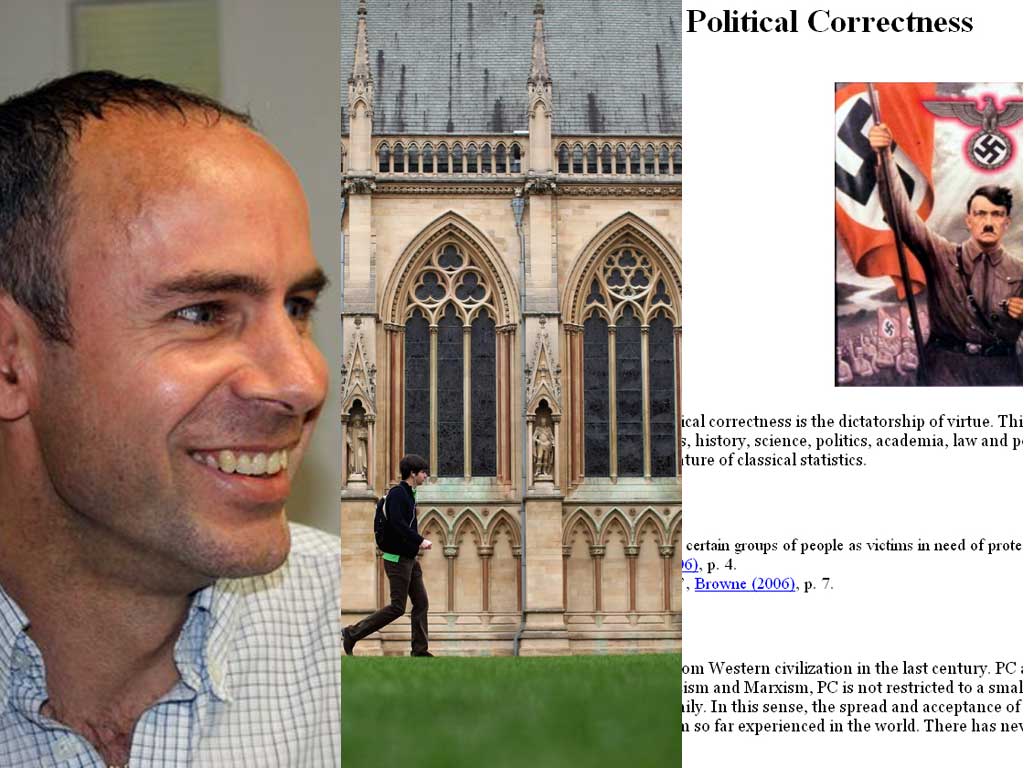 A Cambridge University academic faced criticism last night after students protested that he operates a website that features Nazi imagery, describes female immigrants as "exotic fruit" and claims that black people are "impulsive", with lower IQs than other races.
Martin Sewell's site features a picture of Hitler on a section entitled "Political Correctness", where he praises David Irving, a convicted Holocaust denier, as a "brilliant historian".
The 43-year-old had been teaching at Cambridge as a supervisor in economics for the past seven months. But concerns have been raised about his appointment from students who complain that articles on his personal webpage are "deeply racist" and "sexist".
According to Cambridge University Students' Union (CUSU), there have been a number of complaints about Mr Sewell in relation to the website.
In a statement to The Cambridge Student newspaper, the CUSU said: "Obviously, an individual who expresses such deeply racist views, such deeply sexist views and who explicitly endorses National Socialism cannot remain as a supervisor for Cambridge students: Cambridge is a diverse, multicultural community which stands against everything he stands for." [See footnote.]
In one posting on his website, Mr Sewell presents a defence of eugenics – a school of pseudoscientific thought associated with the Nazis through their experiments to eliminate "undesirable" population groups.
He argues that while Hitler may have given eugenics "a bad name", its modern objectives are "highly desirable". He adds: "eugenics can help eliminate genetic diseases, reduce personality disorders and increase intelligence via human biotechnology. Time to reconsider."
In another entry, Mr Sewell defines racism as "a perfectly natural in-group bias which has been stigmatised by the politically correct". He also claims that black people are three times more likely to commit a crime than white citizens in both the US and the UK.
And he cites the reason for this as "blacks' lower intelligence and greater impulsivity, which themselves are probably biological in origin".
On the issue of immigration, Mr Sewell distinguishes between the reactions of men and women to immigrants of the opposite sex: "Men may appreciate the exotic fruit," he says. But women, on the other hand, "are deeply suspicious of most men, foreign men in particular".
A further causes of concern to the students' union is a piece in the "Political Correctness" section. In a written response to a female academic's lament about the glass ceiling in her chosen scientific discipline, anatomy, he wrote: "[My] article seeks to explain why men are better equipped than women to do science and engineering, and why there are more men than women in higher offices."
Mr Sewell began working at Cambridge in 2009 after completing his PhD in computer science at University College London. He started out as a senior research associate in the Land Economy Department but between January had been acting as an academic supervisor for undergraduates reading economics.
Yesterday, Mr Sewell denied being racist or sexist and said he did not endorse National Socialism. He also claimed his comments about women, were based on "scientific research" that show differences in men and women's brains and motivations".
* In July 2014, the Press Complaints Commission published a ruling on a complaint by Mr Sewell against a report that had been published in The Cambridge Student newspaper. While most aspects of the complaint were rejected, on one point the PCC concluded that The Cambridge Student's report was misleading. Like the item above, The Cambridge Student, had included a comment from a representative of the University's Student Union to the effect that Mr Sewell had "explicitly endorsed National Socialism". In its ruling, the PCC said it "did not accept that the claim was substantiated by material on the complainant's website; the reference to sources who had been criticised for their alleged sympathy with National Socialist ideas did not amount to an 'explicit endorsement' of the ideology." We are happy to make this clear.
In addition, the article has been amended to remove a reference to Mr Sewell having come under pressure to resign. His short-term contract had, in fact, already concluded by the time the Cambridge Student story first appeared.
Join our commenting forum
Join thought-provoking conversations, follow other Independent readers and see their replies