Students pressured into joining universities through 'false' advertising and financial inducements, regulator warns
Applicants are 'vulnerable, under pressure and uncertain' when faced with marketing tactics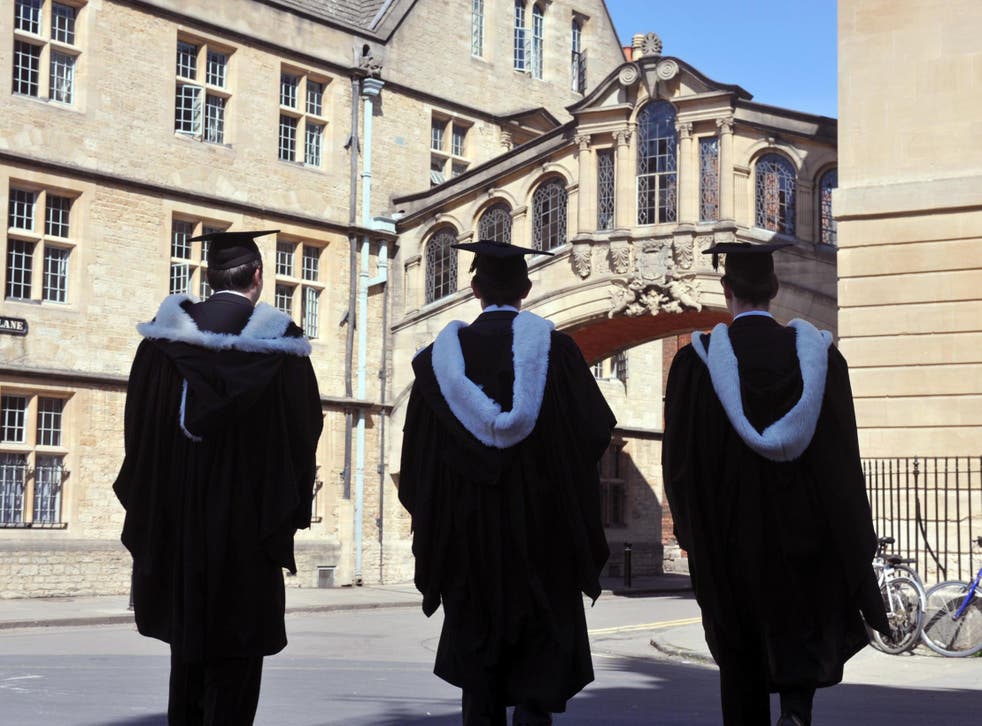 Students are being pressured into joining universities with inferior teaching by "false" advertising and financial inducements in a race to boost numbers, the higher education regulator has warned.
Universities using "questionable" sales tactics to encourage prospective students to choose a degree course which may not be right for them face a crackdown by the Office for Students (OfS).
Nicola Dandridge, chief executive of the OfS, warned that students' expectations have been raised "unrealistically" before they go to university to then find out the provision is worse.
The number of "misleading" advertising claims on university websites and in marketing materials has grown as the competition to recruit more students has intensified, the watchdog said.
Now universities are promising cash payments and bursaries during clearing to encourage more students to take up places at their institution – even if it is not in their best interest.
UK news in pictures

Show all 50
The regulator, which will launch a review into university admissions and recruitment in the new year, has warned it could issues fines to universities that use these practices.
Launching the regulator's annual report, Ms Dandridge said she was concerned that disadvantaged students are disproportionately being recruited "inappropriately" onto "poor-quality courses".
She added: "There are concerns about the use of financial offers and inducements being made to prospective students going through the clearing process at a time when those students may be particularly vulnerable, under pressure and uncertain.
"Students need high quality information. They do not need a sales pitch with questionable incentives."
Ms Dandridge called on universities to ensure that "false and misleading advertising" is not used.
"Marketing campaigns may be a necessary evil that we have to live with but they need to be tempered with honest, trustworthy advice and guidance," she urged.
Her warning comes after an investigation last year found that a number of British universities had made misleading marketing claims about their international status.
Ucas research earlier this week revealed that more than half of school leavers say they have received a university offer with an incentive – including cash payments – to make them select it as their first choice.
Universities have been competing to attract students amid a fall in applications, which has been fuelled by a decline in the UK's 18-year-old population and uncapped student numbers.
On the report, Geoff Barton, general secretary of the Association of School and College Leaders, said: "These findings provide yet more evidence of an increasingly wild west approach to the recruitment of students among universities desperate to put 'bums on seats'.
"Students should be choosing the course that is the best fit for them, not navigating their way round various incentives and claims."
Chris Skidmore, universities minister, said: "Our higher education sector is world-leading, but pockets of unacceptable poor practice harm its reputation and demonstrate the need for robust regulation.
"We set up the OfS to hold institutions that aren't delivering for students to account, and have given them a range of powers to take action – including financial penalties or deregistration in the most serious cases. I look forward to the OfS building on these foundations, and welcome its ambition to go further in protecting and improving the quality of higher education in England."
A Universities UK spokesperson said: "Universities UK is already engaging with the OfS on the issues raised in this report to ensure a fulfilling experience for students while they are at university – including work on ensuring the fairness of the admissions process, being more transparent in how students' university fees are spent and committing to ending 'grade inflation'.
"We encourage the OfS to continue to consult with the sector, so that universities can continue to provide a high-quality education for students and that students can access the necessary information to make the best decisions for them."
Register for free to continue reading
Registration is a free and easy way to support our truly independent journalism
By registering, you will also enjoy limited access to Premium articles, exclusive newsletters, commenting, and virtual events with our leading journalists
Already have an account? sign in
Register for free to continue reading
Registration is a free and easy way to support our truly independent journalism
By registering, you will also enjoy limited access to Premium articles, exclusive newsletters, commenting, and virtual events with our leading journalists
Already have an account? sign in
Join our new commenting forum
Join thought-provoking conversations, follow other Independent readers and see their replies