One in four teachers in England work 60-hour week despite government clampdown, study finds
More radical action needed to fix workload problem among school staff, report says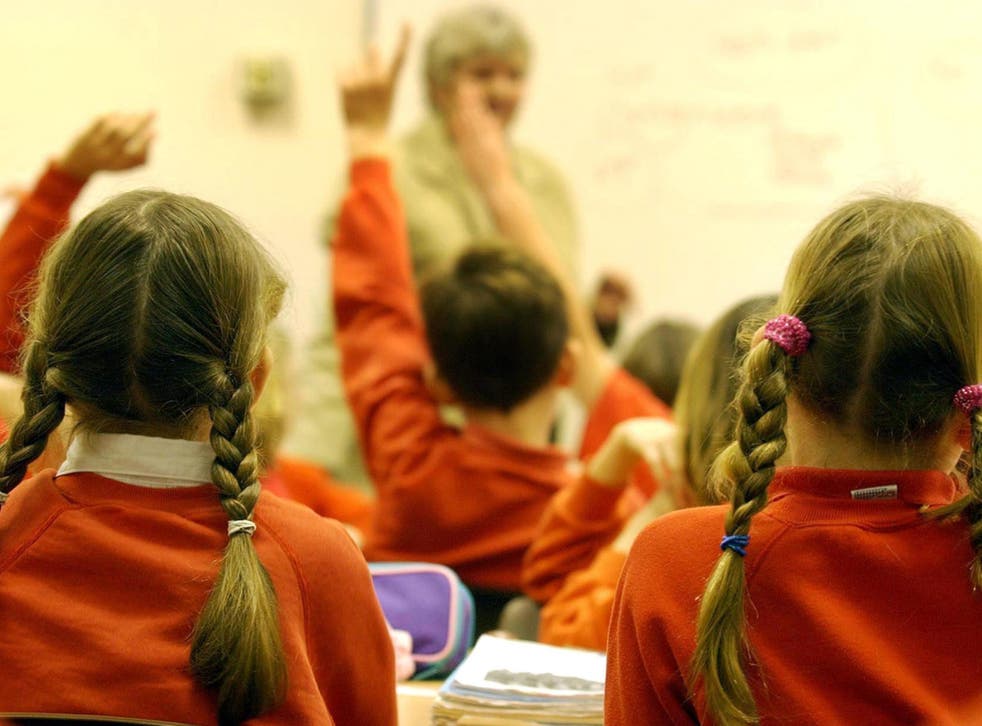 Attempts by successive governments to reduce teacher workload in England have failed, with one in four working more than 60 hours a week, a study says.
Teachers in England work eight hours a week longer on average than peers in comparable OECD countries, according to research led by the University College London (UCL).
The major study – which looked at data from more than 40,000 teachers in England collected between 1992 and 2017 – finds that around two in five teachers usually work in the evening and one in 10 give up their free time at the weekend to work.
Most full-time secondary school teachers in England work an average of 49 hours per week, compared to an OECD average of 41 hours. In Finland, teachers work just 34 hours, the report says.
Despite pledges from ministers to tackle workload, a quarter of teachers in England work more than 60 hours per week during term time – 12 hours above legal limits set by the European Union.
UK news in pictures

Show all 50
A study from the think tank Education Policy Institute in 2016 into teachers' workload found that one in five teachers worked 60 hours or more a week during term time.
The situation has not improved over the past two decades despite a series of policies from the government aimed at cutting teachers' working hours, the UCL-led research finds.
"The results suggests that policy initiatives have so far failed to reduce teachers' working hours and that more radical action may need to be taken in order to fix this problem," the paper concludes.
Lead author Professor John Jerrim, UCL Institute of Education, said: "Successive secretaries of state for education have made big commitments to teachers about their working hours – how they are determined to reduce the burden of unnecessary tasks and how they will monitor hours robustly.
"Our data show just how difficult it is to reduce teacher workload and working hours."
The current methods used by the government to collect data about working hours are not as reliable as they could be and should be reformed, the researchers conclude.
Professor Jerrim said: "We'd like to see much closer monitoring of teachers' working hours, so that the impact of policy can be assessed as soon as possible.
"Overall, bolder plans are needed by the government to show they are serious about reducing working hours for teachers and bringing them into line with other countries."
Earlier this year, then education secretary Damian Hinds launched a teacher recruitment and retention strategy to try to tackle long hours in the classroom.
Josh Hillman, director of education at the Nuffield Foundation, which funded the research, said: "Teachers are working persistently long hours. This has been the case for over two decades, despite a succession of policy announcements during this period."
He added that addressing teachers' working hours is key to improving "teaching quality and supply."
Geoff Barton, general secretary of the Association of School and College Leaders, said: "Excessive teacher workload is a persistent problem because governments constantly raise the bar on what they expect schools to do.
"Various initiatives have been launched to reduce workload in recent years but schools have been swamped by changes to qualifications and testing, relentless pressure on performance and results, and funding cuts which have led to reductions in staffing and larger class sizes."
In April, a National Education Union (NEU) report warned that two in five teachers are planning to quit the profession by 2024 because of unbearable workloads and poor work-life balance.
Teachers said funding cuts had led to increased hours and greater responsibilities. One member, who works 70 hours a week, told the NEU: "I am getting out before the job kills me."
On the UCL study, Kevin Courtney, joint general secretary of the NEU, said: "The government is doing a far better job of driving people out of teaching than they are in retaining them.
"Sixty-hour working weeks are completely unacceptable, and it is one of the key reasons why one-third of newly qualified teachers leave within five years. There is no reason to suppose this will change."
He added: "It is quite obvious to teachers and school leaders that successive education secretaries are failing to solve the problem."
Support free-thinking journalism and attend Independent events
A Department for Education spokesperson said: "As today's report shows, the number of hours teachers work has remained broadly unchanged over the last 25 years.
"We have, however, been making concerted efforts to reduce workload driven by unnecessary tasks.
"We will continue our work with the sector to drive down on these burdensome tasks outside the classroom so that teachers are free to do what they do best – teach.
"Salaries for new teachers are also set to rise to £30,000 by 2022-23 and, this year, teachers and heads can receive a pay rise of 2.75 per cent – above current rates of inflation."
Register for free to continue reading
Registration is a free and easy way to support our truly independent journalism
By registering, you will also enjoy limited access to Premium articles, exclusive newsletters, commenting, and virtual events with our leading journalists
Already have an account? sign in
Register for free to continue reading
Registration is a free and easy way to support our truly independent journalism
By registering, you will also enjoy limited access to Premium articles, exclusive newsletters, commenting, and virtual events with our leading journalists
Already have an account? sign in
Join our new commenting forum
Join thought-provoking conversations, follow other Independent readers and see their replies