Two in five newly qualified teachers experience mental health problems, new study reveals
'I would need to pull my car over to be sick before I arrived at school'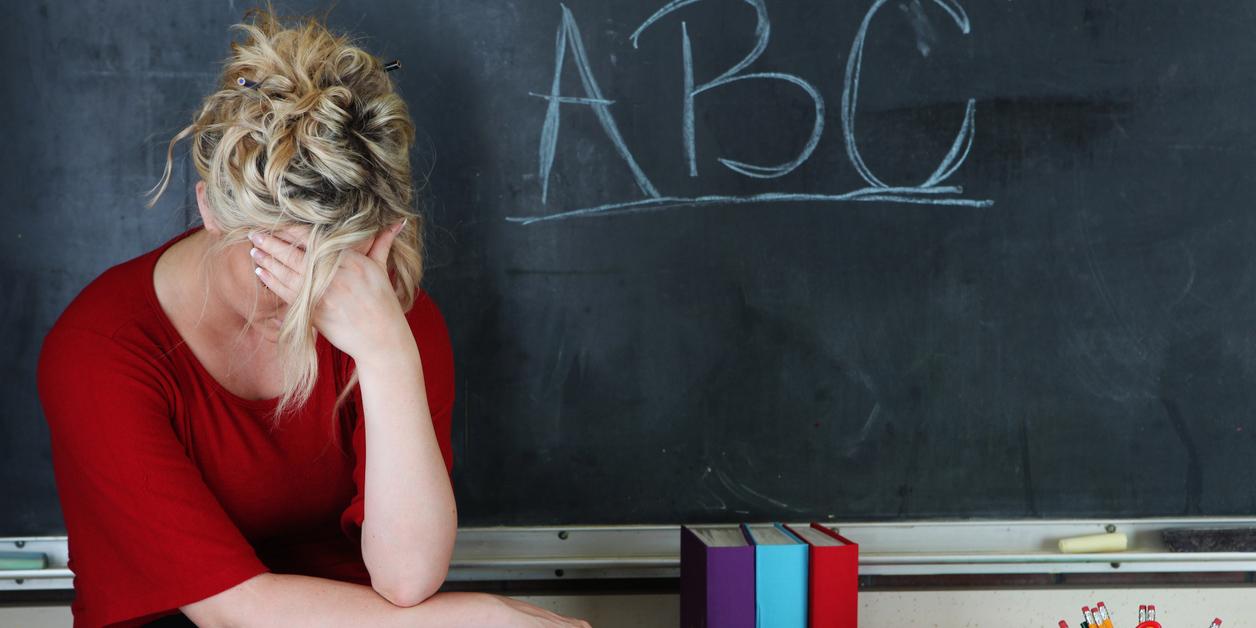 Two in five newly qualified teachers (NQTs) have experienced mental health problems in the last year, a new study has found.
Teachers with less experience in the profession are more likely to experience panic attacks, insomnia and mood swings than their colleagues, a report from an education support charity reveals.
The majority (52 per cent) of NQTs, and those in the profession under five years, have recently considered leaving due to health and wellbeing pressures.
The survey findings, shared with The Independent, show that 40 per cent of NQTs have experienced a mental health issue in the past 12 months, compared to 31 per cent of all teachers.
Charity Education Support Partnership, which carried out the research, says personal mental health and wellbeing training must be made statutory within Initial Teacher Training.
Unless urgent action is taken over rising mental health issues, the retention and recruitment crisis in UK schools will worsen and children's education will suffer, the charity has warned.
Long periods of sick leave – which have to be covered by supply teachers – and overwhelmed staff struggling on despite feeling unwell can impact pupils' outcomes, teachers say.
High workload, poor student behaviour, and mental health concerns are the most cited reasons for why these recently qualified teachers have considered quitting the profession, the report finds.
One teacher, who wished to remain anonymous, was signed off by her GP due to stress. She was given four months of sick leave from school after she had a breakdown.
Before becoming a teacher, she had no mental health issues. "I was a very happy graduate and I was full of enthusiasm," the now 24-year-old said.
But the poor treatment she received from senior staff during her first few years in the classroom left her feeling undermined and bullied. She said: "I had night terrors which left me exhausted. I would need to pull my car over to the side of the road to be sick before I arrived at school."
She told The Independent: "In front of the children I became a stern and fierce teacher out of fear from the headteacher. Sadly, I began to take my feelings out on the children.
"I would often cry, breakdown and shake in my classroom reading tent."
On her decision to leave the school due to her health, she said "I was torn between my personal feelings and my professional duty. If it hadn't been for the children I would have left long ago."
She added: "It has taken 18 months of therapy and long-term leave to feel normal again."
Around three-quarters of the teachers have experienced behavioural, psychological or physical symptoms due to work – and around one in four said they have experienced depression and anxiety.
Professor Jonathan Glazzard, from Leeds Beckett University, who currently leads on research in The Carnegie Centre of Excellence for Mental Health in Schools, said: "Teachers feel it has a detrimental impact on their teaching and on their planning.
"Most teachers felt their poor mental health had a detrimental effect on pupil progress. They felt it affected all aspects of their teaching. It absolutely affected everything."
In the last 12 months, there has been a 35 per cent increase in teachers calling the charity's support helpline. From April 2017 to March 2018, a total of 8,668 cases were managed through the helpline.
One teacher who reached out to the helpline was Paul – a 29-year-old who struggled when he first started out as a secondary school teacher. "I couldn't switch off from the job at night or at weekends. It consumed me," he said.
"At my first school I didn't feel I received the help I needed. I felt insecure in my ability to do the job and there were behavioural issues with the kids.
"I had a heavy marking workload and planning to do in the evenings. It was a cocktail of lack of confidence and everyday stresses and strains of the job."
Paul said he had bottled up his feelings as he feared that he would be sacked if he told his school.
Julian Stanley, CEO of the Education Support Partnership, said: "The expectations of NQTs are quite high from leadership teams and colleagues.
"Sometimes younger teachers can feel quite vulnerable saying what they are struggling with. Especially if they're in a school where there are gaps and vacancies, or particular pressures."
He added: "The health and wellbeing piece is not a fluffy thing anymore. It is not something that would be nice to have. It is actually core to the workplace.
"Pupils themselves will say they want confident teachers and in fact behaviour is always better with a teacher who feels very secure and confident to manage a room."
On the risks if no action is taken, he added: "I think we will see continual struggles to recruit new people into the profession and we will see teachers leaving far sooner than they might have done."
Kevin Courtney, joint general secretary of the National Education Union, said "unmanageable workloads" are affecting teachers' mental health and wellbeing.
He said: "This is resulting in complete burnout and is fuelling the recruitment and retention crisis with teachers leaving the profession in droves.
"If government does not make significant strides to address accountability, reduce workload and increase teacher pay this situation will worsen and will impact negatively on children and young people's education."
Support free-thinking journalism and attend Independent events
Angela Rayner, the shadow education secretary, said: "It is deeply concerning that the government's mistreatment of our teachers is leading to serious mental health issues.
"This Tory government has caused a teacher recruitment and retention crisis that is stretching our education system to breaking point.
"More and more teachers are fed up and demoralised after years of rising workload and falling real terms pay, while cuts to school budgets have made their jobs even harder.
"If the government really cared about our teachers, they would put an end to the cuts immediately, get workloads under control and invest in recruiting the staff we need."
A Department for Education spokesperson said: "The education secretary has been clear that there can be no great schools without great teachers and we have committed to tackling issues that could affect teachers' mental health and wellbeing.
"We understand that teacher mental health and wellbeing can be affected by a whole range of issues – we are considering these as part of our teacher recruitment and retention strategy.
"This includes thinking about how we can support schools to increase opportunities for flexible working that can support teacher wellbeing.
"The department has also taken a number of steps – collaborating with teachers, unions and Ofsted – to strip away excessive workload which is one of the factors that can affect wellbeing."
Join our commenting forum
Join thought-provoking conversations, follow other Independent readers and see their replies