Greater numbers of teenagers are seeking help due exam results stress
This year's cohort are the first to undertake A levels under a new linear system as part of a reformed curriculum - adding an extra element of pressure for those waiting to receive results
Rachael Pells
Education Correspondent
Wednesday 16 August 2017 10:43 Comments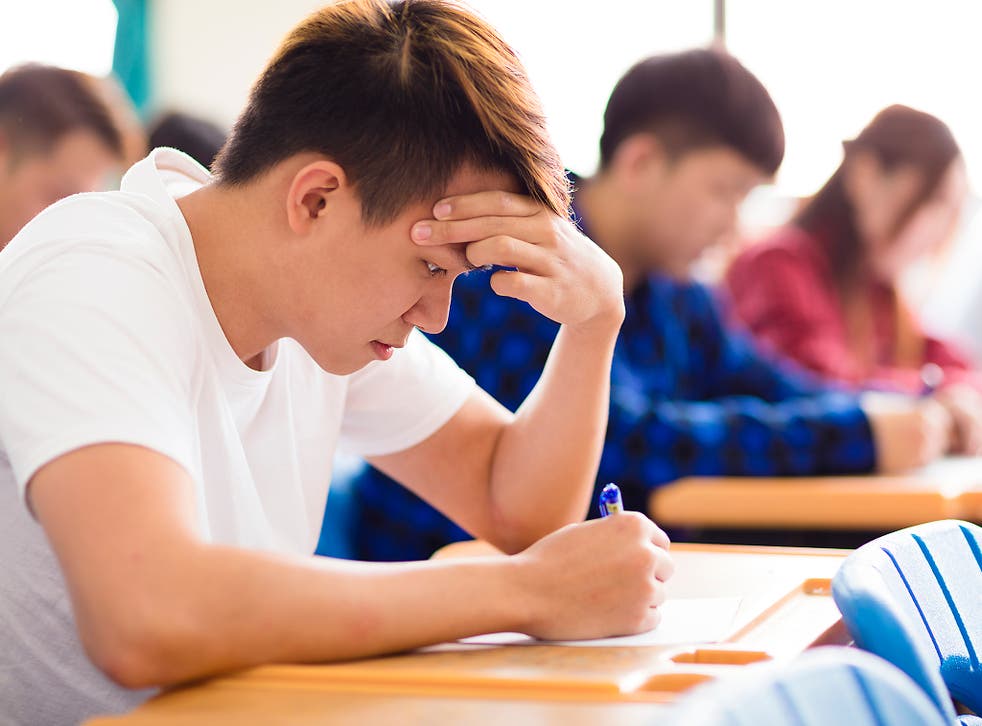 Increasing numbers of young people are seeking help due to exam results stress.
Figures released by Childline show that more than 1,000 counselling sessions were provided to teenagers worried about their grades in the last financial year, a rise of more than a fifth (21 per cent) over the last two years.
The statistics come the day before teenagers across England, Wales and Northern Ireland receive their A-level results, with many relying on achieving particular grades in order to secure university places.
In total, Childline, which is run by the NSPCC, delivered 1,133 counselling sessions to pupils specifically worried about their exam results in 2016/17.
Of these, over a quarter (28 per cent), took place in August last year - the month in which A-levels and GCSE results are published.
There has been a sharp rise in the number of counselling sessions for 16-18-year-olds - those teenagers most likely to have taken major exams, Childline said.
Many young people told counsellors they were disappointed with themselves and worried their grades might affect them getting into the university or college of their choice.
Others were concerned about their parents' reaction to their results.
Anxiety and low mood were also mentioned when discussing exam results, with some saying they were struggling to cope with the pressure to do well and achieve top grades.
One girl who contacted Childline said: "I am so worried about my exam results that I feel sick.
"I studied all day and overnight for them. If I don't get all A's I'll feel like I've let everyone down and my parents will be disappointed. I want to make them proud."
Peter Wanless, NSPCC chief executive, said: "Waiting for exam results can be an anxious time for young people and can leave some struggling to cope.
"Pressure to achieve good grades and worries about securing further education places and jobs can be too much for some teenagers to deal with on their own.
The figures come amid ongoing concerns that young people are being put under increasing pressure to achieve good grades, as schools are held to account for each year group's performance.
Speaking at a conference in June, Ofsted's head Amanda Spielman warned too many schools in England put their league table results above pupil interests, with the pressure to boost exam grades overtaking important learning values.
UK news in pictures

Show all 50
"I know better than most quite how high-stakes these qualifications are as passports to future success," she told educators at Wellington College festival, "[but] if you are putting more resources into providing exam scribes than in teaching your strugglers to read and write... then you are probably doing most of your students a disservice."
Commenting ahead of A- level results day on Thursday, Rosamund McNeil, Head of Education and Equalities, National Union of Teachers, said: "This cohort was the first to face the new linear A-Levels and as such, the challenges that followed too.
"The upheaval of a hastily reformed curriculum and the changes leading to a reduction in much of the coursework elements, created unnecessary stress and concern for pupils and teachers alike."
Issuing advice for parents and carers ahead of results day, the children's charity warned against pressurising children to achieve.
"Try not to place pressure on your children to gain certain grades," the charity said.
"Your child may find it hard to talk to you about their results so be patient and supportive until they feel ready to open up about how they feel.
"Encourage your child to take their time to think about what they want to do next. There's no need to rush into a decision straightaway."
Dame Esther Rantzen, Childline's founder and president, said: "Young people need to remember that getting good exam grades is not a make-or-break moment and, whatever your results, there are options and opportunities to make a great future for yourself.
"This is proved by all the successful people who have made their way in life despite being nowhere near the top of their class.
"The important thing during exam results season is to stick together as a family and be as supportive and encouraging to the person waiting to receive their grades and then planning their next steps.
"And if they are reluctant to open up about how they are feeling or what they want to do then Childline is always ready to provide help and advice."
Register for free to continue reading
Registration is a free and easy way to support our truly independent journalism
By registering, you will also enjoy limited access to Premium articles, exclusive newsletters, commenting, and virtual events with our leading journalists
Already have an account? sign in
Join our new commenting forum
Join thought-provoking conversations, follow other Independent readers and see their replies