The art of teaching them to love science
More pupils are choosing arts subjects over chemistry, physics and maths. But a new initiative aims to bring scientific topics to life – and help secure our economic future. Will it help? Chloe Hamilton reports
Chloe Hamilton
Wednesday 03 July 2013 22:58 Comments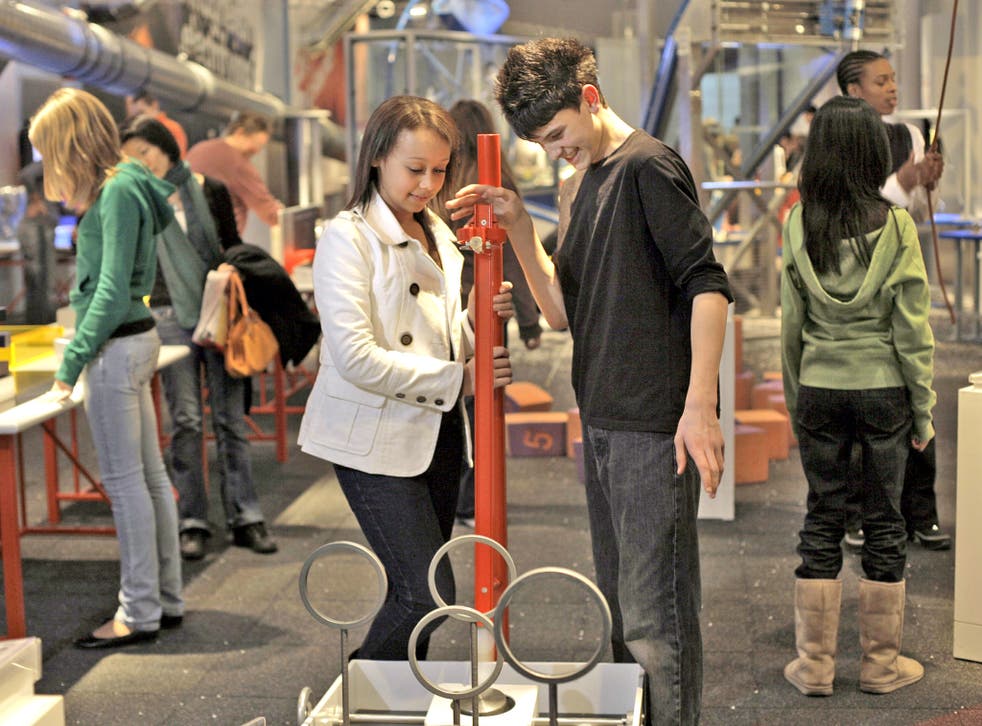 I dropped science when I was 16. The day I set my hair on fire with a Bunsen burner, prompting screams from teachers and pupils alike, was the day I realised my skills lay in prancing about in a drama class, reading Hamlet aloud in English and debating ferociously the existence of God in religious studies.
Science was too hard. It was boring. Although I enjoyed messing about with sulphuric acid, my science teachers relied too heavily on work sheets and textbooks.
But as I sit at the back of a darkened room at the Science Museum with a gaggle of exasperated adults, deafened by the 40 over-excited 11-year-olds in front of me, all awaiting the hotly anticipated Rocket Show, I start to wonder whether science education has changed in the eight years since I packed away my protective goggles.
On average, 2,000-2,500 school visitors pass through the Science Museum's doors every day (50-60 school groups). On a busy day that number can be north of 4,000 (90-100 school groups).
I visit on a Tuesday morning and head straight to the Launchpad, which was redesigned and reopened in November 2007 and houses more than 50 interactive exhibits illustrating different scientific concepts. Helpers are on hand to demonstrate how the exhibits work, conduct experiments and perform shows to schools and the visiting public.
It's chaotic; the air filled with the sound of children fighting for a go on the latest exhibits.
However, according to Department for Education statistics, the amount of students choosing to study Stem subjects (sciences, technology, engineering and maths) is worryingly low. The number of girls studying physics is dwindling, with only 6,452 taking the subject to A-level in 2012, compared with 24,298 boys; 44,729 students took chemistry A-level in the same year, no match at all for the 82,825 students who chose English. Furthermore, low-income students are half as likely to study physics, chemistry or maths as their higher-income peers, suggesting that somewhere between the school trip and the classroom, students are losing interest in science.
In an attempt to breathe life into our science education, the Science Museum, BP and King's College London have launched Enterprising Science, a £4.3m learning initiative which is the largest UK-wide science learning programme of its kind.
The five-year partnership aims to engage more children in Stem subjects, and ensure Britain remains at the forefront of science. "Science is the key to our economic future," says the Education minister, Liz Truss, who thinks students would be more attracted to Stem subjects if they realised the "cold hard cash" that can be gained in Stem professions.
"It's about engaging young people and making them understand the real opportunities and potential that lies in a career in science."
The resources, the first of which should be in classrooms by the end of the 2014-15 academic year, will be piloted with students, families and teachers – and it is hoped the programme will be rolled out to 2,000 secondary teachers, reaching 400,000 students.
Partner bodies plan to recruit the brightest Stem graduates into the teaching profession to inspire students to continue with the subjects.
"Teachers need to be well trained," says head teacher Sir William Atkinson, who was knighted after turning round what was labelled "the worst school in the country" – Phoenix High in Shepherds Bush, west London, "Not only do they need great subject knowledge but they need to be passionate. They need to understand that part of this is about enthusing and engaging young people."
Families also play a crucial role in the scheme. The winner of the 2013 Queen Elizabeth Prize for Engineering, Louis Pouzin, wants to encourage parents to introduce children to mechanical toys at a young age. "They learn a lot of things by doing them themselves," he says. "If they don't succeed, and they probably won't succeed initially, you have to help them understand."
The scheme hopes to build students' "science capital"; the idea that someone who is surrounded by scientists is more likely to go on to study science and find a Stem job.
"You're much more likely to see yourself as a scientist, particularly as a young girl, if you know a scientist. A human being who you can actually poke and say 'this could be me'," says Professor Evelyn Welch, vice-principal of arts and sciences at King's College London.
A philosophy graduate who spent her school years engrossed in the Harry Potter books instead of learning her times tables, my science capital is shamefully low. I don't have a degree or an A-level in a science or maths and neither of my parents work in a Stem job.
"We need to be working with children from the age of five onwards and making science relevant," says Sir William. "It's not just an academic discipline with rules and conventions but it's something that they can animate, that they can play with, that makes sense to them."
This is evident as I watch the Rocket Show. Before long our host, Sam, has the pupils whooping and cheering as he launches a Pringles tube filled with hydrogen off the desk with a flash of light and a colossal bang. By the end of the 45-minute show, Sam has explained Sir Isaac Newton's three laws of motion and has us shouting out key words such as "orbit", "hydrogen" and "gravity". It's this kind of interactive learning that the programme plans to introduce in schools.
Peter Mather, BP group regional vice-president (Europe and head of UK), hopes the initiative will encourage young people to look at careers in the oil and gas businesses. "There's a lot of talk about youth unemployment and social mobility," he says. "We believe that providing the right environment for the study of Stem subjects is a massive part in what we can do and what others can do for the economy."
I exit the Science Museum with a headache and a new-found respect for teachers. Enterprising Science has left me pondering my own science education. Growing up as I did in a family where I was encouraged to read instead of practice my mental arithmetic, my Stem skills are woeful. But I have a career that I love and fortunately I didn't need a maths or science degree to get here.
In truth, other subjects, such as modern foreign languages, would benefit from similar initiatives. The Science Museum director, Ian Blatchford, thinks we should stop treating education as a pipeline with only one outcome: a career.
He says: "The example I give is you don't study history to become a historian; you study history because it is engaging."
Students should study for the love of the subject, be that subject maths, geography or French. So anything that can inspire students – and help break down the arts/science divide – has got to be a good thing.
Register for free to continue reading
Registration is a free and easy way to support our truly independent journalism
By registering, you will also enjoy limited access to Premium articles, exclusive newsletters, commenting, and virtual events with our leading journalists
Already have an account? sign in
Join our new commenting forum
Join thought-provoking conversations, follow other Independent readers and see their replies