Theresa May told to 'stop using EU staff as pawns in Brexit', as thousands gather in protest
The prime minister has said she cannot guarantee EU nationals the right to stay without reciprocal arrangements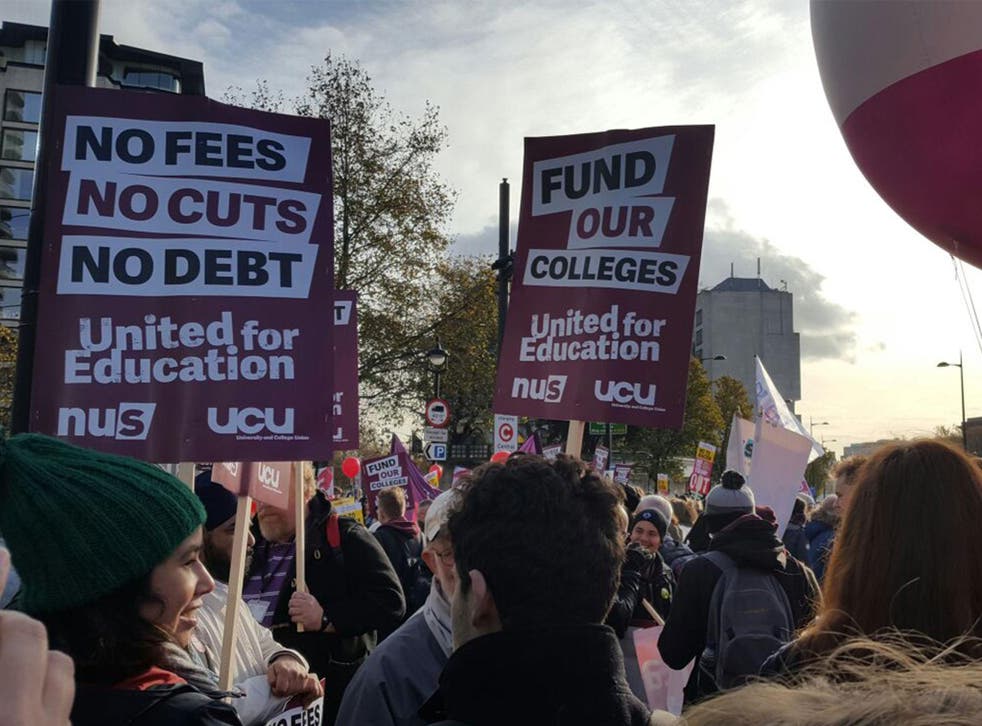 Academics, researchers and students should not be used as "pawns" in political negotiations over Brexit, the Prime Minister has been warned, as education leaders urge the government to protect EU researchers working in the UK from future immigration controls.
Speaking at a national demonstration in London, General Secretary of the University and College Union (UCU) Sally Hunt called on Theresa May to "show some humanity, do the decent thing and stop using EU staff and students as pawns in Brexit negotiations".
An estimated 15,000 people from across the education sector joined in demonstration against cuts, "exploitation" and the rising cost of education in one of the largest marches of its kind on Saturday.
The march was organised by the National Union of Students and UCU to protest the Higher Education Bill, which includes plans to allow universities in England to increase tuition fees above the current cap of £9,000 per year.
Numerous concerns have been raised over the new bill, which academic leaders say threatens the reputation and future of the further and higher education sectors by slashing funding.
In her speech, Ms Hunt set out the union's opposition to rising fees, spiralling student debt and privatisation, as well as calling on the government to give European academics "the right to stay".
The plea follows warnings from the prime minister that EU nationals cannot be guaranteed the right to stay in the UK post-Brexit without reciprocal arrangements in place.
Student news in pictures

Show all 34
After the June referendum result, the government reassured EU students currently in higher or further education that they would continue to be able to access student funding support while studying in the UK.
Concerns have been raised over the future of research funding, however, should the UK universities lose EU funding once separated from Europe.
Green Party deputy leader Amelia Womack took to the stage to back academics at Saturday's demonstration, and Labour leader Jeremy Corbyn also pledged support for campaigners, arguing the case for free education.
National Union of Students vice president for higher education, Sorana Vieru told the crowd: "This huge upheaval of higher education is not about the needs of students, but about the needs of businesses.
"Its mantra is education for profit, not for public good."
The union has called on students to boycott the National Student Survey - an annual census it claims will allow the Government to hike tuition fees further.
One college lecturer taking part in the demonstration told The Independent: "There are people here from every corner of education, each with real concern over the future of the industry.
"[I'm] marching for free education and in defence of post-16 education. Today is significant because it's students and lecturers united against the profitisation of the sector."
The Higher Education and Research Bill is due to have its third reading in Parliament on Monday.
Register for free to continue reading
Registration is a free and easy way to support our truly independent journalism
By registering, you will also enjoy limited access to Premium articles, exclusive newsletters, commenting, and virtual events with our leading journalists
Already have an account? sign in
Register for free to continue reading
Registration is a free and easy way to support our truly independent journalism
By registering, you will also enjoy limited access to Premium articles, exclusive newsletters, commenting, and virtual events with our leading journalists
Already have an account? sign in
Join our new commenting forum
Join thought-provoking conversations, follow other Independent readers and see their replies