More than 40,000 fewer part-time students go to university due to tuition fees hike, study suggests
'The Government needs to reverse the catastrophic decline in part-time students'
Eleanor Busby
Education Correspondent
Thursday 15 March 2018 01:41 Comments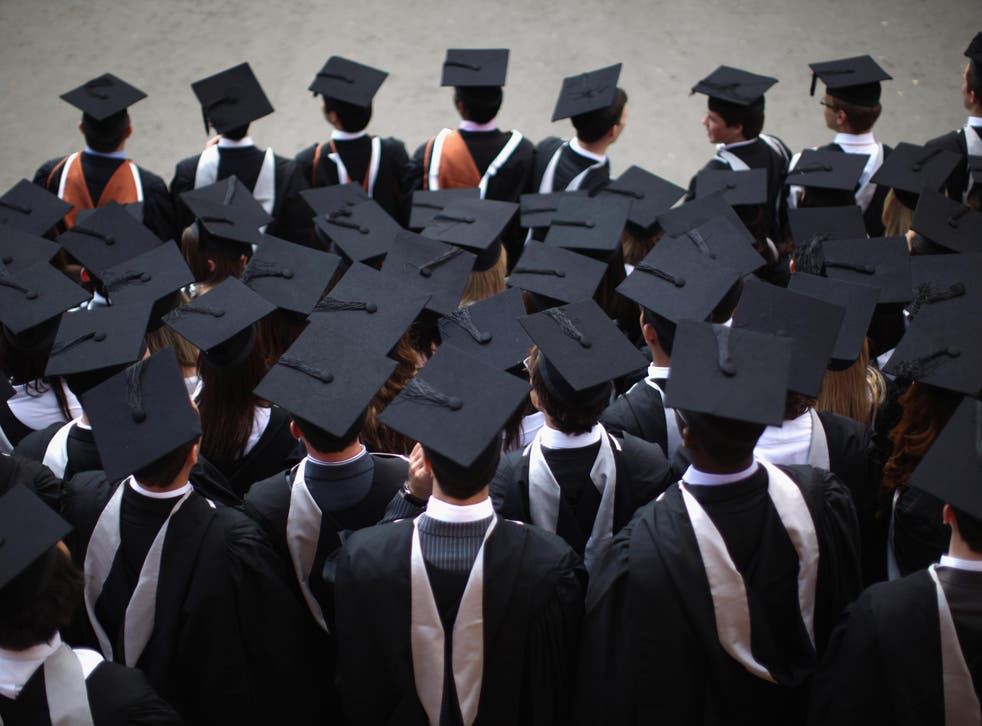 More than 40,000 fewer part-time students are going to university because of the hike in tuition fees in England, a new study suggests.
The Government's introduction of higher tuition fees exacerbated the decline of part-time students in England, preventing many "second chance routes" to social mobility, the report from the Sutton Trust charity states.
There were more than 40,000 fewer part-time students in 2015 than five years before – when tuition fees had not yet risen to £9,250 a year for full-time undergraduates, it reveals.
If entrant numbers for those living in England had fallen by the same proportion as those living in Wales – who did not experience tuition fee increases – then there would have been 149,000 part-time students in England in 2015, instead of 106,000, it adds.
The number of part-time students in England declined by 51 per cent between 2010 and 2015 – and researchers say part of the fall was caused by higher tuition fees in 2012.
The drop in part-time and mature study is preventing those who may not have followed the traditional route from school – or whose work or family responsibilities make full-time study impractical – from going into higher education, the report warns.
The proportion of young people in part-time study from disadvantaged backgrounds is almost 50 per cent higher than for full-time courses.
It has been published just weeks after the Government announced its long-awaited review of university funding.
Theresa May admitted that allowing universities to charge variable tuition fees had left Britain with "one of the most expensive systems" in the world.
Sutton Trust has called for the costs of part-time tuition to be tackled to stop the dramatic decline.
Students who are eligible for the new part-time maintenance loan should be able to take out a tuition fee grant for the first two years of their course, the report recommends.
Student news in pictures

Show all 34
Sir Peter Lampl, founder of the social mobility charity said: "Part-time study is a crucial second chance for many people. This report shows that it has been decimated. The major reason for this dramatic decline is the introduction of big increases in tuition fees. Mature and part-time students have a better understanding of the consequences of taking on debt than young full-time undergraduates.
"The Review of Post-18 Education should acknowledge there is no 'one size fits all' approach to student finance, and recognise that the mature and part-time sector requires tailored solutions.
"Opportunities to get on in life should not be restricted to a one-off decision at age 18. Genuine social mobility would empower all those in society to gain the skills they need to succeed, regardless of age or background. Part-time and mature education is key to this."
Peter Horrocks, vice-chancellor of the Open University, said: "The 2012 funding changes provoked a crisis in part-time higher education in England, hitting students from disadvantaged backgrounds particularly hard.
"Businesses are crying out for skilled workers, yet the best way of training people – by allowing them to learn while they earn – is being undermined. The UK Government has the chance to reverse the catastrophic decline in the number of part-time students in its forthcoming review of funding."
Universities UK recently launched a project, with the Confederation of British Industry (CBI), looking at the fall in part-time students over recent years.
Professor Julie Lydon, vice-chancellor of the University of South Wales and chair of the project's advisory group, said: "If the UK is to prosper and compete internationally, this must be looked at by policy-makers. It is important, therefore, that it is addressed in the Government's forthcoming review of higher education in England."
University group Million Plus said that the Government's review of tuition fees in England should make the recruitment of mature and part-time students a priority.
A Department for Education spokesperson said: "Everyone who wants to access higher education should be able to. We know that studying part-time and later in life brings enormous benefits for individuals, the economy and employers and we want this to continue.
"We already offer loans for all types of students, including those who are part-time, but we recognise the difficulties faced by some students, which is why for the first time ever we plan to introduce full-time equivalent maintenance loans in 2018/19 to support those people who want to study part time.
"The Prime Minister also made clear last month that we are undertaking a major review of post-18 education and funding to ensure that the system is giving everyone a genuine choice between high quality technical, vocational and academic routes, and students and taxpayers are getting value for money. This includes more flexible routes, like part-time study."
Register for free to continue reading
Registration is a free and easy way to support our truly independent journalism
By registering, you will also enjoy limited access to Premium articles, exclusive newsletters, commenting, and virtual events with our leading journalists
Already have an account? sign in
Join our new commenting forum
Join thought-provoking conversations, follow other Independent readers and see their replies