UK's most disadvantaged teenagers four times less likely to apply for university than better off peers
Latest data analysis fuels concerns the likelihood of students applying for university is heavily dependent where they live
Rachael Pells
Education Correspondent
Friday 17 February 2017 01:38 Comments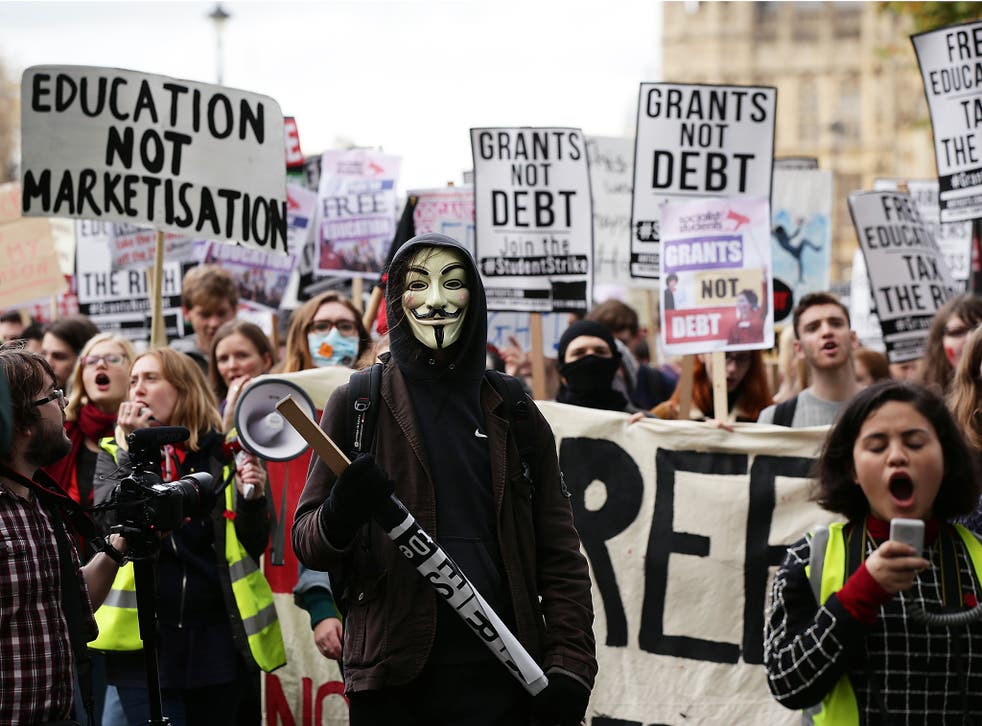 Teenagers from the most disadvantaged areas of the UK are four times less likely to apply for university than their more socially advantaged peers, official figures have revealed.
Statistics suggest a young person's chances of applying for a degree course depend heavily on where they live, with the number of those planning to go on to higher education falling in some areas of the country.
The analysis follows concerns raised over a lack of social mobility within education, with the gap between rich and poor students being granted university places reaching record highs last year.
New analysis of Ucas data by the Press Association reveals that on average this year, 55 per cent of 18-year-olds living in the top 10 per cent of parliamentary constituencies in terms of university applications applied for a degree course by the main January 15 deadline.
By contrast, just 24 per cent of those living in the bottom 10 per cent of constituencies had applied by the same point.
The highest application rate was in the Conservative-held seat of Wimbledon, south-west London, where 70.3 per cent of eligible students applied to go to university.
At the other end of the scale, in Havant, Hampshire, also a Conservative seat, the application rate was 17.4 per cent.
Sir Peter Lampl, founder and executive chairman of the Sutton Trust, said of the data: "The fact that London has the highest proportion of young people going on to university reflects both high aspirations and improvement in the capital's schools.
"The massive difference in the numbers going on to university between the top and bottom constituencies reflects the fact that the chances of getting to university are very much dependent on where you live and where you go to school."
Inside Park Lane townhouse: The student flat that costs £4,000 a week

Show all 12
Calls have been made for further work to improve social mobility, such as more summer schools and support for clever pupils, focusing on areas with lower attendance rates.
The statistics also indicate that young people in Conservative-held areas are slightly more likely to apply than those in Labour constituencies.
The average application rate across 328 Tory constituencies was 38 per cent, compared with 34 per cent across 231 Labour seats.
Northern Ireland has the highest application rate this year, with just under half of 18-year-olds applying for university places (48 per cent), followed by England, where more than one in three (37 per cent) have applied, followed by Wales at 32 per cent.
Despite government efforts to improve access to education for disadvantaged young people, the gap between those being offered places is now at the widest ever recorded.
Johnson risks row with Prime Minister over dropping students from migration statistics
Students who received free school meals – a long-time indicator of poverty – are now less than half as likely to enter higher education than their more affluent peers.
More 18-year-olds were offered university places in 2016 than ever before, with entry levels among all social groups increasing overall over the past 10 years.
But while the number of students from more affluent backgrounds has climbed steadily, places offered to those from the poorest percentile have stalled in the past year.
Latest Ucas figures show the vast majority of constituencies have seen a rise in applications since 2007, but 13 are experiencing a marked decrease on a decade ago.
Applications from the Cities of London and Westminster alone have fallen 4.3 percentage points, the highest drop seen across the country.
The biggest increase was in Chelsea and Fulham, west London, which saw a jump from 41 per cent to 65 cent - 24 percentage points.
Nicola Dandridge chief executive of Universities UK, said an advisory group set up last year to look at application rates had acknowledged that "disadvantage is deeply entrenched in our society".
"While the economic and social position of a student's family has the greatest impact on their access to university, the geographical location of where they live is also increasingly being recognised.
"While there are no quick and easy solutions, the report recommended that universities should work even more closely with schools and colleges in a range of ways."
A Department for Education spokesman said application rates for 18-year-olds and those from poorer backgrounds are at record levels.
"The reforms we are bringing in through the Higher Education and Research Bill will mean even more people can benefit from a university education," he said.
"As well as placing a duty on the Office for Students to ensure institutions do more to attract students from every background, we have also invested £120 million in the National Collaborative Outreach Programme to help young
Register for free to continue reading
Registration is a free and easy way to support our truly independent journalism
By registering, you will also enjoy limited access to Premium articles, exclusive newsletters, commenting, and virtual events with our leading journalists
Already have an account? sign in
Register for free to continue reading
Registration is a free and easy way to support our truly independent journalism
By registering, you will also enjoy limited access to Premium articles, exclusive newsletters, commenting, and virtual events with our leading journalists
Already have an account? sign in
Join our new commenting forum
Join thought-provoking conversations, follow other Independent readers and see their replies