Students given degree places regardless of exam grades more likely to drop out, regulator finds
Young people are being 'let down by universities' using these recruitment tactics, minister says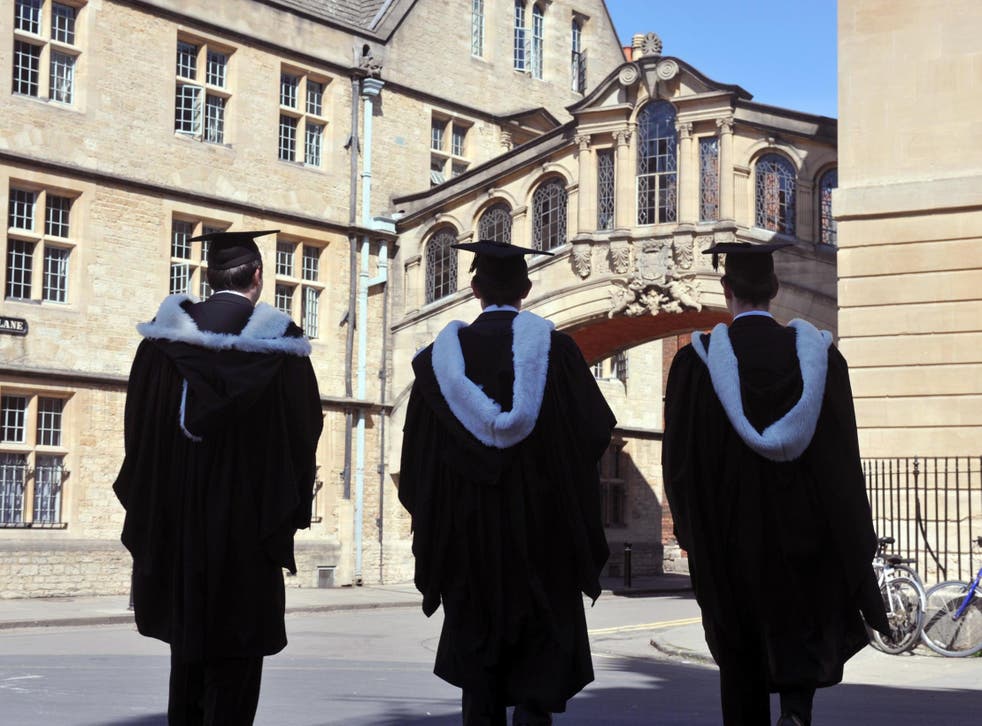 Students who are offered a place on a degree regardless of their exam grades are more likely to drop out in their first year of university, analysis from regulator reveals.
Dropout rates are 10 per cent higher for undergraduates who accepted unconditional offers than if they had accepted conditional offers, new figures suggest.
Nearly 200 fewer students continued with their studies at universities and colleges across 2015-16 and 2016-17, the Office for Students (OfS) analysis finds.
It comes after the proportion of university applicants receiving offers with an unconditional element rose to nearly two in five this year despite a government crackdown.
The OfS warns that hundreds of students a year who would have been expected to continue their degree studies could drop out if unconditional offers continue to rise.
UK news in pictures

Show all 50
The regulator has called on institutions to take responsibility for their decisions and provide support for students, adding that the system is "not working in students' best interests".
The rise in unconditional offers has sparked fears that standards could drop at universities and students could become demotivated in their final year of schooling and receive lower grades.
A report by the OfS earlier this year showed that students who receive an unconditional offer are more likely to miss their predicted A-level grades at school.
Nicola Dandridge, chief executive of the OfS, said: "We already know that students who receive an unconditional offer are more likely to miss their predicted grades at school. It is a cause of real concern that they are also more likely to drop out of university once they get there.
"Dropout rates are overall low in England, so this is a small effect. But we are not talking about one or two students – this is a couple of hundred students per year who have made a significant investment of time and money in a degree from which they are unlikely to benefit."
She added: "Although it is up to universities to decide who to admit and how, they must take responsibility for the impact of those decisions, and provide the right support for all students to be successful – especially if the offer they receive makes them less likely to do well at school."
"What we are seeing here are admissions systems that are not fair, and are not working in students' best interests," Ms Dandridge said.
Education Secretary Gavin Williamson, who recently spoke out against the rise of unconditional offers, called the dropout figures "alarming".
He said: "Students are being let down by the universities that are using these offers to get students through the door but then not adequately supporting them once they begin their studies."
Support free-thinking journalism and attend Independent events
Jo Grady, general secretary of the University and College Union, said: "Universities scrabbling to attract students with unconditional offers are too often focused on the bottom line rather than student interests. These latest figures show that many students are ill-served by the current admissions system and that there is a real need for urgent reform."
Universities UK (UUK) has launched a call for evidence this week as part of their admission review.
A UUK spokesperson said: "There are clear benefits in universities being able to use a variety of offer making practices to reflect an individual student's circumstances, potential and the context of their application, and to support different groups such as students from disadvantaged backgrounds.
"An important principle of the UK system is that universities decide independently which students they accept; but with this comes a responsibility to explain why and how places are awarded, and to show the public and students why different types of offers are made."
Join our new commenting forum
Join thought-provoking conversations, follow other Independent readers and see their replies