The Independent's journalism is supported by our readers. When you purchase through links on our site, we may earn commission.
University strikes latest: Students clash as protesters storm Sussex University lecture hall
University vice chancellors are expected to meet today to discuss pensions as thousands of lecturers and students continue their strike action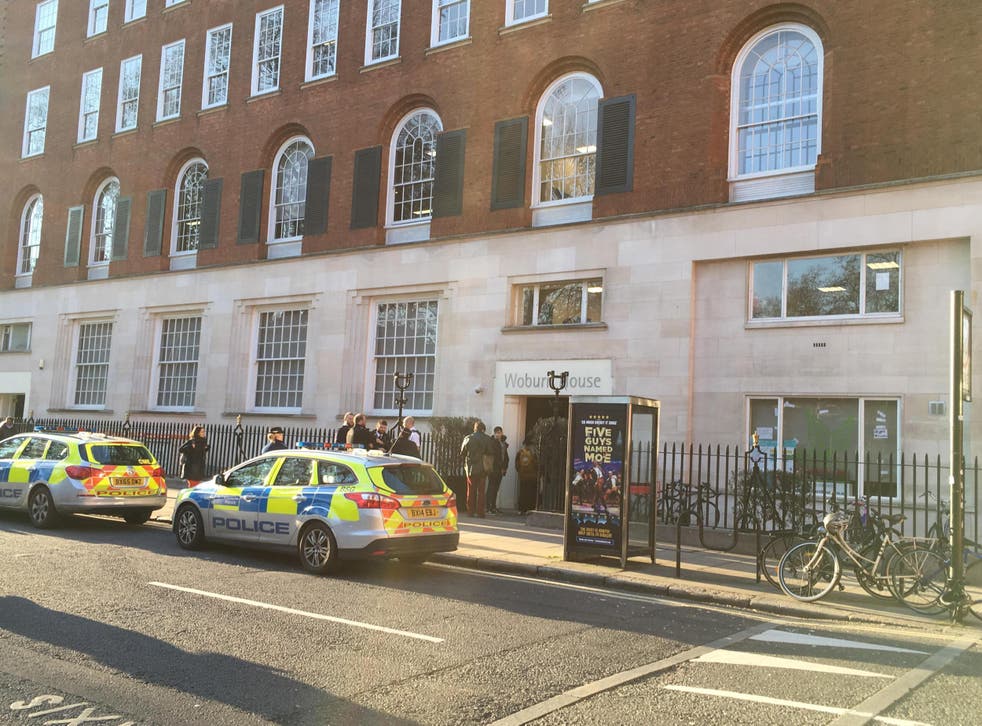 Protesters stormed a lecture theatre and demanded students walk out in solidarity with university lecturers on the first day of strikes against changes to pensions.
The clash between students occurred in an academic building on the University of Sussex campus after protesters disrupted a psychology lecture with chants to join the lecturers on strike.
Students in the lecture hall confronted the demonstrators, accusing them of disrupting their learning. One urged them to "F*** off".
It has been alleged by the Sussex Supports the Strike group that a demonstrator was "violently tackled into a wooden table by another student" after the lecture was disrupted by the chants.
On the group's Facebook page, they said: "One of our marchers was assaulted by a student when we disrupted the lecture.
"The marcher in question was violently tackled into a wooden table by another student."
On the same day, Sussex university students sat in the road to stop buses from entering campus.
Brighton & Hove Buses had been advised not to come onto campus and to cross the picket line – but some decided to brave it when congestion built up in a nearby road.
The tensions rose as lecturers at 57 universities across the UK hosted their first day of walkouts. Thirteen more days of strike action are expected to take place until Friday 16 March.
More than a million students are expected to be affected by the disruption – and tens of thousands have demanded compensation for loss of teaching time.
The dispute centres on proposals put forward by Universities UK (UUK) for changes to the universities superannuation scheme.
The University College Union (UCU) says the proposals would leave a typical lecturer almost £10,000 a year worse off during retirement.
But UUK says the scheme has said a deficit of more than £6bn.
A group of protesters stormed the UUK headquarters in central London yesterday. Security guards were overheard telling the police that automatic doors were broken during the surge.
University employers have insisted today that they are open to talks in an ongoing bitter row over pensions, saying they have "never refused" to try and find a solution.
As strike action over the dispute entered a second day, UUK said it was "open to the possibility" that they have not considered every angle in looking at pension scheme changes.
The comments come after at least 15 vice-chancellors – including the heads of universities in Durham, Newcastle and Kent – publicly broke ranks and called for peace talks.
University vice-chancellors are meeting in London today for their regular quarterly meeting to discuss higher education issues – and it is likely pensions will be raised.
The two parties are now expected to meet on Tuesday to discuss the dispute.
Sally Hunt, general secretary of the UCU, said: "Universities UK needs to stop sending out mixed messages on whether it wants to talk or not.
"We hope the sensible voices at this morning's strike summit will give their negotiators a clear mandate to go back to the table and get this mess sorted out.
"The sector is suffering from a serious image problem at the moment and staff and students deserve much better from their leaders than spin and subterfuge."
Student news in pictures

Show all 34
A University of Sussex spokesperson said: "There was a brief incident between students yesterday, which was resolved very quickly. University staff were on hand immediately to support our students, as they always would.
"We have been proud to see the collegiate nature of the Sussex community, where staff and students have been incredibly respectful of the many different points of view that people have. It's the very spirit that underpins our University."
Join our new commenting forum
Join thought-provoking conversations, follow other Independent readers and see their replies