University strikes: Picket lines and cancelled lectures as tens of thousands of staff walk out
Shadow education secretary calls on institutions to 'put students first' and avoid action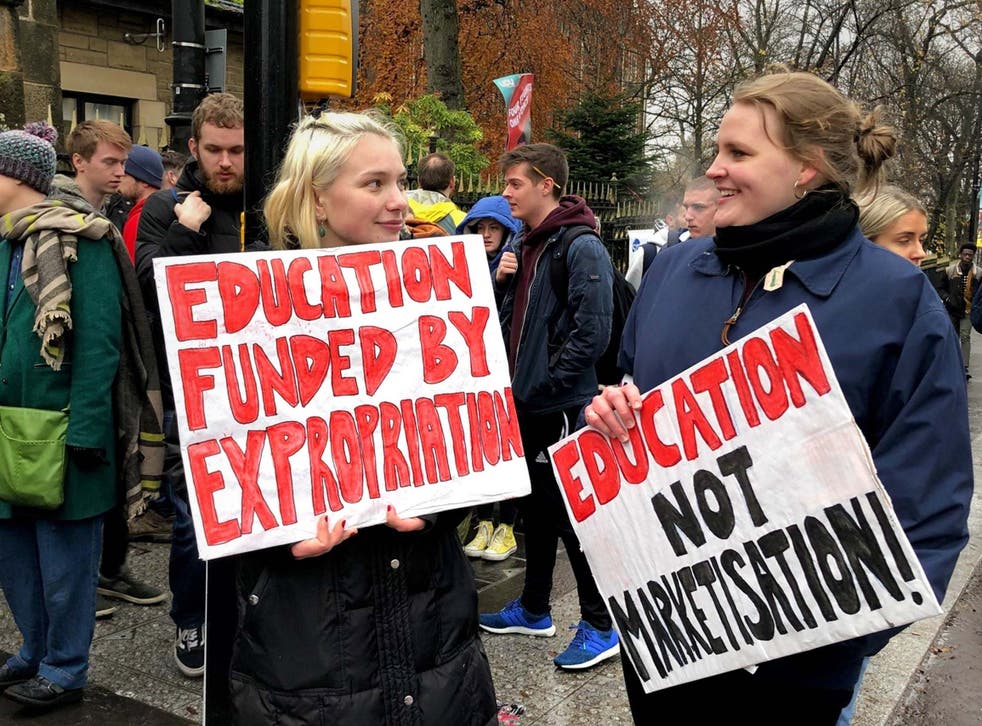 Students are facing disruption as tens of thousands of university lecturers and support staff begin eight days of strike action in a dispute over pay, pensions and conditions.
More than 43,000 members of the University and College Union (UCU) are taking part in walkouts at 60 institutions across the UK this week, with more than one million students are set to be affected.
The general secretary of the UCU has warned that if a solution is not found, the action could be extended into the new year, which could potentially disrupt exams.
Picket lines are being mounted at campuses across the country, protests held and other forms of industrial action launched, including refusing to reschedule lectures lost to strike action.
Angela Rayner, shadow education secretary, has called on universities to put students first and avoid any further strike action by "bringing a reasonable offer back to the negotiating table".
UK news in pictures

Show all 50
Ms Rayner said thousands are on strike because of the "increasingly marketised system" created by the Conservatives.
The union said there had been "strong shows of support" for strikes at the universities involved, adding that 3,500 workers have joined UCU in the three weeks since the strikes were announced.
Jo Grady, UCU general secretary, said: "We have been receiving news of solid support for the strikes across the UK. That support sends a clear message to universities that staff will not settle for pay cuts, increased pension costs or deteriorating conditions.
"We agree with Angela Rayner that universities should be putting students first and coming back to us with a better offer to try and avoid further disruption.
"We have seen thousands of people join the union in the few weeks since we announced this round of strikes and, if universities continue to refuse to negotiate seriously, more action with even more people involved could be on the cards."
Pension reforms mean university staff will pay about £40,000 more into their pension but receive nearly £200,000 less in retirement, the UCU says.
Increased contributions and other changes to the universities superannuation scheme (USS) mean that many people are suffering substantial losses, the union has previously warned.
University leaders have said they will try to lessen the impact of the action and insist they want to work with the union to reach an agreement.
A spokesman for USS employers said: "It's important to remember that members voting 'yes' to strike action over pensions account for less than 10 per cent of the scheme's eligible membership.
"Universities are doing everything they can to ensure that students do not lose out. Online learning materials, libraries and student support services will remain available throughout this period to support students' independent study.
"Today we are reiterating our call to the union to focus its efforts on continuing talks to reach a joint and fair solution."
On the pay dispute, Helen Fairfoul, chief executive of UCEA, said: "We all regret any disruption, especially to students, that is caused by UCU's strike action that started today.
"The action UCU has called over its pay dispute is running at around a third of the UK universities that are party to the national pay negotiations, so 90 of these universities are seeing no action at all.
"We anticipate the impact will be mixed across the 57 universities where action has been called, as they vary greatly in both the size of the institution and the UCU branch."
Additional reporting by PA
Join our new commenting forum
Join thought-provoking conversations, follow other Independent readers and see their replies