University withdraws advert of white teacher with black pupils after academics call it 'offensive'
'This image is so offensive I am amazed anyone thought it was appropriate'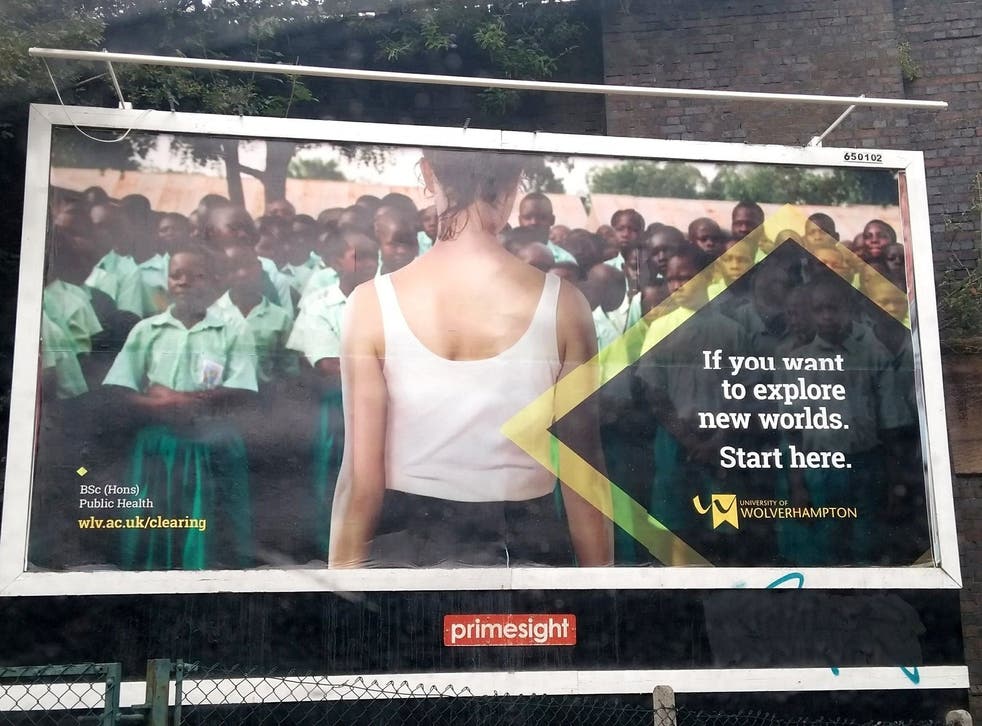 A university has withdrawn a poster showing a white woman in front of a class of black children from its advertising campaign, after academics on social media deemed it to be "offensive".
Designed to advertise the University of Wolverhampton's clearing process, it included the slogan: ''If you want to explore new worlds, start here."
After it appeared on multiple billboards there was a backlash to advert, with campaigners claiming its message was "racist and colonialist".
Dr Helen Dexter, associate professor of international politics at Leicester University, tweeted: "This image is so offensive I am amazed anyone at The University of Wolverhampton thought it was appropriate. Please withdraw it immediately."
Marie Tulley, doctoral researcher at Sussex University, also took to Twitter.
She said: "This is shamefully colonialist @wlv_uni white saviour complex? Who thought this was a good idea?!"
Nicole Andrews, a health and social care lecturer at Newman University in Birmingham, said: "There's strands of colonialism, patriotism, racism, gender issues."
She added: "It's a very difficult picture. I was pleased when it was taken down."
Glenn Marshal, a second year economics student, said: "It's just an awful poster and screams racism to me and I'm not surprised it's stoked up such a reaction."
As a result, the university decided to scrap the campaign, which was promoting their Public Health Course.
Raman Sarpal, head of marketing at the University of Wolverhampton, said: "Every year the University runs numerous creative campaigns across various channels around the UK. Following careful consideration the decision was taken to withdraw this particular advert, which is part of a wider campaign, and the image has been removed.
UK news in pictures

Show all 50
"It was never the intention to cause any offence, but we take feedback like this seriously and listened to what people had to say.
"The University prides itself on having a diverse student body, of being inclusive and it strives to be representative of the community it serves."
Additional reporting by SWNS
Register for free to continue reading
Registration is a free and easy way to support our truly independent journalism
By registering, you will also enjoy limited access to Premium articles, exclusive newsletters, commenting, and virtual events with our leading journalists
Already have an account? sign in
Register for free to continue reading
Registration is a free and easy way to support our truly independent journalism
By registering, you will also enjoy limited access to Premium articles, exclusive newsletters, commenting, and virtual events with our leading journalists
Already have an account? sign in
Join our new commenting forum
Join thought-provoking conversations, follow other Independent readers and see their replies